NEEL Trimarans news:
Neel 51 "2019 Best Boat" nomination & Neel 65 Evolution at sea
NEEL 51 trimaran nominated "2019 Best Boat"
The 2019 Best Boats include various categories: Monohulls, Monohulls Performance, Smaller Boats, and Multihulls Cruising which includes catamarans and trimarans. SAIL Magazine underlines all the efforts that shipyards made to offer an even bigger available space on most recent multihull models.
Neel trimarans
are performance boats with light structure and wave piercing hulls. The structure of the
NEEL 51
is light, with mouldings made of PVC foam (like interior bulkheads and furniture) sandwiched with fiberglass, and infused with resin.
The NEEL 51 offers incredible living space with a very large saloon, and cabins occupying the main deck and each hull. The forward facing chart table and galley of the Neel 51 benefit for the overall saloon outstanding panoramic view. A large sliding door provides an incredible relaxing space throughout the seemless inside & outside saloon. That makes it perfect for Caribbean sailing!
The deck cabins also offer an amazing sea view from island beds
Resuts of the SAIL 2019 Best Boat will be revealed in the december issue of the magazine. At Caribbean Multihulls, we can't wait to get the results!
New NEEL 65 Evolution trimaran at sea
Neel Trimaran range
We could not resist sharing with you pictures of the new
NEEL 65 Evolution flagship trimaran
in the port of La Rochelle, where the shipyard lies. First of all, here is a picture of the
NEEL 65 Evolution together with a Neel 51 and a Neel 45 trimaran
... Looking a bit like Mummy Duck and ducklings! Only the
Neel 47
is missing...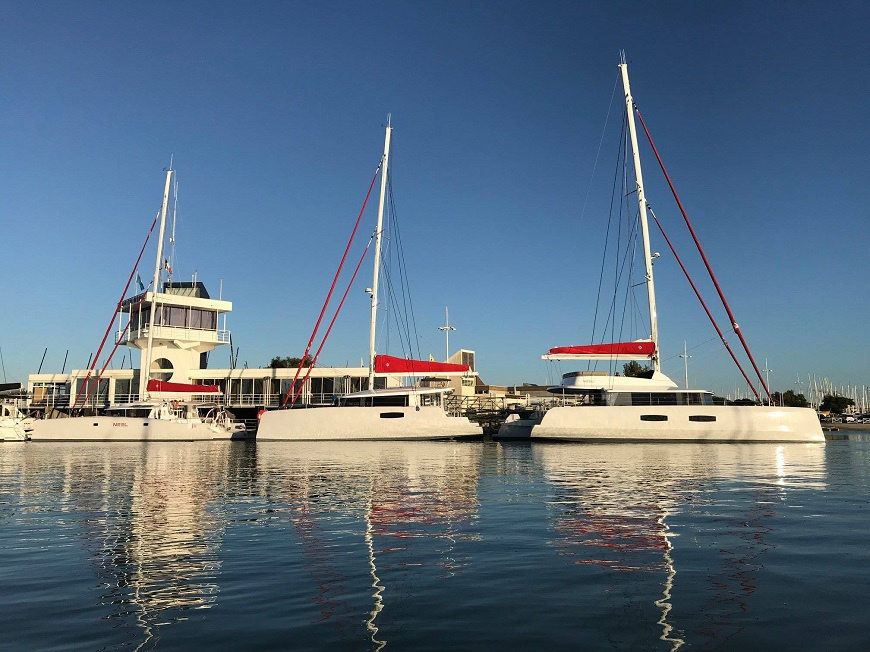 NEEL 65 Evolution new features
The NEEL 65 Evolution shows several upgrades:
a huge Cockloon which unites alarge cockpit and saloon through a large seemless sliding door.

a new second lounge in front of the saloon, with sofa offering an incredible sea view.

a convertible layout for the central saloon,

a very practical galley open onto the saloon, with large countertops and generous storage,

a somptuous larger Mastercabin situated on the main deck,

a new access to the central hull, which also has a new layout,

even better material quality and optimized finishes throughout.