Samana 59 review by Captain Peet Verreynne
Peet is a very experienced skipper whom we have now known for many years and has become a friend. He's been living onboard Fountaine Pajot catamarans, both for private or charter boat use, and he has also been delivering many of them.
Here is a little write up of his experience sailing the new FP Samana 59. Thank you so much Peet for this interesting review!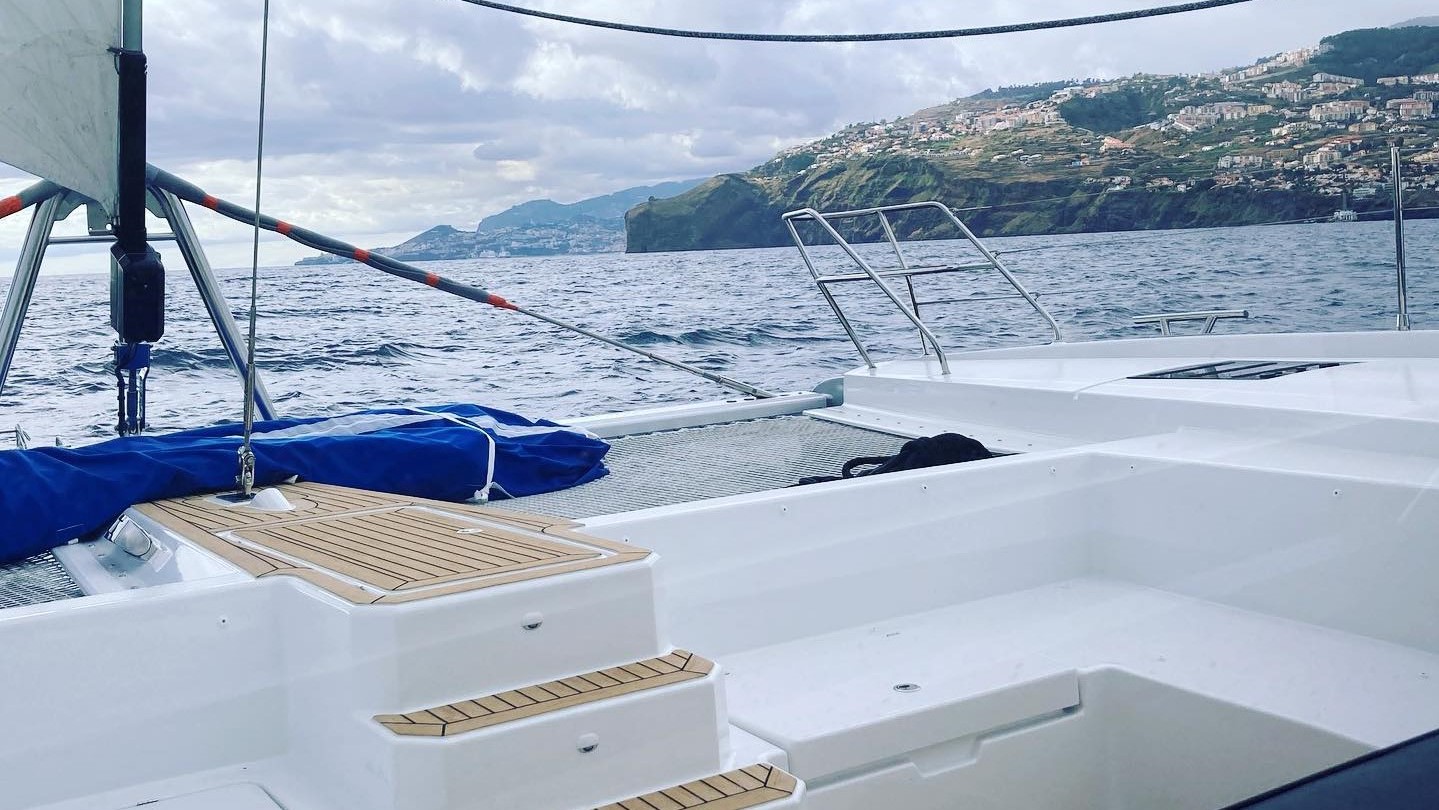 Overall look and exterior of the Samana 59
At first glance the new FP Samana 59 is quite stunning to look at. Fountaine Pajot has done a great job with the styling changes, and the slight reverse-bows instantly gives her a much more "sporty" look.
Another great addition on the exterior is the fixed hard top bimini on the flybridge which I really like. Not only does this give ample shaded seating, but also gives great access and to the main sail and boom, which comes very handy when flaking and packing the mainsail.
The forward cockpit seating area is truly fantastic and the dedicated forward door that provides access from the saloon is a game changer.
Let the test drive begin… Sailing performance of FP Samana 59
Immediately after departing La Rochelle it was clear that this was going to be an Atlantic crossing to remember.
We were amazed how effortlessly the boat started to sail even in very light winds. The first couple of days we only had about 12knt of true wind and the boat was comfortably doing 7.5kt boat speed, occasionally hitting 8.2kt.
Sailing down the coast of Portugal we were greeted with a steady 25+kts of breeze with a rough sea-state. This is when I was truly impressed. The boat was completely silent on the interior and in the cabins. Not a single squeek or creek coming from any of the interior furniture! Finally a production catamaran over 50ft that can actually sail and does not have creaking furniture.
We recorded a max speed of 12.5kts boat speed and that was not even with the Code 0. I'm certain in the right conditions this boat could easily do more.
Is the Samana 59 energy efficient?
Another huge plus for me was how efficient the boat was in terms of power consumption. Besides the sailing performance that boat was incredibly energy efficient.
This particular boat had aux. freezers installed and that combined with standard fridges and freezers, we never had to use the genset to charge the house batteries.
At an average draw of 15amps total, the solar panels ensured that we had enough charge in the house bank to last us almost 3 days! Really impressive.

Overall the Samana 59 is the perfect world cruiser! Huge cabins, loads of airy living areas, fantastic galley and sailing performance to match!