Astrea 42: a real revolution for her size!
Catamaran Astrea 42 by Fountaine Pajot gathers many advantages besides performance, with so much natural light and dynamic looks, comfortable space and elegant design. Her layout and features will bring you fantastic moments, whether at sea or mooring in a bay.
Fountaine Pajot has kept the shipyard's DNA in this new 42' catamaran, while bringing many innovative developments. The Astrea 42 model offers all the features which awarded the Saona 47, Fountaine Pajot latest new boat, with international success. The hull with inverted bow is the new signature of the range, and brings energetic and elegant lines as well as generous interior space.
Recognized by professionals and sailors
Fountaine Pajot ASTREA 42 has received awards as soon as launched! It received:
Awarded Multihull of the Year 2018 by French magazines " Le Monde du Multicoque " and " Voile Magazine ".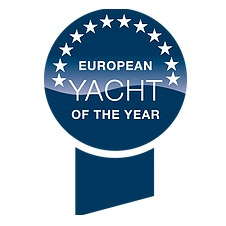 Awarded European Yacht of the Year 2019 by a jury of 12 European Yachting magazines, in the Multihull category.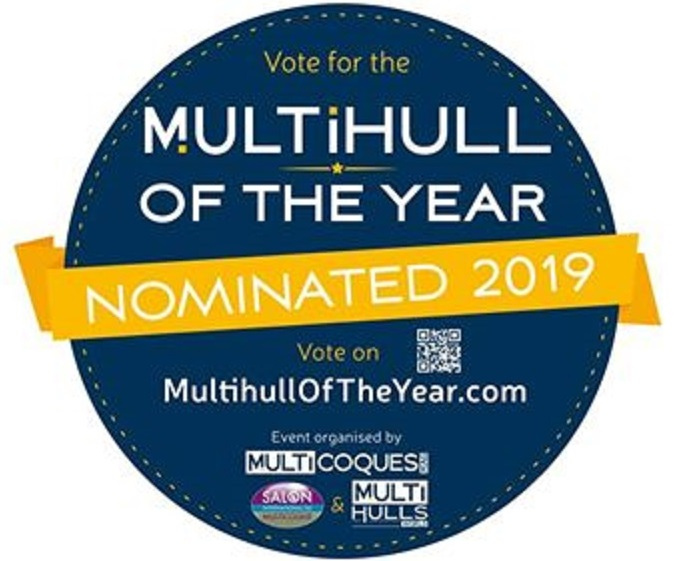 Nominated Multihull of the Year 2019 by a jury. Yachters will decide who'll be the winner! Subscribe to our newsletter to get updated end of April about this prize.

Fountaine Pajot Astrea 42 catamaran: the sheer pleasure of sailing
The design of Fountaine Pajot Astrea 42 allows flexible movement at sea and pleasure of sailing while at the helm station, with direct communication with all exterior relaxing spaces from the cockpit to the coachroof. A sun lounger is built-in on the coachroof, next to the double seat helm.
In the cockpit, the Astrea 42 can be equipped with an optional plancha grill to fully enjoy this space together, as well as the Beach Club embedded gangway.
The large sliding door between the cockpit and the saloon gives the possibility to benefit from a wide open space, and the U-shaped galley harmoniously blends. The large and elegant panoramic windows bathe the spacious and comfortable saloon with natural light.
Fountaine Pajot Astrea 42 catamaran exists in a large variety of versions from Owner to Quatuor, with 12 bathrooms configurations to choose from. She has everything to fulfil your sailing dreams!
---
Astrea 42 Interior versions
Fountaine Pajot catamaran Astrea 42 comes in Maestro owner and in Quatuor version.
Each version comes with various bathroom options for port and starboard:
2 bathrooms
or 1 bathroom + 1 with large shower
or 2 bathrooms with central shower
I want a fast Astrea 42 price quote
| | | |
| --- | --- | --- |
| Purchase of your Fountaine Pajot catamaran | | Price of your Lucia 40 and optional costs |
| | | |
Have your checked whether you could buy your Astrea 42 Tax-Free?
Many islands in the Caribbean offer tax-free yacht purchase. Could YOU benefit from it?

Please note we are not a Tax Adviser to determine what is due in your country, please consult one if you have any doubt. However we do have nearly 20 years of yacht exportation from France and boat sales in the Caribbean.
Get a Yacht Finance offer for your Astrea 42
We have been working for years with American and French large finance corporations in order to offer our buyers a solution to finance their yacht.
What will be the final price of your Fountaine Pajot Astrea 42?
The total price of your boat will be adding 4 the following:
o Grand Large version
o Oceanic version
o Comfort version
Fountaine Pajot usually releases price lists twice a year, usually in January and August. Prices may vary because of equipment variation or manufacturers price changes.
The price of your yacht is determined when you have signed your Astrea 42 order and paid for the first deposit (20% as per Fountaine Pajot requirements). Please note that you do NOT have to choose all options when ordering your boat, you may do some options changes later - Our team will indicate what can be changed or not, and mention deadlines when your order is placed.
---
(*) Following prices are given for indication only. Please note they might vary.
If you need to change your currency into €uros, consult us to get a good Currency Exchange deal!
Step 1 - Price of your Astrea 42 layout (as of August 1st, 2023)
Choose the number of cabins
ASTREA 42 MAESTRO (Owner version) - 3 cabins for 513.100 euros*
ASTREA 42 QUATUOR - 4 cabins for 519.400 euros*
Deposit is 92,000 €
Fountaine Pajot ASTREA 42 Smart Electric option
Smart Elect 55 pack 143.165 €
Substitution of the battery banks with 2 x 27 kW 11.704 €
6 kW AC inverter 7.838 €
Upgraded Charger 13.585 €
Choose the configuration of bathrooms for both port and starboard:
PORT 1: 2 bathrooms at no extra cost
PORT 2: 1 bathroom + 1 aft bathroom with large shower for 1.245 euros
PORT 3: 2 bathrooms + 1 central shower for 2.489 euros
STARBOARD 1: 2 bathrooms (inc. Maestro) at no extra cost
STARBOARD 2: 1 bathroom + 1 aft bathroom with large shower (inc. Maestro) for 1.245 euros
STARBOARD 3: 2 bathrooms + 1 central shower (inc. Maestro) for 2.489 euros
Step 2 – Price of your Astrea 42 equipment version (as of January 15th, 2023)
The various equipment packs include the following options:
Astrea 42 Grand Large version cost: 20.000 Euros*
Astrea 42 Oceanic version cost: 36.500 Euros*
Astrea 42 Comfort version cost: 54.000 Euros*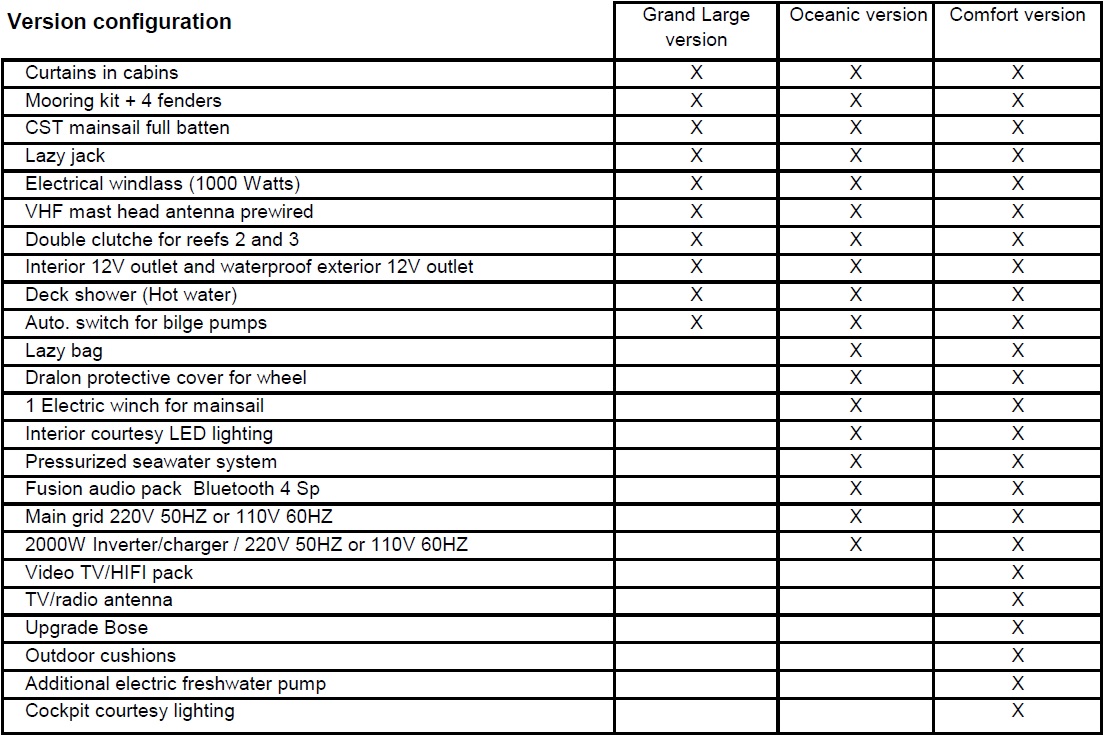 Step 3 - Additional option cost on an Astrea 42 (as of August 1st, 2022)
Here are some examples of options which our buyers usually opt for. Please consult us for full list and personalized quotation.
Our team will give you advice on what options you should think of and which ones you may skip. Buyers tend to over equip their boat at purchase.
Engine upgrade to 50HP 4 417 Euros*
Electronic pack GARMIN 2 including Autopilot, VHF, AIS, 2xGPS 8410, and 2 multi GMI20 19.788 euros*
Solar panels 4 x 90/100 W 4.985 euros*
Step 4 - Astrea 42 Ex-factory possibilities
Caribbean Multihulls has a wealth of experience in doing additional works on Fountaine Pajot catamarans.
Whether in La Rochelle where the boat gets splashed or in Caribbean islands - especially in tax-free Saint Martin where we are based, we know a long list of professionals who are able to work on your yacht and prepare it according to your desires.
For example we have been fitting for clients some solar energy additional equipment or diving compressors, or have provided them with a specific tender to suit their activities.
Price for an Astrea 42 catamaran loaded with options (**as of August 1st, 2023, subject to change)
Should you buy your boat tax-free from your dealer Caribbean Multihulls, the price of a fully loaded Fountaine Pajot Astrea 42 would be around 780.000 €**, including the following options: upgraded engines, Comfort equipment version, Maestro suite, full AC, watermaker, all canvasses, cockpit ice-maker, and much more.

Get equipped to navigate safe and comfortably in the Caribbean and beyond: contact our team!
Please consult us for any additional information on the Astrea 42, pricing and yacht purchase issues.
I want a fast Astrea 42 price quote ▶
---
Article and video test reviews of Fountaine Pajot ASTREA 42
Click on the images or videos below to access the corresponding test review:
Video review of the Astrea 42 at the 2018 International Multihull Boat Show in La Grande Motte (France)
Testsail ASTREA 42 review in Multihulls World Magazine in Sept/Oct 2018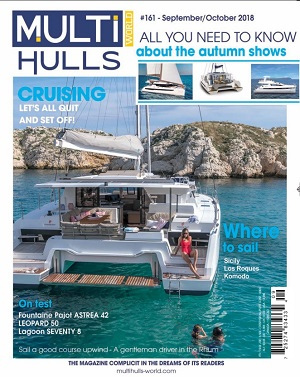 Astrea 42 review by Multihull Sailor Magazine (US, 2018)
Inventory & Brochure
Catamaran Fountaine Pajot Astrea 42 - Specs
Configurations for sale
Catamaran Astrea 42 Maestro owner version
1 private suite + 1 bathroom / 2 cabins + 2 bathrooms (depending on options)
Catamaran Astrea 42 Quatuor version
2 cabins / 2 bathrooms (depending on options)
Architect
Berret-Racoupeau Yacht Design
Interior Design
Racoupeau Design

Length over all
41.3 ft -12.58 m
Beam over all
23.7 ft - 7.20 m
Displacement unloaded
11.5 T (approx)
Draft
4.1 ft - 1.25 m
Genoa
441.30 ft² - 41 m²
Sail area
699.65 ft² - 65 m²
Standard Power
2 x 30 HP
Optional power
2 x 40 HP
Tank capacity
Fresh water 2 x 92 US gallons ( approx) - 2 x 350 l (approx)
Fuel 124 US gallons (approx) - 470 l (approx)