New sailing luxury catamaran by Fountaine Pajot shipyard
Fountaine Pajot announced early September 2022 its new and largest flagship, the NEW 80.
This luxury yacht combines the notorious performances of the brand to the emblematic Fountaine Pajot sleek look: inverted bows, rooftop line and large portholes for you to benefit from a beautiful seaview.
The fittings are also remarkable, with great quality materials and a distinguished aesthetic.
Various versions are available:
MAESTRO version

1 Owner's Suite + 1 bathroom
1 VIP cabin + 1 bathroom
with galley down: 2 double cabins + 2 bathrooms
with galley up: 3 double cabins + 3 bathrooms

VIP version 4/5 Guests

1 Owner's Suite + 1 bathroom
with galley down: 4 double cabins + 4 bathrooms
with galley up: 5 double cabins + 5 bathrooms

VIP version 6/7 Guests

6 double cabins + 6 bathrooms
with galley down: 6 double cabins + 6 bathrooms
with galley up: 7 double cabins + 7 bathrooms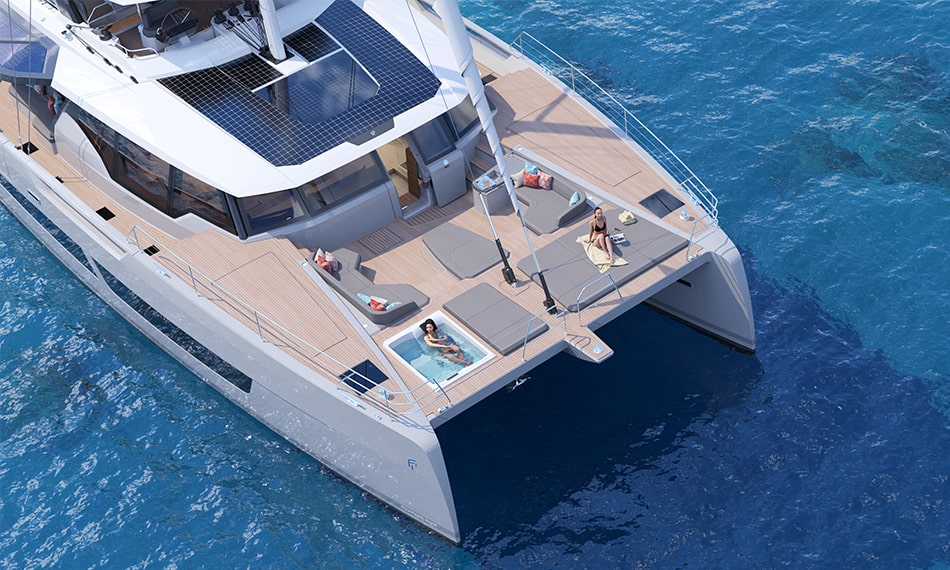 Main deck versatility for great leasure time
Fountaine Pajot's architects, together with Berret Racoupeau Design, have worked to offer great spaces to both share friendly or spend cosy moments.
The Beach Club platform at the rear of the vessel creates a very large swimming and leasure area, between both transoms. It is ideal for chilling or practicing watersports. Storing areas are located on the main deck for all your toys. A very large sunbed is located above the plaform, at the rear of the cockpit and oriented towards the back of the boat.
The cockpit sheds a very large table to welcome up to 10/12 guests, as well as various sofas and an staircase access to the flybridge. It also allows access to the VIP cabin or to one of the crew cabins.
Opening wings are a fantastic new feature on this Fountaine Pajot 80 catamaran! Enjoy the view from a comfortable sofa on both sides of the cockpit!
The front cockpit is accessible both from the deck sides and a sliding door from the inside. It features a large saloon and bar area, as well as a jacuzzi at the front at starboard. On the starboard side, a hatch allows access to a crew cabin.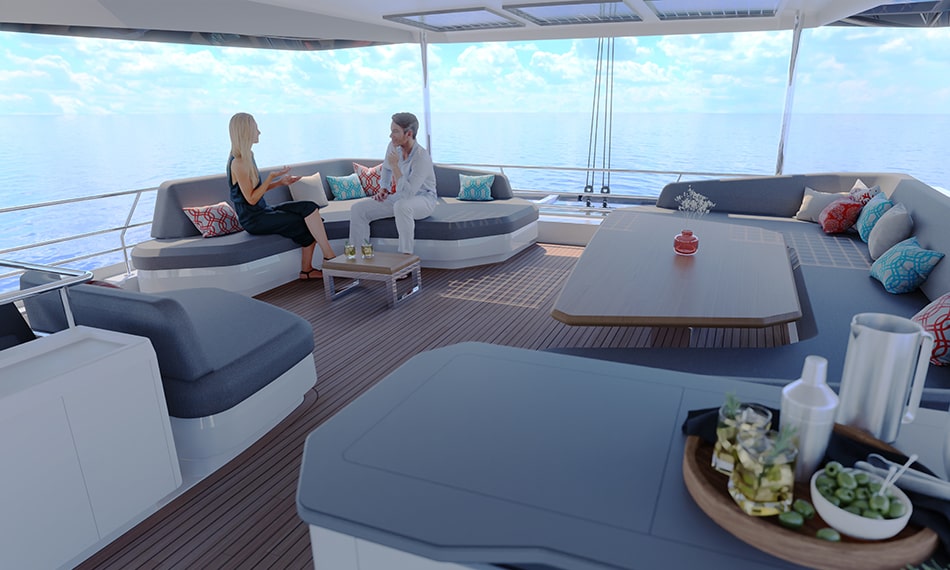 Large flybridge and independant double steering area
At the front of the flybridge, the captain and crew have a safe and great space to manoeuver from both steering wheels and central winches.
The back of the flybridge offers a lot of friendly space in its large lounge with three large sofas, a dining area and a bar.
The flybridge is optimized with solar panels all around for a significant energy supply, as well as on the hartop!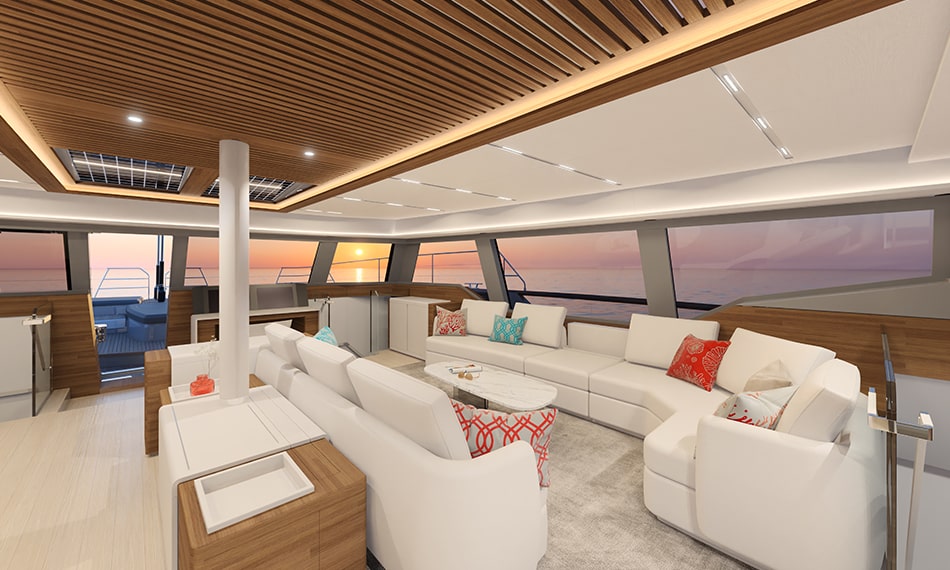 Fountaine Pajot New 80 saloon area & cabins
The yacht salon is very bright with lots of natural light through the large windows, which also allow 360° visibility.
This area is very large and contains a lounge area, a dining table, a chart table and a bar. You may choose between a galley up or galley down. Large staircases lead from the salon to the cabins, both at rear and front.
The luxurious cabins depend on the layout you chose. They all offer a great view onto the horizon through large portholes. The Maestro cabin is superb with a large bed, a desk and sofa, and an incredible bathroom featuring a jacuzzi bath and a spa shower.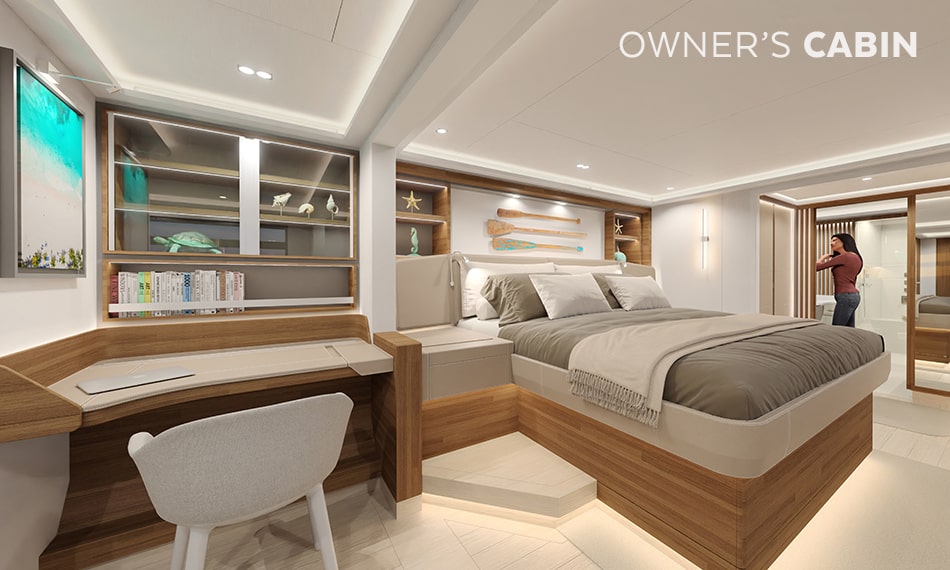 Price of Fountaine Pajot NEW 80 (as of January 15th, 2023)
Consult us for currency exchange possibilities
I want a fast quotation now >>
The price of a Fountaine Pajot catamaran depends on:
the version
deck furniture
hull finishing
other options
potential off-factory options
Price of Fountaine Pajot New 80 version
MAESTRO version

with galley down: 5 198 000 €
with galley up: 5 145 000 €

VIP version 4/5 Guests

with galley down: 5 145 000 €
with galley up: 5 093 000 €

VIP version 6/7 Guests

with galley down & 6 Guest cabins: 5 093 000 €
with galley up: 5 040 000€
Price of hull and furniture options
Complete teak deck: 194 640 €
Complete synthetic teak on deck: 226 380 €
Hull finishing with colour covering: 52 500 €
Hulls lacquered with awgrip product: 262 500 €
Example of other options
Engine upgrade 2xD6 Volvo 300HP: 48 510 €
Leather style interior finish: 57 750 €
Solar panels on roof: 51 975 €
Hard top: 102 007 €
Garmin pack 4 screens 22": 51 584 €
Full air conditioning 150.000 BTU: 136 500 €
Example price of a fully equipped Fountaine Pajot New 80 sailing catamaran
Prices as of January 15th, 2023 - Subject to change by shipyard
As an indication, the average price of a fully-optioned Fountaine Pajot New 80 with Caribbean Multihulls is roughly 6 800 000 euros*
By fully-optioned, we consider the following:
Owner version
Comfort equipment
Aft Platform
Engine upgrade
Full A/C
Watermaker
Canvasses
Synthetic teak in the cockpit
Ice-maker
and more.