---
Description Interior versions Price list Specifications
Fountaine Pajot SAMANA 59: luxury, serenity & freedom
The Samana 59 is great value for money! She is very well designed for the Caribbean, for both private and charter use.

A + : she can be fitted with Dual Power 110V/220V. Just cruise easily between islands!
Calendar
Launched in July 2020 in La Rochelle
First boat show with Hull#1 in September 2020 in Bandol (south of France)
First sea trials in La Rochelle (France) in October 2020


Well-engineered design & versatility
The SAMANA 59 is directly inspired by flagship Alegria 67 in a smaller and more compact yacht, which makes her great value for money.
Designed by architect agency Berret Racoupeau together with the Fountaine Pajot design team, the Samana 59 provides comfort at helm, for smooth and efficient sailing. Her sails ratio is as good as the Alegria 67, for great performance.
Fountaine Pajot Samana 59 look is elegant and modern. The reverse bows is a clear signature from Berret Racoupeau design on the lastest Fountaine Pajot sailing catamarans. The long side-windows bring very a horizontal and sleek look to this model.
Throughout the yacht, decks have been designed to fit any situation, whether relaxing moments or fun gatherings. This smart use of space for both convivial moments and intimacy will allow you to spend amazing vacations with friends and family.
The huge flybridge certainly makes this yacht unique. And Charter owners love the fact that all Guest cabins are identical in size and geatures: no more headaches for different pricing and to attribute them to guests!
---
Innovations on the Samana 59

Fountaine Pajot Samana 59 exterior areas


Aft cockpit
When you get on board the Samana 59, you immediately notice the platform to enjoy water sports and fun. That sets the tone for the whole concept of this great catamaran.
The large cockpit offers 27.5 sqm of convivial space. There are 3 seating areas, and a generous dining table for 10/12 guests. It can also feature an optional galley and plancha.
The door is very large (much larger than on previous model Ipanema 58) to allow a generous entrance into the saloon, and when open to give an impression of huge inside/outside space.
An integrated cockpit tent and an electric shade panel will allow you to protect from direct sun, wind or rain.
You will enjoy the direct access from the aft cockpit to the aft cabins (guest cabin portside, and Master cabin at starboard if you choose the Maestro version), to the flybridge or to the saloon.


Flybridge
The breathtaking Samana 59 flybridge is 30 sqm, simply the largest in its category.
The helm station is central and located at the front of the flybridge, with easy winch manoeuvering on each side of the helm.
A U-shape lounge with table welcomes guests on the flybridge, which is also equipped with a galley including fridge and plancha. This area, together with the helm station, is coevered either by a bimini or hard top according to your choice.
At the back of the flybridge, your guests enjoy 2 double sunbathing mattresses.


Front cockpit
Easily accessible through a quality waterproof door from the interior saloon, the foredeck is 10 sqm and features a large U-shape lounge with modular sunbeds.
The chain and anchor locker is easily accessible between both parts of the trampoline.
---

Fountaine Pajot Samana 59 interior areas
CHOICE OF SAMANA 59 INTERIOR VERSIONS
Click here to consult all plans
Lounge Maestro Version (Galley down):

1 Owner's Suite + 1 bathroom
2 double cabins + 2 bathrooms
1 bunk beds + 1 bathroom
Maestro version (Galley up):

1 Owner's Suite + 1 bathroom
4 double cabins + 4 bathrooms
5 Cabins / Charter Version (Galley down):

4 double cabins + 6 bathrooms
1 bunk beds + 1 bathroom
6 Cabins / Charter Version (Galley up):

6 double cabins + 6 bathrooms
Saloon
The vast saloon is no less than 32 sqm, with a smart use of space. It offers easy movement and natural ventilation with the direct access door to the foredeck. There are two lounge areas, a nav station, and galley depending on the chosen layout.
There are two possible layouts: either with galley up or galley down.
The bar area also offers 2 options, with optional wine cooler or freezer.
On starboard, you may choose to transform the cocktail table into an optional electric folding table.
The nav station is located at the front of the saloon, next to the access door to the front cockpit.


Guest cabins
All guest cabins measure around 7/8 m² and follow the same comfort requirements, with Queensize beds, generous storage and a bathroom. All bathrooms are equipped with head, washbasin and a separate shower.


Owner's cabin
The Maestro cabin offers 17m² of comfort. You will love the beautiful seaview though a very large window.
Comfort has been thought throughout the cabin to ensure quality relaxing time.
The bed is Queensize, and there is a comfortable sofa on the side.
Storage is generous, including a large wardrobe.
A convenient desk is located near the entrance, and an optional TV can be fitted.
The owner's bathroom includes separate head and separate shower.
You will benefit from direct accesses to both the aft cockpit and the saloon.
The owner's cabin (in the Maestro version) enjoys a double access, both from the saloon and from the aft cockpit.
---
Price list for a Fountaine Pajot SAMANA 59 & options
Get your Samana 59 price quote now
A. A tax-free yacht in the Caribbean
Not only is the Caribbean a great sailing ground, it also gives you the opportunity to own a tax-free yacht.
Contact us to discuss this opportunity
We advise you to consult also a Tax Advisor if you need professional advice on your specific Tax situation.
B. Get a Yacht Finance with our partners
We have been working with specialized institutes for years for our clients to get a finance plan for their yacht purchase, in the United States, United Kingdom and France.
Get a Yacht finance quotation for your Samana 59 catamaran - Contact us now
C. What will be your Samana 59 final price?
The final price will take into consideration the following:
See our example price for a fully loaded Samana 59
Please note that:
Fountaine Pajot prices are updated twice a year. The price will be determined according to the date you sign the yacht order and pay the 20% deposit, as requested by Fountaine Pajot..
When to choose all options: You are not requested to choose all options from start. There are choices you can make later. Our team will give you the corresponding deadlines.
---
(*) Prices may vary. These prices are for indicative value only, and are not contractual.
Want a good exchange rate? We have been working with Western Union for years, to help our clients get better Currency Exchange deals!
Step 1 - Samana 59 version price (* as of August 1st, 2023)
SAMANA 59 CHARTER for 1.999.000 euros*

SAMANA 59 MAESTRO (Owner) for 1.954.300 euros*
Deposit is 20%
Click here to check corresponding layouts
Step 2 – Fountaine Pajot Samana 59 version configuration pack (*as of August 1st, 2023)
Samana 59 Grand Large: 38.500 Euros*
Samana 59 Oceanic: 111.000 Euros*
Samana 59 Comfort: 143.500 Euros*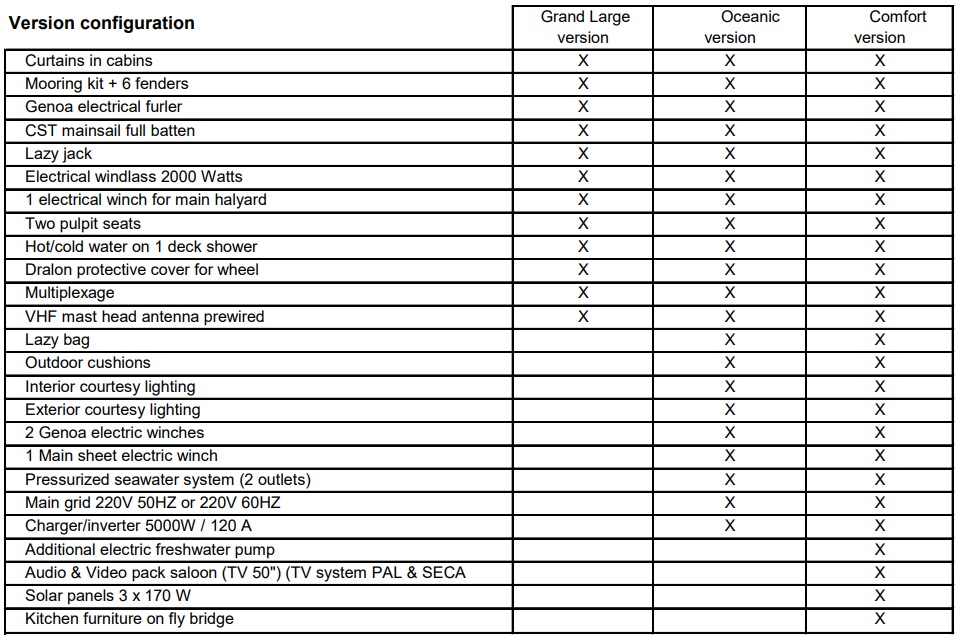 Step 3 - Fountaine Pajot factory options (* as of August 1st, 2023)
Discuss with our New Yacht team, to make sure you get the right equipment for your yacht. Below are some common options:
Engine upgrade Yanmar 4LV150 45.064 euros*
Electronics package GARMIN 3 40.065 euros*
Gennaker furler & gear (without winch) 12.928 euros*
2 x Aft cameras 2.211 euros*
Solar energy panels 3 x 170W (incl. Comfort) 4.518 euros*
Step 4 - Additional Ex-factory equipment on your Samana 59
We have been dealing with individual requests for a long time, and have partners both in La Rochelle and the Caribbean, to deal with your extra specific needs.
We have had fitted the following features for our clients, for example:
Teak decks, showers, etc
electronics,
electrical systems (like additional solar panels),
various sails and rigging fittings,
furniture and appliances,
dinghies, watersport gear, etc
and more.
How much does a fully-loaded Samana 59 cost?
Prices as of August 1st, 2023 - Subject to change by shipyard
As an indication, the average price of a fully-optioned Fountaine Pajot Samana 59 with Caribbean Multihulls is roughly 2 900 000 euros*
By fully-optioned, we consider the following:
Owner version
Comfort equipment
Aft Platform
Engine upgrade
Full A/C
Watermaker
Canvasses
Synthetic teak in the cockpit
Ice-maker
and more.
Contact our New Yacht advisors for more information.