Announced early September 2018 and launched in 2019, Fountaine Pajot Elba 45 replaces the successful Helia 44.
Elba 45, a resourceful sailing catamaran
What's thrilling about this new Fountaine Pajot model?
Not only does Elba 45 present all the latest shipyard innovative characteristics, it surpasses the industry standards.
Fountaine Pajot catamarans are appreciated for their performance. So is this 45 feet yacht, which benefits from dynamic hull design with inverted bows and enhances sailors' experience with a thoughtful helm station for best maneuverability.
Oustanding features of Fountaine Pajot Elba 45
A convivial yacht
Where would you rather relax on your boat in the Caribbean?
Many of our clients love the large flybridge, which was also implemented on the previous Fountaine Pajot model Saona 47. Whether you would like to just sit and feel the breeze, enjoy a romantic dinner when anchoring or share drinks with friends, the flybridge is very generous for a yacht this size. The wide sunbed is also brilliant to soak up some sun, read a good book or enjoy a little siesta!
You will appreciate the many possibilities offered by the ingenious cockpit, with several sofas, sunbed, benches and the long dinner table. The lounge deck also features a exceptional relaxing and sunbed space with many large cushions.
But that's not all: A brilliant Beach Club electric platform is available as a Fountaine Pajot option, to bring further fun and space for the crew!
Living aboard Elba 45
Fountaine Pajot is a pioneer in terms of comfort aboard cruising catamarans. The design of its models benefits from all new material and building techniques as well as being on the cutting edge to adapt to new sailor lifestyles.
First-Class cruising
Why would you have to choose between a performing and an attractive yacht?
This new 45' cat presents a modern and elegant design to suit today's tastes. Standard colors of this model will suit most owners, and optional Fountaine Pajot colors are available for upholstery, floors and all canvasses.
Large windows and hatches bring a lot of natural light inside the boat, whether in the saloon or in both hulls. The panoramic view from the lounge is just stunning. Large windows also open for natural ventilation.
Elba 45 refreshing interior
The design team has worked hard to provide you with ultimate bliss at sea. The living space is very generous and always better optimized.
The saloon is a vast convivial living area including a large sofa with low or dining table and a very open and practical galley. All galley details are thought off to include all equipment needed, storage and working surface.
Interior fittings in the Fountaine Pajot Elba 45 in all cabins allow to settle comfortably. There is practical and discreet storage all throughout the catamaran. The Maestro Suite and all cabins have en-suite bathrooms, with separate head in the Owner's hull.
When you visit this new 45 feet catamaran or pay attention to pictures, you will notice many details are designed to make life easier.
---
Available layouts for Fountaine Pajot Elba 45
This Fountaine Pajot model is available in 2 configurations:
Elba 45 Maestro owner version: Owner's suite portside with large bathroom and separate head, and 2 guest double cabins starboard with en-suite bathrooms.
Elba 45 Quatuor versuon: 4 doubles cabins and 4 en-suite bathrooms.
I want a fast Elba 45 price quote
| | | |
| --- | --- | --- |
| Information about your yacht purchase | | Price of your Lucia 40 and optional costs |
| | | |
Buy your Elba 45 tax-free with Caribbean Multihulls
Is Tax-Free purchase possible for you?
NB: Caribbean Multihulls is not a Tax advisor and cannot guarantee what tax is due in your own country and in your specific case. Seek advice from professional tax advisors if you are unsure about your situation.
We have over 20 years of experience as international yacht brokers and will let you know to the best of our knowledge.
Our partners provide you with Yacht Finance offer
Caribbean Multihulls work with specialist Yacht Finance institutions in the USA and in France, for our customers to get a finance quotation for their purchase through our dealership.
How to calculate the overall price of your Fountaine Pajot Elba 45?
In order to find out the final price of your Elba 45, you will need to add up the following costs:
o Grand Large version
o Oceanic version
o Comfort version
Fountaine Pajot prices change every year in January and in August. Price lists applying to your Elba 45 purchase will be the latest running to date of order and payment of deposit (20% as per Fountaine Pajot shipyard requirements).
Not sure about your yacht equipment? Don't worry! You do not need to choose all options straight away. Our New Yacht sales team will let you know the various deadlines for you to think further about your project.
---
(*) Prices below are indicative and can vary.
Needing to change from your currency to Euros? Our Currency Exchange partner will offer you a great deal!
Step 1 - Choose the cabin configuration of your Elba 45 (as of August 1st, 2023)
The price will vary whether you choose 3 (Owners' version) or 4 double cabins:
ELBA 45 MAESTRO (Owner) - 3 cabins for 686.700 euros*
ELBA 45 QUATUOR - 4 cabins for 694.900 euros*
Deposit is 115,000 €
Fountaine Pajot ELBA 45 Smart Electric option
Smart Elec 65 pack 153.615 €
Substitution of the battery banks with 2 x 27 kW 11.704 €
6 kW AC inverter 7.838 €
Upgraded charger 13.585 €
Step 2 – Find the price of your Elba 45 equipment pack
There are three equipment packs available from Fountaine Pajot: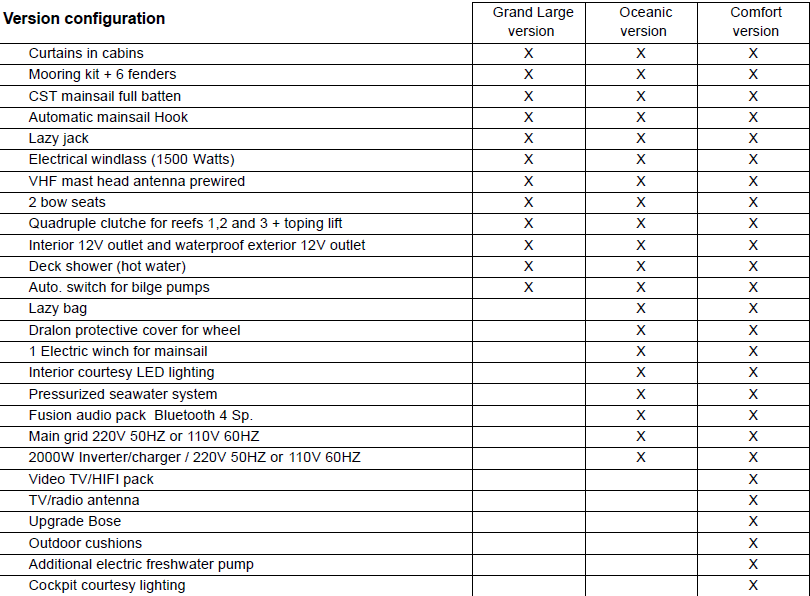 Elba 45 Grand Large pack price: 21.500 Euros*
Elba 45 Oceanic pack price: 38.000 Euros*
Elba 45 Comfort pack price: 55.000 Euros*
Step 3 - Cost of your Elba 45 personalized options (as of August 1st, 2023)
Below are some of the common features which our buyers often get from Caribbean Multihulls.
We will be glad to give you advice on sufficient options to suit you project, especially as some buyers tend to overequip their yacht.
Motor upgrade 65HP 4 194 euros*
Electronics GARMIN 1 including Autopilot, VHF, AIS, GPS 8410, and 2 multi GMI20 16.552 euros*
Bowsprit & gear for gennaker 7.294 euros*
Cockpit fridge 2.238 euros*
Solar panels 4 x 90/100W 4.967 euros*
Step 4 - Elba 45 Ex-factory possibilities
You have special desires? Let's customize your Elba 45!
We have been working on boat projects for over two decades, and will be glad to help you with any ex-factory equipment you would like to fit. Caribbean Multihulls works with partners in La Rochelle (France) where Fountaine Pajot splashes new catamarans, and in tax-free Saint Martin where our main office is located.
Whether you would like more solar panels to be fitted, a dive compressor or need a special dinghy for your watersports, let us help you!
Price for a Elba 45 catamaran loaded with options (as of August 1st, 2023 - prices subject to change)
In order to give you some indication, Caribbean Multihulls can sell you a fully-loaded Fountaine Pajot Elba 45 at around 930.000 euros*.
What is included in this luxury catamaran? Upgraded motorisation, a Comfort pack, an Owner's Suite, air conditioning in the whole boat, a watermaker, full biminis, ice-maker and other many other options.
I want a fast Elba 45 price quote
---
Article and video test reviews of Fountaine Pajot ELBA 45
Click on the images or videos below to access the corresponding test review:
Testsail review of the ELBA 45 by Multihulls World (USA, 2019)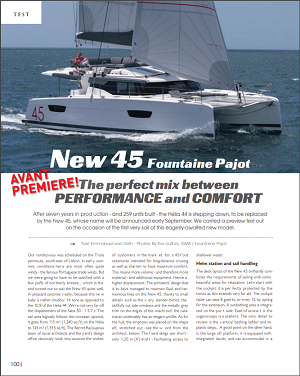 Elba 45 review by Sail Magazine (USA, 2019)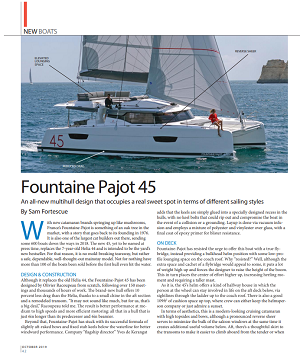 Inventory & Brochure
Fountaine Pajot Elba 45 - Specs
Architect
Berret-Racoupeau Yacht Design
Interior Design
Racoupeau Design
Length over all
13.45 m / 44.2 ft
Beam over all
7.55 m / 24.77 ft
Displacement unloaded
13.6 T
Draft
1.2 m / 4.3 ft
Sail area
74 m² / 796 sqft
Genoa
45 m² / 484 sqft
Elba 45 - Motorisation specs
Standard: Volvo engines 2 x 40HP
Option: Volvo engines 2 x 50HP
Elba 45 - Tank capacity specs
Fresh Water
700 l (approx.) / 185 US gallons (approx.)
Fuel
470 l (approx.) / 124 US gallons (approx.)
Elba 45 - Layout versions
Maestro owner version
1 owner's suite + 1 bathroom / 2 double cabins + 2 bathrooms
Quatuor version
4 double cabins + 4 bathrooms