Description Charter and Owner layouts Speed and Range Price & Option Cost Charter Investment
---
Fountaine Pajot 67 Power motor yacht has been
launched in spring 2020, tested and has proven her transatilantic capabilities!
This beautiful luxury yachts shows Fountaine Pajot shipyard new signature, with reverse bows, long side windows and positive sheer. You will love her look.
POWER 67, a unique motor cruising catamaran on the market
In comparison to motor catamarans of similar size, the specific hull design of the Power 67 as well as its more powerful motorisation and light displacement allow ultimate performance. Scroll further for Speed & Range projections and hull design.
Fountaine Pajot Power 67 is also a unique opportunity for a long cruise with transatlantic range.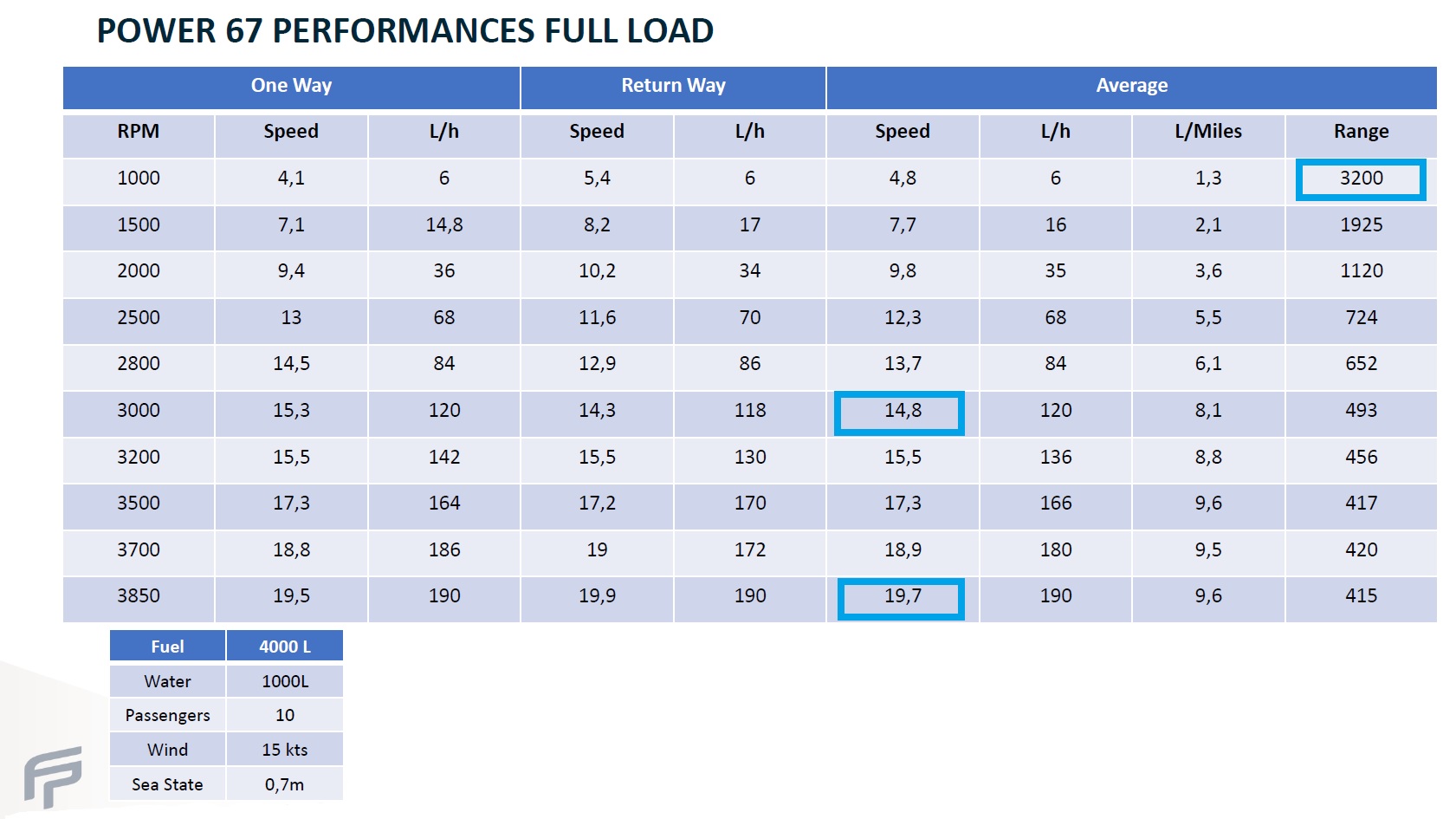 Outstanding areas for relaxation & entertainment on board the Power 67
Cockpit
The 39sqm cockpit provides generous living space with comfortable sofas, benches and sunbeds. The hard top roof provides a well protected area to welcome passengers in the best circumstances, and the large cockpit table can welcome at least 8 guests.Thanks to the very large sliding door and window, the cockpit opens onto the inside saloon easy circulation and a vast social space.
Flybridge
A staircase will take you directly from the cockpit to the flybridge.
The helm station is located at the front on the starboard side, offering an amazing ocean view.
Guests will enjoy the great 360° view from the reception area is organized around cozy sofas, and a generous sun lounge at the front on portside. You will love the galley with fridge and sink.
The hard top over the flybridge is equipped with a sliding roof opening, and reserves a special spot for a satellite antenna.
Foredeck
The front deck terrace of the Fountaine Pajot Power 67 catamaran offers a extended 49m² space for very convivial moments, with an optional jacuzzi, a reception area, sunbeds.
This exceptional area of the yacht is directly accessible from the inside saloon through a sliding door.
A high rigid guard secures the yacht all around at deck level and on the flybridge.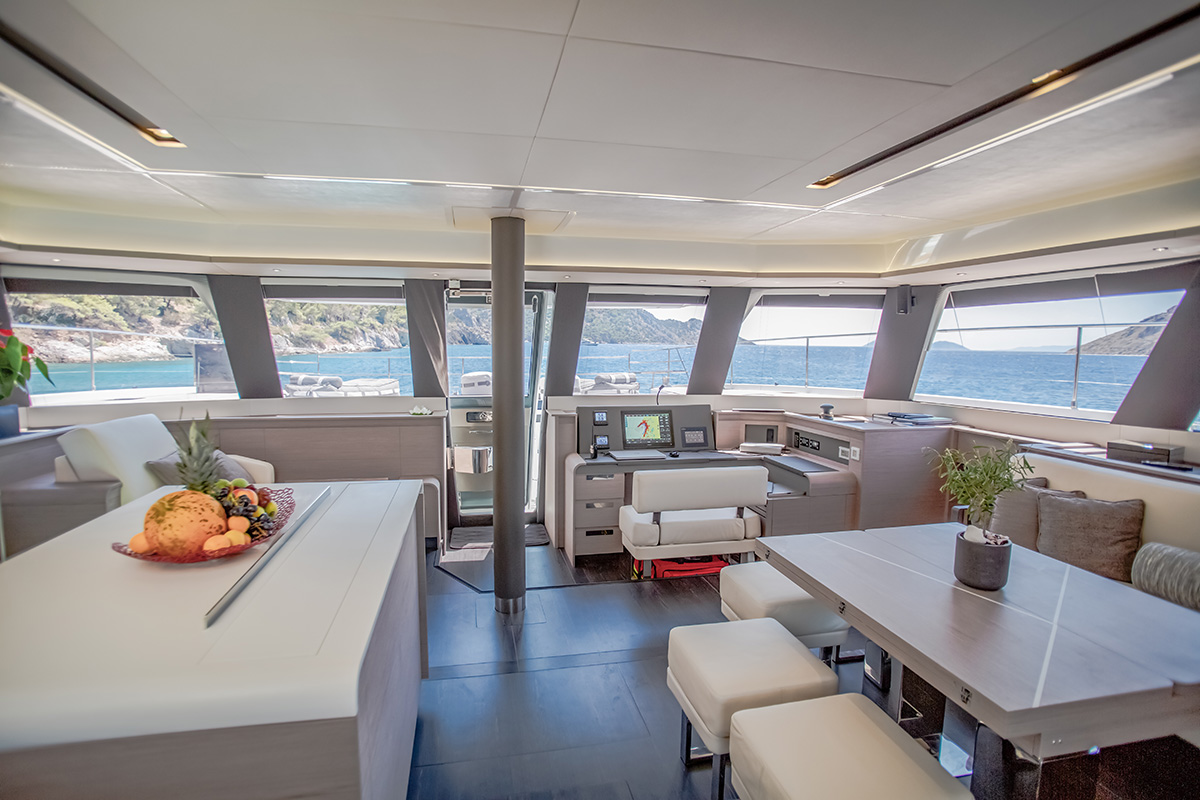 Let's discover the Power 67 interior
Your eyes will immediately be caught by the saloon panoramic windows which propose a striking ocean view, and abundant natural light. The urban and luxurious design seamlessly blends various spaces into a stately and cozy saloon of 39 sqm.
The Power 67 luxurious saloon hospitable area includes a lounge, a dining, a smart helm station and a convenient open galley. Alternatively the galley can be fitted down in port hull in order to offer even more space in the saloon.
The accommodation down below in hulls offers 4 to 6 double cabins: see below for various layouts.
---
Fountaine Pajot Power 67 layout choices
Click to check the Power 67 layout plans
Power 67 Charter
Power 67 Maestro (Owner)
The major difference is a sensational Owner Suite on starboard, with sofa, desk, and an extensive bathroom with separate shower.
This layout offers the "Galley down" option for the port mid space, in order to enjoy a more voluminous saloon.
The "Bunk bed" option in the port rear cabin might be preferred to accommodate crew members or solo passengers.
Like in the Charter layout, rear cabins staircases come from the cockpit.
---
Specific structure and motorisation of the Power 67 for best performance
Fountaine Pajot designs and builds specific hulls for power catamarans and provides great motorisation, in order to offer the best seaworthiness and great performance in average conditions.
Speed aficionados will also be satisfied with the great performance, thanks to the engines offering a standard 2 x 300 hp and especially with the engine upgrade of 2 x 435 hp.
Power 67 Speed & Range prediction
The speed and range projections below correspond to a Fountaine Pajot Power 67 catamaran equipped with upgraded engines of 2 x 435 hp, for a fully loaded yacht of 40T. The consumption corresponds to a consumption with engines and the genset.
Fountaine Pajot Power 67 Speed & Range projections

| | | | | | |
| --- | --- | --- | --- | --- | --- |
| RPM | 807 | 1756 | 1960 | 2492 | 3500 |
| Speed (kn) | 9 | 12 | 15 | 18 | 20.5 |
| Range (miles) | 2520 | 1051 | 887 | 778 | 726 |
Specific hulls for the Power 67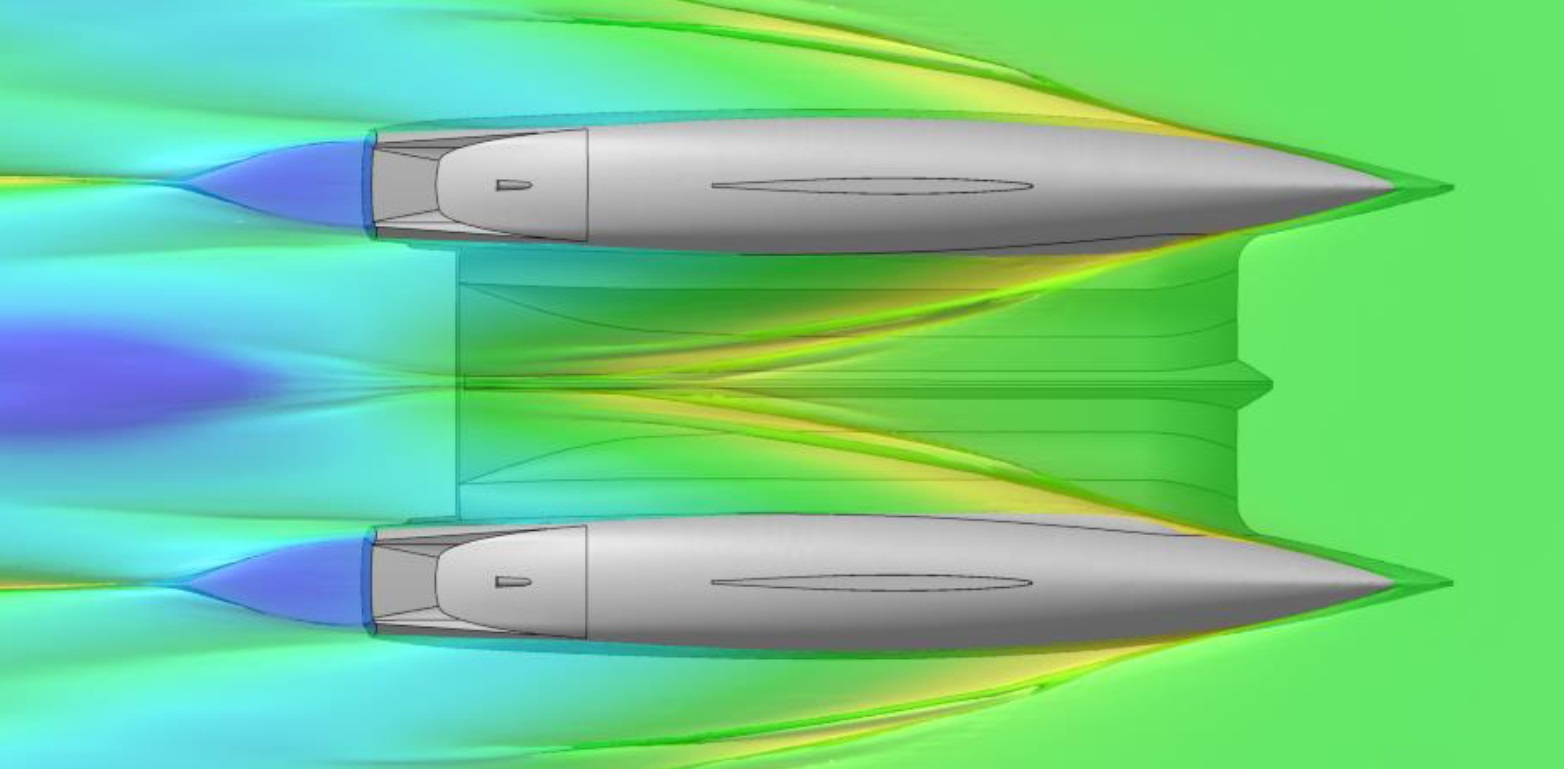 The Power 67 hulls have been adapted from the new Alegria 67 sailing catamaran to enhance engine performance. The stern lines are wide to allow great power propulsion.
---
Price & option cost of Fountaine Pajot Power 67 (* as of January 15th, 2023)
* Prices are in Euros as per Fountaine Pajot request. Our partner Western Union can facilitate and optimize your currency exchange through competitive exchange rates. We also work with established institutes to offer Yacht Finance to our buyers, in the United States, UK and France.
** Prices are for indication only and not contractual. Please note they are updates twice a year by Fountaine Pajot. Our New Yacht team will send you a formal quotation: click on the button below.
What's the final price of a Fountaine Pajot Power 67 motor catamaran?
There are several components to the price of your future yacht:
Once you have signed your order and paid for the 20% desposit required by Fountaine Pajot through your dealer, the production slot will be confirmed to you.
When placing your order, you don't have to determine all options yet. A lot of equipment can be chosen later on in the process. Our team will let you know the various deadlines for the choices you will have to make.
1. Base price for a Fountaine Pajot Power 67 (as of August 1st, 2023)
Fountaine Pajot Power 67: 3 242 000 Euros*
Deposit 20%
Includes 2 x Volvo D4 engines with shaft drive, 300HP with soundproofing, 2x3 blade fixed propellers, SmartLink.
Please consult the shipyard inventory document to know about the basic Power 67 equipment
2. Layout options (as of August 1st, 2023)
Click to check the Power 67 layout plans
Layout choice 1

Galley up and double port mid cabin + 0 €
Galley down and lounge saloon + 62 214 €
Layout choice 2

Double port after cabin + 0 €
Port aft cabn with bunk beds + 14 932 €
3. Fountaine Pajot option costs
Below are some of the popular features added by our clients. Please contact our New Yacht team to get the full option price list.
Engine upgrade to 2 x D6 480HP 77,153 Euros*
17 kW 220V 50Hz generator: 28,480 Euros*
Full boat A/C 63,351 Euros*
Electronic pack GARMIN 4 Power 50,518 Euros*
4. Post-factory equipment
Our partners both in La Rochelle and the Caribbean will provide with extra equipment you would like to install on your yacht. They are marine professionals with extensive experience of Fountaine Pajot catamarans.
Contact our team to get a personal quotation for your specific needs like
biminis,
tender and outboard,
watersport toys,
Synthetic teek,
Other equipment.
5. Example price for a fully loaded POWER 67
As of August 1st, 2023 - Subject to change by shipyard
As an example, a fully-equipped Power 67 costs around 3,900,000 euros*. This yacht would include the following options:
Platinum version
Aft platform
Engine upgrade
Full air conditioning
Watermaker
Canvass protections
Synthetic teak in cockpit
Icemaker
and more.
Get your personal quotation for a Power 67
---
Power 67 Charter Investment opportunities
We have a long experience in Charter Investment. Contact us for comprehensive information on Charter yacht opportunities, costs and revenues, charter companies and crews.
Caribbean Multihulls also partners with an established family-run USVI Charter company for luxurious crewed charter, in order to provide the best revenue and service for your charter investment.