January 29th, 2022
Dear multihull lovers,
The fourth edition of the Caribbean Multihull Challenge is now getting very close. Although the ongoing pandemic situation has forced some great boats to come from overseas, we are delighted about all the boats that registered.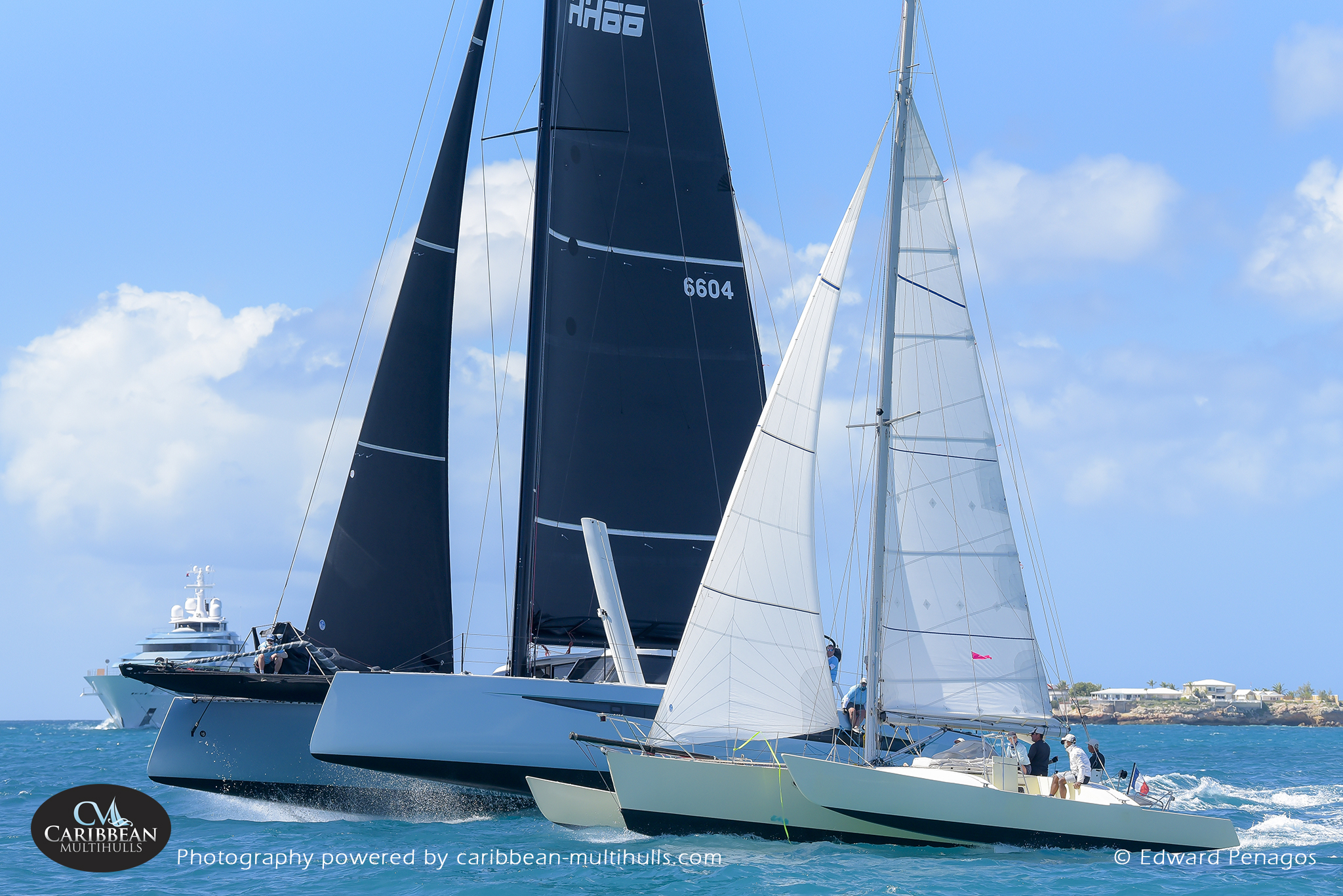 Let's have a look at the competitors entering this regatta:
2 2 TANGO. 53' Schionning 51C catamaran owned by Anthony McVeigh (Home port London, UK)
AIR NEST, 24' Diam 24 trimaran owned by Sylvain Corroy (Home port Saint Martin)
ARAWAK 52' custom Joubert Nivelt catamaran owned by Rodney Williams and FRançois Nel (Home port Sint Maarten)
SPELLBOUND, Leopard 45 catamaran owned by Ian Martin (Home port Cole Bay, Sint Maarten)
CRY BABY,, Diam 24 trimaran owned by Pierre Altier (Home port Sint Maarten)
FUJIN, Bieker 53 catamaran owned by Greg Slyngstad (Home port Sammamish, WA, USA)
HONEY BADGER, Corsair 37 trimaran owned by Marcos Sirota ( Home port Tacoma Park, MD, USA)
LA NOVIA, 50' cruising catamaran owned by Georges Coutu (Home port Cabarete, Puerto Plata, Dom.)
MERLIN, Diam 24 trimaran owned by Alexis de Boucaud (Home port Baie Nettlé, Saint Martin, SXM)
MY TREASURE, 40' M4000 catamaran owned by Betsy Crowfoot (Home port Dana Point, CA, USA)
NEMO, HH66 catamaran owned by Todd Slyngstad (Home Port Los Gatos, CA, USA)
PAPOUTE, Seacart 26 trimaran owned by Olivier Pilon ( Home port Clarenceville, Quebec, Canada)
SEADUCTION, Leopard 27 catamaran owned by Petro Jonker (Home port Philipsburg, Sintn Maarten SXM)
SKATEAWAY, 40' trimaran owned by Stephen Marcoe (Home port Reno, NV, USA)
TRYST, 36' Dick Newick Trice II owned by Team Tryst Stoutenbeek & Banting (Home port Colebay, Sint Maarten SXM)
AMARI, Lagoon 45 catamaran owned by Jan Sotelo (Home port Austin, TX, USA)
There will be tight competition for sure!
Information from Yacht Scorig, click to access Yacht Scoring website for updates