Consult Sam Fortescue review of Fountaine Pajot AURA 51
Fountaine Pajot AURA 51 replaces SABA 50
SABA 50 was the largest Fountaine Pajot sailing catamaran that is easy to handle without a skipper. Almost 140 boats of this model have now been sailing all around the world.
The AURA 51 is in the same vein, and will offer 4 to 6 cabins. Announced in September 2020 by Fountaine Pajot shipyard, this new 51 sailing catamaran has been launched end of March 2022.
The AURA 51 brings a lot of innovative features, including a vast flybridge and generous living areas.
AURA 51: The future is now
In terms of sustainability, this yacht offers 1.600W of integrated solar panels, which is 4 times more than the SABA 50. The ambition of Fountaine Pajot shipyard is to provide sailors with sustainable power autonomy.


Functional space on board the AURA 51
The pilot seat and controls are installed by the entrance of the inside saloon for easy access. The saloon doors opening onto the cockpit are twice larger than the Saba's. Easy circulation through the fully open deck provides an in and out galley.
Protected by the wind screen, enjoy great convivial moments with up to 14 pax around the extended dinner table. The XXL Lounge deck adds another convivial space with seats and sunbeds.
You will also love the private entrance onto the Owner's Suite directly from the cockpit.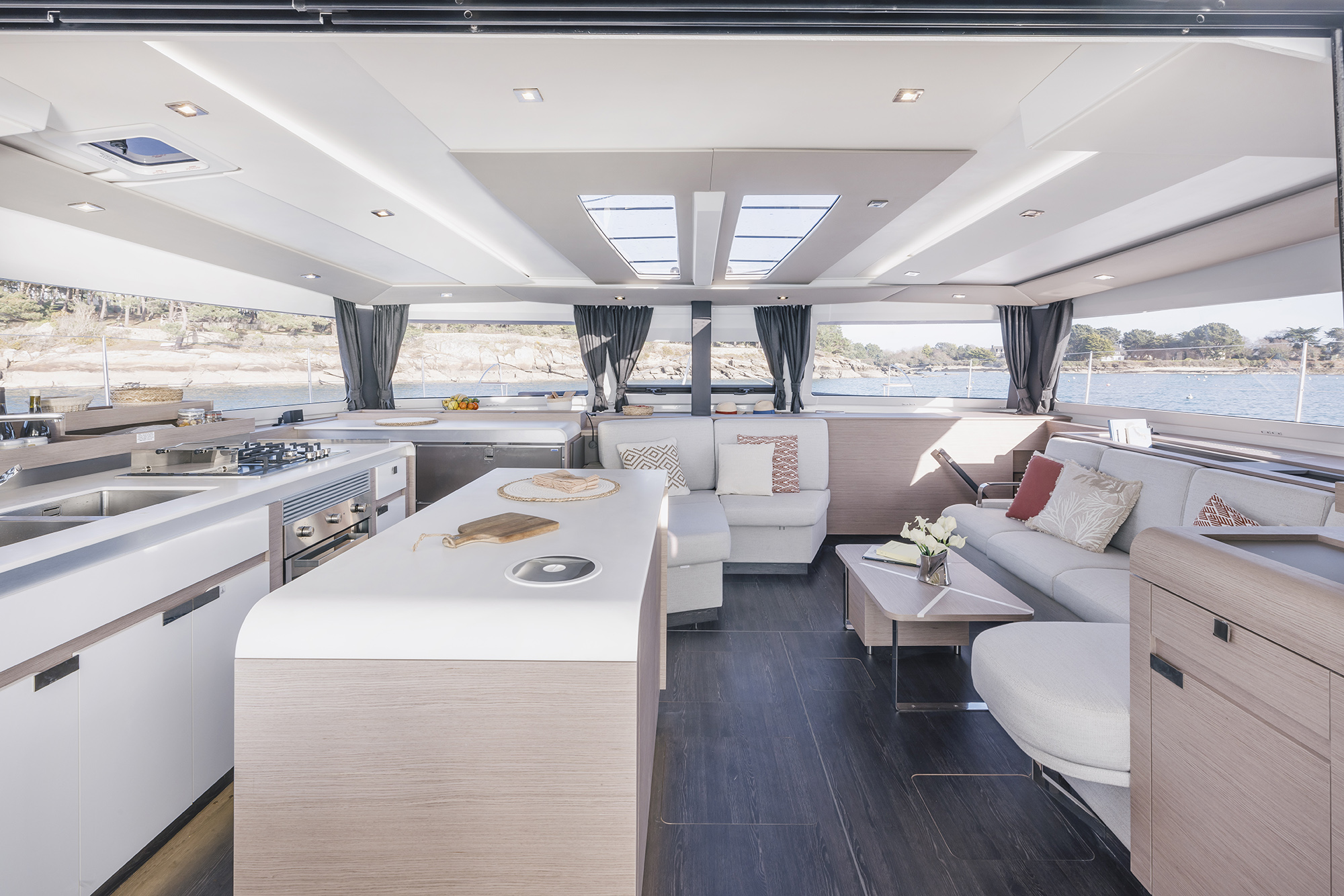 4 layouts to suit all sailing adventures
Whether you would like to circumnavigate with your family or friends or charter a AURA 51, there is a version for your project.
The Full Maestro version has an amazing owner's suite in the whole port side hull. The starboard hull offers 3 double cabins with bathrooms.
The Double Maestro version has a big Owner's suite and another cabin on the port side, and the same on the starboard side. There are in total 4 cabins and 4 bathrooms.
The Maestro 5 cabins offers an owner's suite and 4 double cabins, all with private bathrooms.
The 6 cabins NEW 51 is perfect for charter use with 6 identical double cabins with bathrooms.

Whatever the version, all guest cabins have a Queen size bed facing the sea view and a private bathroom.


Sailing performance & Comfort at helm
With her mast and sails and her sail/weight ratio, the AURA 51 outperforms comparable cruising catamarans and provides smooth sailing.
She features a mast forward, supported by a strong laminated bulkhead. Her accessible boom allows better performance, is safe and easy to maintain.
This sailing catamaran has a well balanced rigging and powerful mainsail and genoa.
The mid high helm station is perfect for a family boat, as it allows to communicate easily with both the Lounge Deck and the cockpit/saloon.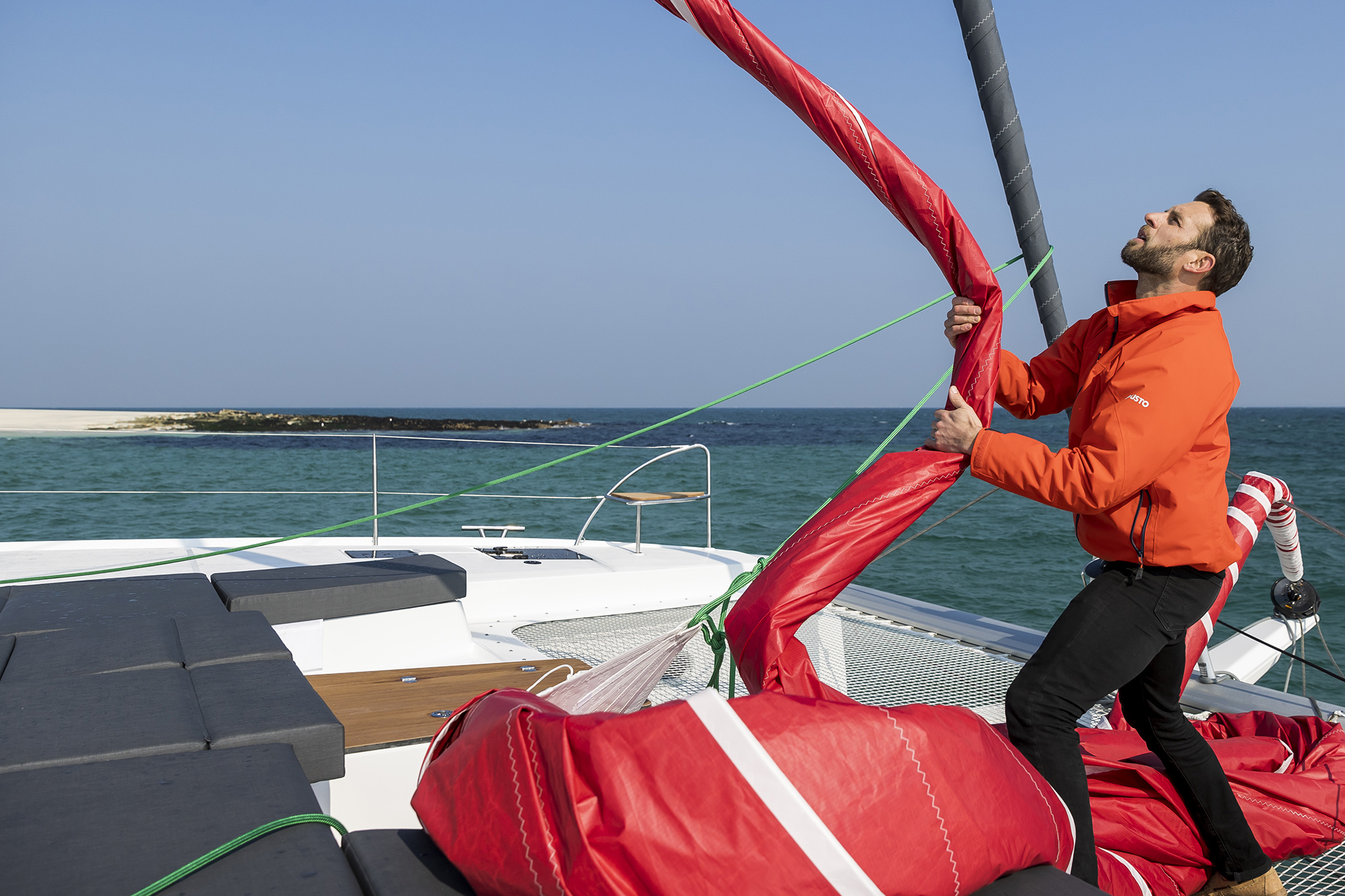 Fountaine Pajot AURA 51 price
I want a fast quotation now >>
BASIC PRICE (as of August 1st, 2022 - Price ex VAT in Euro)
951.842 € for a Fountaine Pajot AURA 51 Full Maestro with 4 cabins and 4 bathrooms

967.655 € for a Fountaine Pajot AURA 51 Double Maestro with 4 cabins and 4 bathrooms

992.658 € for a Fountaine Pajot AURA 51 Maestro with 5 cabins and 5 bathrooms

1.000.373 € for a Fountaine Pajot AURA 51 6 cabins and 6 bathrooms
Standard equipment: 2 Volvo D2 60 engines sail drives
AURA 51 Version configuration (Price updated March 15th, 2022)
28.000 € for the Grand Large version
49.000 € for the Oceanic version
100.000 € for the Comfort version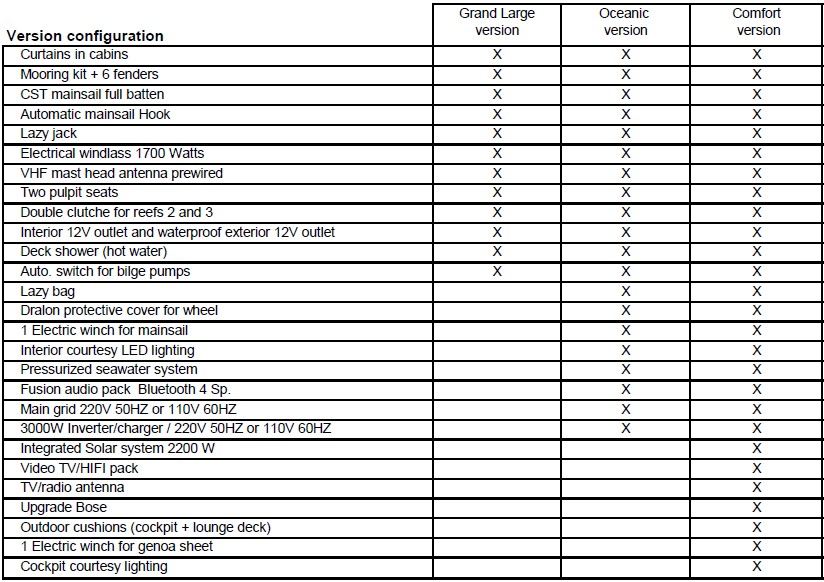 AURA 51 Options
Please make an enquiry to get the full updated list from our team. Below are some option examples:
4.945 € for Engine upgrade 2 x 75 HP
18.698 € for electronics Garmin 3 Smart Cruising pack (best pack)
26.151 € for Hydranet sails
5.086 € for the cockpit tent
Price indication for a fully equipped Fountaine Pajot AURA 51
As of August 1st, 2022 - Prices are subject to change by shipyard
A fully loaded Fountaine Pajot AURA 51 with Caribbean Multihulls costs around ---------- €. This includes the following options which are popular in the Caribbean: upgraded engines, Comfort version, Owner's suite, A/C throughout, watermaker, all canvasses, icemaker, and more.
Inventory & Brochure
AURA 51 Inventory
Download the document by clicking on the button.
The inventory sheet gives you the specifications, as well as the interior layout, the deck layout, the motorisation, the plumbing, electricity / electronics, rigging and sails, deck fittings, construction material and process.
AURA 51 General Specifications
Length overall: 15.54 m
Beam overall: 8.08 m
Draught: 1.30 m
Light weight displacement: 18100 kg approx.
SAIL AREA
Genoa: 59 m² with furler and UV band
Mainsail: 95 m² - Full batten CSR mainsail
Engines: 2 x 60HP
STANDARD MOTORISATION
2 Saildrive Volvo engines D2- 50CV
2 three-blade fixed propellers
TANKS
Freshwater: 2 tanks, total 900 l (approx.)
Fuel: 2 X 450 l (approx.)
Water heater 2x60 l
Holding tanks for all toilets
BOAT CERTIFIED CE:
Category A: 14 people
Category B: 16 people
Category C: 24 people
Category D: 30 people
Naval architect: Berret-Racoupeau yacht design
Interior design: Isabelle Racoupeau
Builder: FOUNTAINE PAJOT
Fountaine Pajot New 51 layout versions
Full Maestro 4 cabins
Full hull with Owner Suite port side + 3 double cabins on starboard side, all 4 with private bathrooms
Double Maestro 4 cabins
In each hull are one Owner Suite + double cabin, all 4 cabins with private bathrooms.
Maestro 5 Cabins
1 Owner Suite + 4 double cabins, all 5 with private bathrooms
6 Cabins
6 double cabins with private bathrooms
Construction materials and process
Hulls and decks are build using an infusion process with polyester resin on a balsa core, PET foam, or PVC foam
High quality anti osmotic resin used for hulls
Fibre glass skins
Bimini RTM process on PET foam
Infusion moulding on balsa, PVC and PET core for the structural bulkheads
Grey topcoated bilges.
Hull finished in white gel-coat.
White gel-coat deck with built-in anti-skid surface
GRP keels bonded into keel boxes, anti-flooding system in case of going aground