---
Fountaine Pajot catamarans for sale by dealer Caribbean Multihulls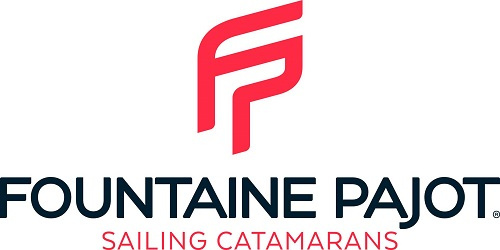 We are proud exclusive dealers of Fountaine Pajot catamarans for the north Caribbean, from Antigua to Puerto Rico.
Peter Cohen, founder and Director of Caribbean Multihulls, has been a Fountaine Pajot dealer since 2000, when he opened the dealership in Australia. He later moved to the Caribbean and created Caribbean Multihulls in 2009, together with associates Carl and Colin Livett, who have been the UK dealers for Fountaine Pajot since 1992.
We have been working with Fountaine Pajot for decades, and our extensive experience with the shipyard and local Caribbean professionals allow us to provide quality after sales service to our customers.
Whether you are interested in Fountaine Pajot catamarans for personal use or for a charter project, Caribbean Multihulls team will provide you with all information needed about Fountaine Pajot models and a personalized price quote.
---
Fountaine Pajot: Over 40 years of innovation for catamarans
Video on the shipyard history for Fountaine Pajot Catamarans anniversary in 2016
Created in 1976 by expert sailors, Fountaine Pajot has been building hundreds of catamarans with the same passion of sailing. With experience, Fountaine Pajot catamarans have acquired many qualities which make them many sailors' favourite catamarans.
Fountaine Pajot commits to quality management through an elaborated system, which has been continuously certified to ISO 9001 standard since 1991, for the design and construction of sailing and power catamarans.
Fountaine Pajot: technical expertise for quality, performance and safety

Fountaine Pajot catamarans are synonymous with stability, responsiveness, safety and comfort at sea.
The shipyard continuously runs an active Research and Development policy and gradually updates all catamaran models with the latest sailing industry technologies, to optimize owners' satisfaction.

With innovation in mind, Fountaine Pajot is also a world leader in terms of boat composites, with the use of resin injection and infusion techniques. Thanks to this technology, catamarans are now lighter, strong, safe and much more environment friendly.

Fountaine Pajot also works hand in hand with the best players in the sailing and nautical industries in order to benefit from all development and innovation to reach constant improvement, and to give best after-sales service through partners worldwide networks. For example for motorisation, the Volva Penta network gathers dealers in 130 countries.

The Research and Engineering department is divided in two teams: one is dedicated in mid-size models and is located in the major production plant of Aigrefeuille d'Aunis, whereas another team works on ships above 50 feet, in the facilities of La Rochelle on the coast.
Fountaine Pajot production management organization

In order to ensure best quality at production, Fountaine Pajot organizes production lines with the following
divisions
: composites, assembly, cabinetwork, equipment, electrical, plumbing, motors, and launching.
Each division is managed and operated by specialists, and all Fountaine Pajot employees benefit from in-house training to perfect know-how techniques and provide safe working processes.
Modern and comfortable yachts
Interior and exterior style design of Fountaine Pajot catamarans has been evolving through time to innovate and modernize. With new lines, materials, colours and options, Fountaine Pajot always offers contemporary and ingenious boats.
Fountaine Pajot customer service and dealers network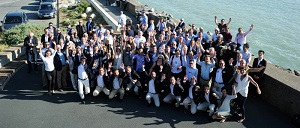 As the number of Fountaine Pajot catamaran owners is growing faster than ever, the shipyard has been investing for years in Customer Service through a strengthened dedicated service.
In order to best serve owners, all technical and after sales enquiries go through the Fountaine Pajot dealer which sold the boat. This system ensures a strong link for the most comprehensive information in order to give the best service.
The vast network of Fountaine Pajot dealers allows a worldwide collaboration in order to offer the best service wherever your position on the planet!
Caribbean Multihulls is your dealer for the north Caribbean islands: Antigua, Saint Marti (main office), Saint Barth's, British Virgin Islands, US Virgin Islands, Puerto Rico and others. We know the area well and work with many Caribbean specialists to ensure the best after-sales service for our customers. Our director Peter Cohen has a wealth of experience with Fountaine Pajot since 2000, and knows everyone at the shipyard.
Environment care
Sailors cherish the sea, and environment care has always been a priority for Fountaine Pajot. Catamarans are designed for best autonomy in energy, for fuel efficiency and management of waste water. All materials are selected in order to minimise the impact on the environment, and the shipyard has put into place strict recycling and disposal policies.
---
Fountaine Pajot sailing catamaran range & personalization
Various models, improvements and Evolution versions
The Fountaine Pajot range evolves every year through models going from 40 feet to 67 feet catamarans. Models are replaced after a few years in order to better suit innovation and demand. Each model gradually benefits from improvements throughout its lifetime, and after a couple of years, an "Evolution" version of the model comes out with significant standard improvements.
Layouts with cabin and bathroom choices
Each model is available in various layouts, in order to best suit your sailing project, whether you are going to use the boat for personal use, for small or large crews, for bareboat charter investment or crewed charter… You have the choice for the number of cabins or bathrooms, to have fore cabins, table convertible into berths, and for some single bunk beds or double beds: There is a layout to suit everyone!
Colour and material personalization of your Fountaine Pajot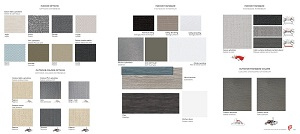 Each Fountaine Pajot catamaran model comes with indoor and outdoor standard colours for upholstery, floor, ceiling, galley surfaces, furniture, curtains, bedhead, outdoor canvass, etc. As Fountaine Pajot wants to offer a variety to suit many tastes, owners can choose from optional colours to personalize their catamaran inside and out!
Your dealer Caribbean Multihulls also offers a wide choice of post-factory works in order to equip your catamaran.
Equipment options
In order to offer the best sailing possibilities, Fountaine Pajot offers a long list of options for each model.
Performance options: such as hydranet sails, carbon mast, engines or electronics upgrades
Autonomy equipment: solar panels, watermaker, generator…
Galley and gourmet appliances: gas plancha, dishwasher, optional refrigeration, microwave…
Leisure features: hydraulic platform, audio and TV, connectivity…
Live-aboard: air conditioning, electrical systems, canvasses, slatted beds, washing machine…
With our extensive experience, we are also able to offer you many additional post-factory options to fit your needs, fitted either in La Rochelle or in the Caribbean. We are also open to study any of your personal projects.
---
Fountaine Pajot Yacht Club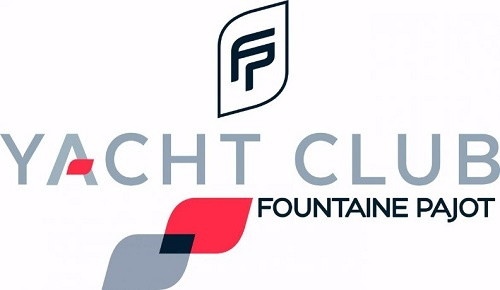 Whether you own a brand new or second hand Fountaine Pajot catamaran, join the Yacht Club.
As a member, you will benefit from privileged access to boat shows, get offers from Fountaine Pajot and partners, get invitations to Fountaine Pajot Owners Rendez-Vous, special welcome in "FP friendly" marinas.
---
Fountaine Pajot history
Founded by expert sailors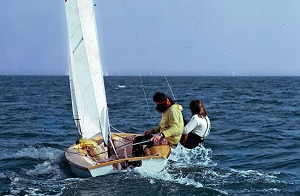 The shipyard was created in 1976, and first produced centerboarders (the 505, 470 and 420) which were made of composite sandwich.
Fountaine Pajot prototypes won a few races, and soon created multihulls which also were successful competitors at sea: the Royale trimaran and the Charente Maritime catamaran.
After the great triumph of that catamaran in transatlantic competitions, Fountaine Pajot grew from 4 to over 400 men dedicated to the production of catamarans. The factory produced 40 models in 40 years, from 1976 to 2016!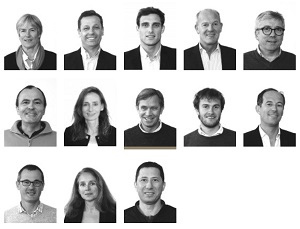 Fountaine Pajot executives are passionate with sailing, which makes a world of difference with choices made for the design and construction of new yachts.
Jean-François Fountaine, Yves Pajot, Pierre Fountaine and Claire Fountaine have won selections and gold medals at Olympic games as well as world championships.
Romain Motteau, current deputy CEO, won the Hobie Cat 16 as World champion, crewed with renowned Franck Cammas and Pierre Pennec on Extrem 40, and also won the Archipelago Open Race.
---
Fountaine Pajot boats - Key dates
1976 Creation of the shipyard.
1978 Opening of a new production facility, construction of centerboarders 505, 420 and 470.
1980 Half Tonner IOR prototypes winning World championships and single-handed race Solitaire du Figaro.
1981 Triumph at several races for the 18m Royale trimaran and 21m Charente Maritime catamaran.
1983 Launch of first production boat Fountaine Pajot Louisiane 37, designed by Joubert Nivelt, with the cruising catamaran concept.
1985 Launch of Fountaine Pajot Casamance 43. This innovative catamaran set a standard in the industry with a light platform connected to both hulls and spacious accommodation.
1988 Release of models Maldives 32 and Fidji 39.
1991 New model Marquises 53.
1992 Launch of the Venezia 42, with original roof cap.
1993 4 models are launched, to answer the international success of Fountaine Pajot: Tobago 35, Athena 38, Bahia 46 and Marquises 56.
1996 Launch of commercial day charter catamaran Taiti 75.
1998 Fountaine Pajot starts producing power catamarans with its Trawler range: the Greenland 34 and the Maryland 37.
1999 ISO 9002 version 1994 Certification.
2000 New model Belize 43, which set a new standard is a still a demanded model on the second hand market.
2002 New injection technique used for the Lavezzi 40, which is a significant environmental step.
2003 The launch of the Lavezzi 40 seduces the public with new ergonomic, space and manoeuvrability.
2004 Fountaine Pajot releases trawler Cumberland 44 and the majestic Eleuthera 60, which have both been setting a new pace for long-distance cruising in the catamaran industry.
2005 Power catamaran Highland 35 is launched.
2006 New model Mahe 36 is the first one to be entirely vacuum-moulded thanks to infusion technique.
2007-2008 Fountaine Pajot is listed on the Alternex Stock Exchange. The Orana 44 and Salina 48 sailing catamarans are launched.
2009 New flagship model Galathea 65, and new power catamaran Queensland 55.
2010 Despite the world crisis, Fountaine Pajot catamarans benefit from the long-term strategy. Sailing catamaran Lipari 41 is launched, as well as motor yacht Summerland 40.
2011 The Eco-Cruising concept is developed, to encourage environment-friendly cruising and the use of renewable energy. Meanwhile, the Sanya 57 impresses with great panoramic views, dynamic lines and a convivial lounge deck. In 2012, the Helia 44 is announced and soon to become a great success.
2013 The Motor Yacht range is launched and blends the great capacities of motor yachts and power catamarans. The sailing Flagship range now includes also the Victoria 67.
2014 As Jean-François Fountaine is elected Mayor of La Rochelle, Nicolas Gardies becomes CEO and Romain Motteau Deputy CEO. Release of new model Saba 50.
2015 Fountaine Pajot massively increases sales around the world. Announcement of new motor yacht MY 37 designed by Andrieu doesn't go unnoticed, with brand new design and comfort standards.
2016 Fountaine Pajot celebrates 40 years of building cruising boats, and launches the 40th model Lucia 40!
2017 Release of the Astrea 42 and launch of the Saona 47.
2018 Motor yacht MY 44 is launched. The sailing New 45 catamaran is announced, as well as the motor catamaran MY 40