The delivery of Fountaine Pajot catamarans to Caribbean Multihulls' clients is always a special occasion. Allow me to weave the tale of the sailboat PORT TO VINO, the second of its name.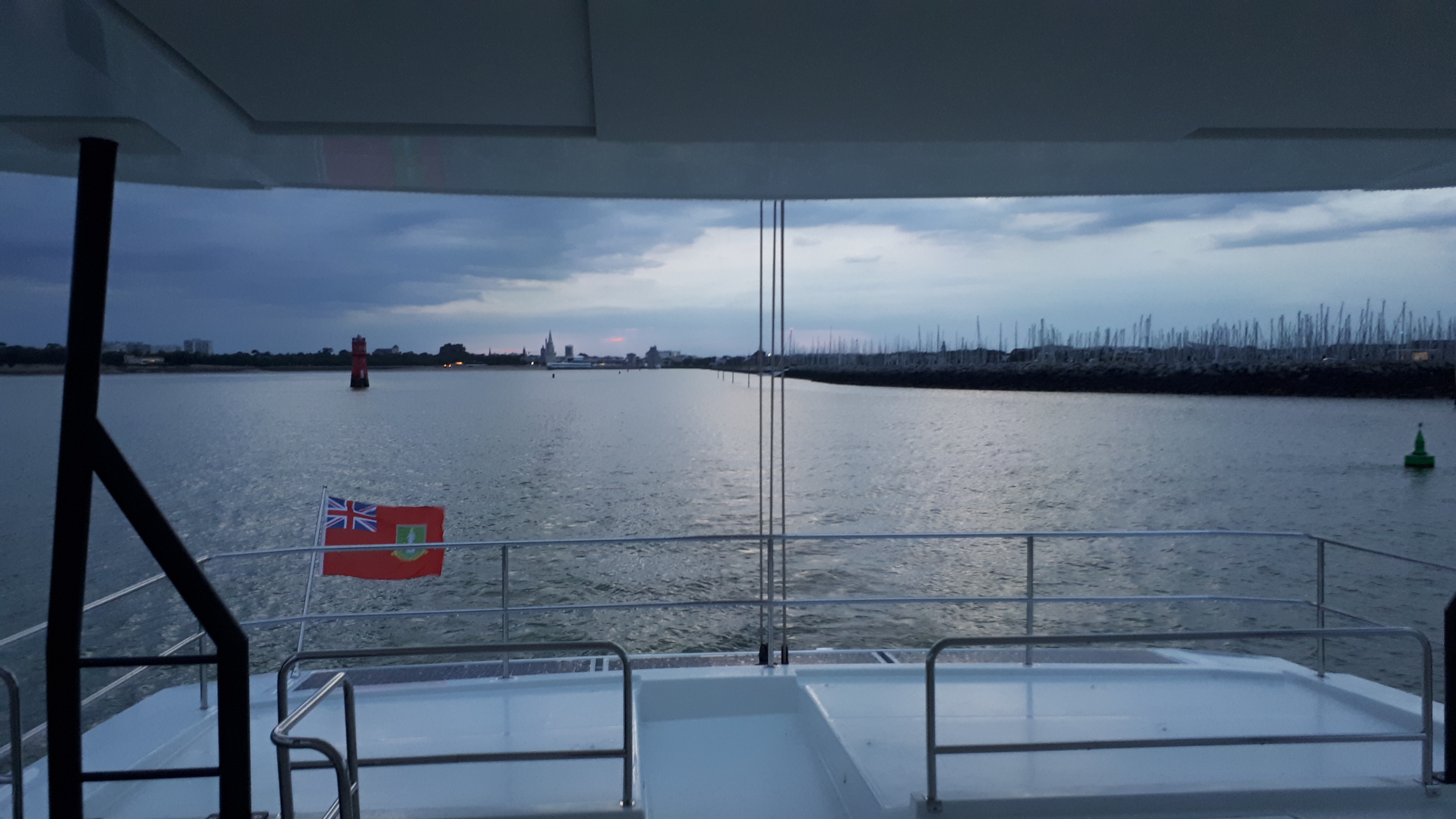 The Story of PORT TO VINO
From Port to Vino I to Port to Vino II
Years ago, our clients had already purchased a flagship Ipanema 58 from us, which they christened PORT TO VINO.
They put this vessel into charter service in the Virgin Islands in the Caribbean, with a captain and a hostess on board. Just as we had calculated together, this investment turned out to be remarkably lucrative.
So these clients returned to us with their new project, deciding to acquire a Samana 59. It was the 33rd hull of the flagship, and once again they registered her in the British Virgin Islands. For the comfort of their clientele, they equipped the catamaran with air conditioning throughout the entire vessel and a generator.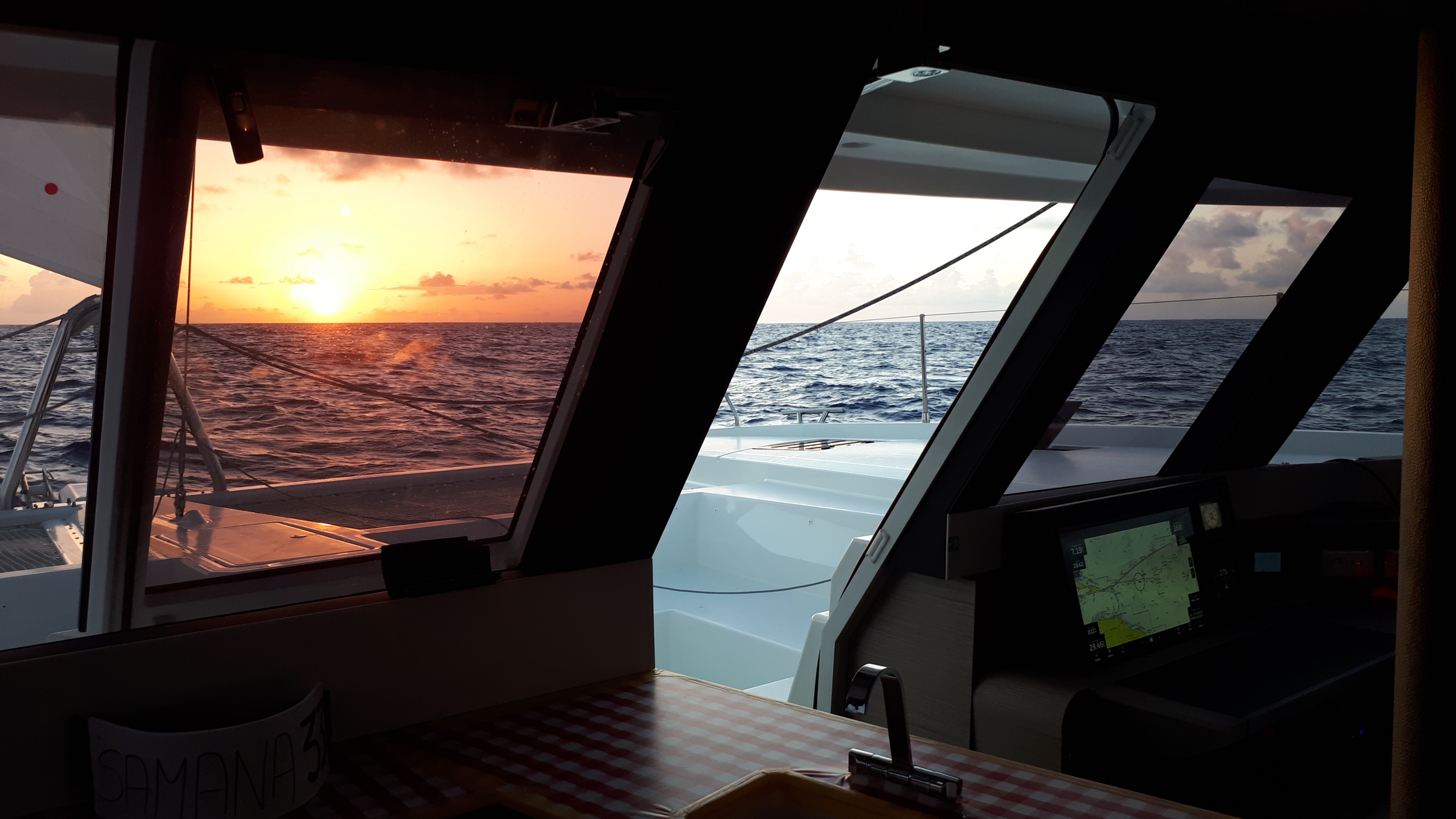 Crossing from la Rochelle to the Caribbean
Captain Nicolas Tournade, well-acquainted with Fountaine Pajot sailing catamarans, successfully navigated the boat from the shipyard to the Caribbean.
On the 9th of July this year, the yacht set sail at sunrise, around 6 AM, from the Port des Minimes in La Rochelle, where she had been launched. After two days at sea, the catamaran made its first stop in Spain in the Galician region, at La Coruña. Our clients' boats traditionally stop here for engine maintenance.
The following day, the maintenance was successfully completed, and the boat continued its journey along the coastlines of Northeastern Spain and Portugal until it reached Cascais, situated at the mouth of the Tagus River, just after Lisbon.
Given that this transatlantic voyage took place during hurricane season, Captain Nicolas Tournade wisely charted a southern course to avoid bad weather. After provisioning in Cascais, the crew set sail for the Canary Islands. PORT TO VINO cruised past them on the 19th of July without anchoring, then continued its course towards the Caribbean island of Saint-Martin.
The crossing was relatively smooth, with only one unexpected pause. Approximately two-thirds into the journey, the cautious captain consulted his Iridium, and he and his crew remained afloat for 48 hours to steer clear of an approaching tropical storm.
It was on the 6th of August that the boat finally passed under the Simpson Bay Bridge in Sint Maarten, then docking comfortably at Lagoon Marina in Cole Bay.
A week later, various upgrades began on the boat and lasted six weeks. Notable additions included a high-capacity ice maker, top-notch audio equipment, and televisions.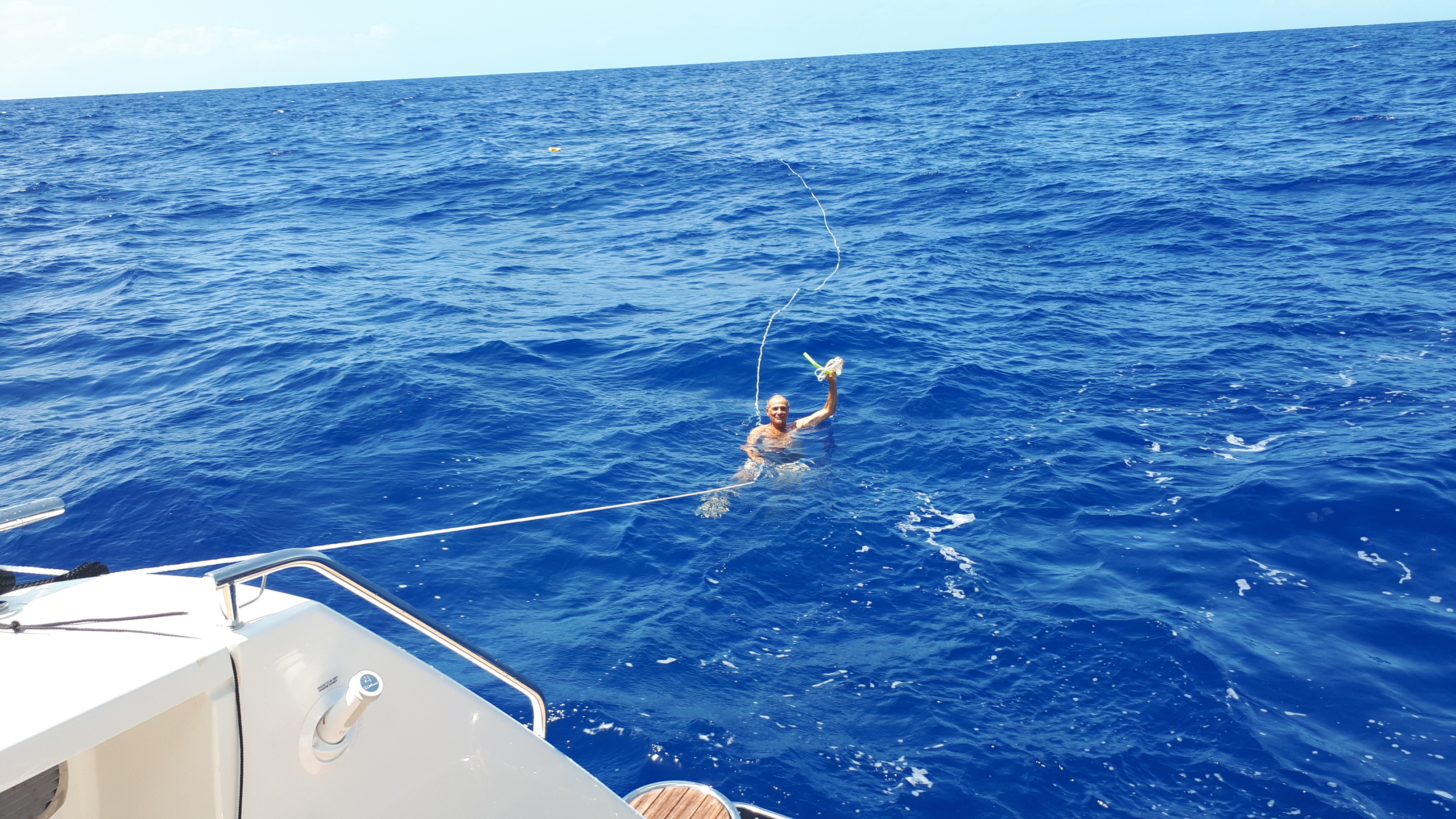 NICOLAS, a skipper chosen with purpose
Now, let's delve into the story of Captain Nicolas Tournade, who conducted this transatlantic voyage. We trusted him for a reason—his history with Fountaine Pajot is quite exceptional.
As a young man, Nicolas learned to sail in the Sport Studies program in La Rochelle, and his teacher was Claire Fountaine herself! Claire and her husband Jean-François were renowned for their nautical races during that time.
Passionate about boats, Nicolas pursued a marine carpentry diploma. Before reaching the age of majority, he obtained special permission to establish a shipyard with a friend, where they crafted aluminum boats.
Nicolas then began working with Jean-François Fountaine on boat design and manufacturing, partnering with Jean-François's brother Pierre to design prototype racing boats. It was during this time that their first offshore racing catamaran, the Charente-Maritime I, was born.
In parallel, Nicolas built his own vessel to compete in the solo Mini-Transat race from England to Antigua, via the Canary Islands. He raced in 1983 and had to ask again for a special authorization from England as he was under 21. Once again, he secured a special exemption!
Beyond his shipyard endeavors, Nicolas ventured into yacht deliveries. He later settled in Africa, establishing his composite company to perform repairs on large boats. His expertise also took him to Brazil and the Caribbean.
Returning to France, he took on roles in the design, sales, and marketing of Kennex cruising catamarans. Eventually, he founded a communication company in Paris while continuing to oversee his shipyard in Les Sables d'Olonne.
In 2002, he launched his Opium 39, designed by his close friend, no less than Lombard, which was later acquired by Wauquiez shipyard.
In addition to his roles as a skipper and entrepreneur, Nicolas now conducts training sessions for Fountaine Pajot owners and crews to help them confidently handle their new vessels, primarily flagship models.
It appears that he has a new nautical project brewing, but for now it remains a well-guarded secret...