*** NEWS: On 2021/20/01, the MY 40 is renamed MY 5 to harmonize the whole Motor range ***
Prizes for power catamaran MY 5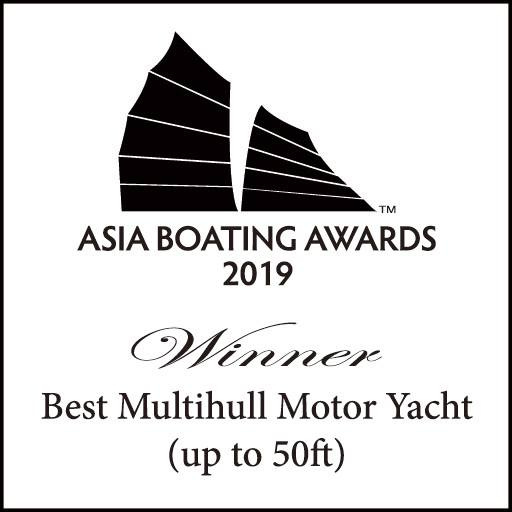 In April 2019, Fountaine Pajot motor yacht MY 40 won the Best Multihull Motor Yacht under 50ft award at the Asia Boating Awards for the 2019 Singapore Yacht Show.
Fountaine Pajot MY 5: dynamic design and outstanding performance
MY 5 Design
This model closes the gap in the Fountaine Pajot Motor Yacht range between the MY 4.S and the MY 6. The MY 5 confirms the shipyard's expertise in power catamarans, and the Motor range DNA.
The MY 5 interior has been designed by Pierangelo Andreani Yacht Design, who has been working on the Fountaine Pajot MY 6 previously. Pierangelo Andreani is a famous yacht and luxury designer.
MY 5 Seaworthiness and fuel efficiency
Again just like the MY 6, the hull of Fountaine Pajot MY 5 has been designed by the architect Daniel Andrieu, who specializes in motor yacht hulls, to ensure seaworthiness and performance. With wave piercing bows and specific design, the MY 5 power catamaran is very stable, both underway or at anchor.
The MY 5 is a long range motor yacht, which standard motorisation is ensured by standard Volvo IPS 350 (2x260HP), with an optional IPS 500 (2x370HP). This allows a great cruising speed from 20 to 24 knts when fully loaded.
Spacious and comfortable MY 5 interior
Just like the MY 4.S, comparing to similar-length motor yachts, the MY 40 offers a lot of volume and comfort considering her size. Large windows ensure natural light thoughout, and layout allows easy circulation on the yacht.
MY 5 saloon & galley
The galley is designed for long range cruising, with plenty of storage and a generous commercial fridge. Facing the cockpit, thanks to the large sliding doors, it allows direct interaction with the exterior. This very wide opening is ideal in the Caribbean to enjoy the sunny outdoor or to remain closed when using the air conditioning.
The incredible 360° panoramic view of the MY 5 is impressive, and the large sofas allow different views. The sliding TV and electric table options are some of the optional features which Fountaine Pajot offers for your comfort. Caribbean Multihulls will study any personal desires you have for you to customize your yacht!
Beyond being a pleasant area, the saloon is also very practical with storage, especially at bow with easy access.
MY 5 hulls: cabins & bathrooms
The Fountaine Pajot MY 5 Master hull includes an owner cabin of 7sqm with a 4sqm bathroom. The island Queen size bed faces the sea and offers an incredible view through a large panoramic window (50% larger than on the MY 44!). Imagine enjoying the view over turquoise Caribbean water and coconut trees! The owner's head is separate and the large bathroom includes a superb walk-in shower, also with great sea view.
The starboard hull includes a VIP 5sqm cabin with a double island bed, as well as a bow bunk or double bed 5sqm cabin, and a shared bathroom.
Fountaine Pajot MY 5 exterior
MY 5 XXL Flybridge
This huge 16 sqm flybridge makes the MY 5 a perfect yacht for the Caribbean, with a huge relaxing area. The helm station welcomes two people, and next to it is a large sunbed. The sofa/dining area welcomes 6 guests, and an optional galley can be fitted on the MY 5 flybridge.
MY 5 Forward lounge
Owners of the MY 5 will appreciate the 8sqm foredeck relaxing space, which offers 2 sunbeds and a large sofa. The access is securised with flush deck hatches.
MY 5 cockpit features
The cockpit is large (16sqm), with a wide sofa, and a dining table outside welcoming up to 8 people. The cockpit can be extended with an optional hydraulic or fix platform, bringing an amazing sea sports and fun area, perfect for the Caribbean waters.
---
Fountaine Pajot MY 5 - Boat and option price list (* as of August 1st, 2023)
* All our prices prices for Fountaine Pajot catamarans are in Euros as requested by Fountaine Pajot. In order to facilitate and optimize other currencies (USD, GPB and others), we work with Western Union who offers our buyers very competitice exchange rates. You can also optimize your investment thanks to our Yacht Finance partners (United States, UK, France).
** Below prices are indicative only and may be subject to changes. Fountaine Pajot updates their power and sailing catamaran price lists twice a year: consult our New Yacht team to get a personalized quotation.
Total price of your Fountaine Pajot MY 5
The final price of your power catamaran will depend on the following:
As requested by Fountaine Pajot Motor Yachts, your production slot will be confirmed once you have signed your order and paid a 20% deposit to your dealer.
Please note that you do not need to confirm all equipment and options to your dealer when placing the order, some features may be decided later. Caribbean Multihulls New Yacht team will give you all the steps and corresponding deadlines.
​
1. Fountaine Pajot MY 5 baseline price (as of August 1st, 2023)
Fountaine Pajot MY 5: 759,900 Euros*
Deposit is 150,000 €
The MY 5 inventory lists all the basic equipment of the boat.
2. Cost of Fountaine Pajot Equipment Version packs (as of August 1st, 2023)
Exclusive version: 32,000 Euros*
Gold version: 53,000 Euros*
Platinum version: 97,500 Euros*
Fountaine Pajot MY5 versions

| Fountaine Pajot option | Exclusive | Gold | Platinum |
| --- | --- | --- | --- |
| Windlass control & chain counter on flybridge | x | x | x |
| Outdoor cockpit & fly cushions | x | x | x |
| Front saloon pleated blinds | x | x | x |
| One fresh water electric head on portside (owner's head) | x | x | x |
| 220V 50Hz or 33.V 50Hz main grid | x | x | x |
| Outdoor fordeck cushions | | x | x |
| Inside & outside courtesy lighting | | x | x |
| Hot water on deck shower | | x | x |
| 3000W 70A charger inverter | | x | x |
| Pressurized seawater system (anchor locker & cockpit) | | x | x |
| Kitchen furniture on flybridge | | | x |
| Underwater lighting (2x21W) | | | x |
| Additional AGM battery | | | x |
| 8kW 220V 50Hz generator | | | x |
| BOSE audio video (tuner DVB-T) pack for saloon, cockpit & fly | | | x |
3. Price of Fountaine Pajot additional MY options
There are many options to choose from if you would like to custom your power catamaran any further.
Engine upgrade (Volvo IPS 600 pack, 2 joysticks, twin go filters, and fixed fire extinguishing system): 71.250 Euros*
8kW 220V 50Hz generator: 27.249 Euros*
Full boat A/C system 50/60Hz 40,000BTU: 38.535 Euros*
Best electronic pack GARMIN 3 (IPS Pilot, AIS, VHF & 2x GPSMAP 16"): 25.920 Euros*
4. Cost of post-factory works
We can provide a wide variety of additional equipment, fitted by qualified marine professionals in La Rochelle (where Fountaine Pajot power catamarans get launched) or in the Caribbean.
Feel free to enquire about any customization and we will study options and offer personalized quotations for:
Custom canvass work / biminis
Audio or video
Specific dinghies and engines
Watersports toys
Synthetic teak with a variety of colors,
Etc.
5. Example price for a fully loaded MY 5
As of August 1st, 2023 - Prices subject to change by shipyard
Each quotation will differ depending on your choice of options. However as an indication, the average total price of a fully-loaded MY 5 power catamaran with Caribbean Multihulls is around 1,200,000 euros* (contact us regarding Currenty Exchange)
The following options are included in this type of MY 5 configuration:
Maestro version
Platinum pack
Platform
Engine upgrade
Full air conditioning
Watermaker
Canvass protections
Synthetic teak in cockpit
Icemaker
and more.
---
Press Reviews of Fountaine Pajot MY 5 power catamaran
Click on the images below to access the relevant MY 5 (previously MY 40) test review:
BoatTest.com test report on power catamaran Fountaine Pajot MY 5 (MY 40).
---
Your Fountaine Pajot MY 5 power catamaran in the Caribbean
Caribbean Multihulls is the exclusive dealer for Fountaine Pajot in the north Caribbean. We are appointed by the shipyard for sales and after-sales services, whether you would like to own a MY 5 motor yacht for private use or charter, on any island like USVIs, BVIs, Puerto Rico, Antigua, St Martin, St Barth's, Anguilla, etc.