Alegria 67 sailing catamaran - Flagship range by Fountaine Pajot
The Fountaine Pajot Alegria 67 replaces the Victoria 67 sailing catamaran and brings exceptional comfort for Flagship luxury lifestyle, including a superb large flybridge, and jacuzzi on her luxurious forward cockpit.
The outside design of the Alegria 67 reflects the thorough work which the shipyard went through to offer a functional and comfortable yacht. Hulls show reversed bows and large porthole windows. Circulation is made safe and easy with flush hatches above both hulls.
The interior design of the Fountaine Pajot Alegria 67 reflects both a refined and contemporary style.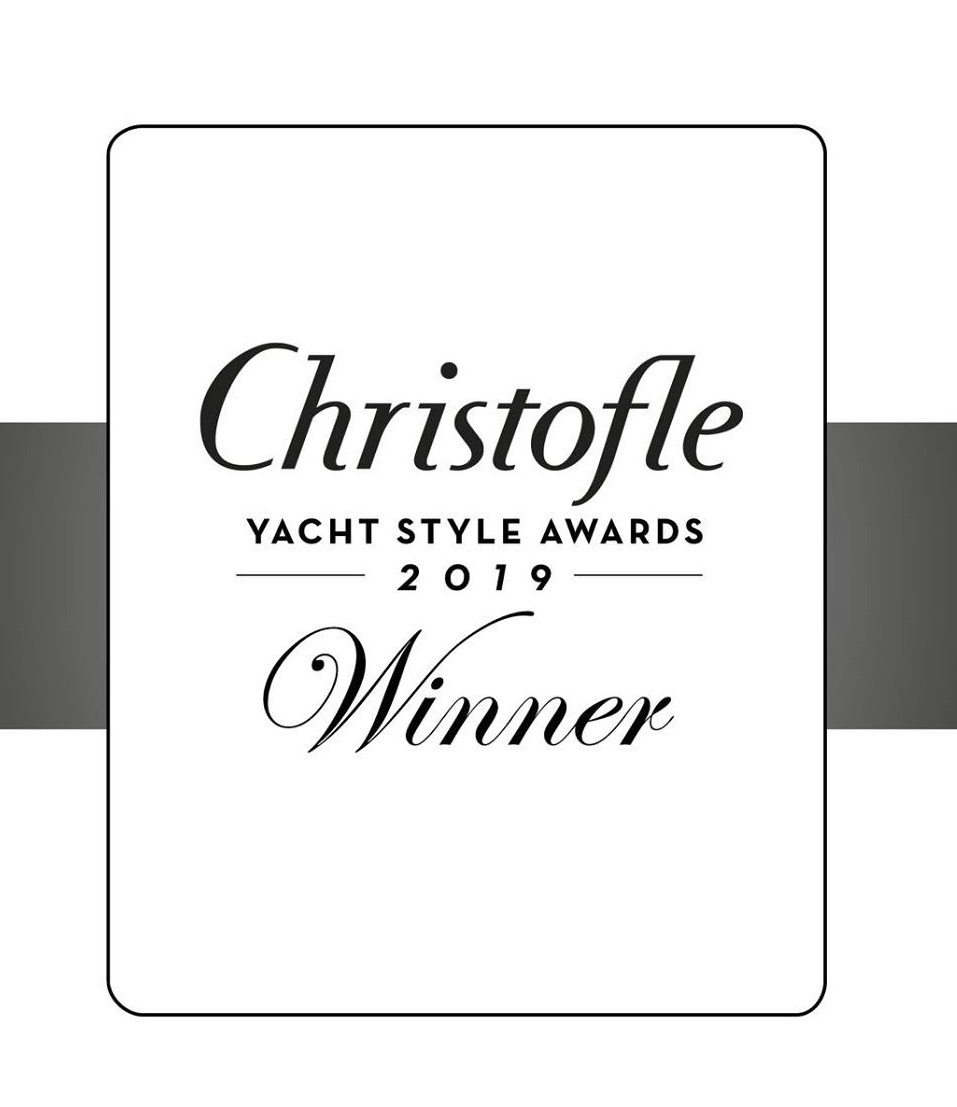 In January 2019, Fountaine Pajot Alegria 67 wins Best Multihull Sailing Yacht in Asia award at the Christofle Yacht Style Awards Ceremony in Thaïland, organized by Yacht Style Magazine during the boat show in Phuket.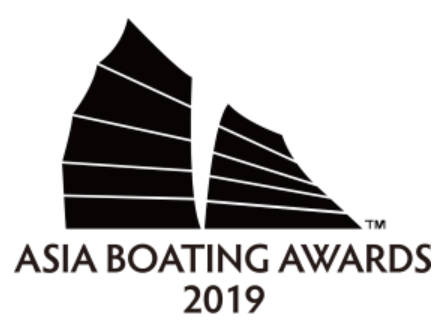 In April 2019, Fountaine Pajot Alegria 67 is nominated Best Sailing Multihull for the Asia Boating Awards at the Singapore Yacht Show.
End of April 2019, Fountaine Pajot Alegria 67 is elected Best Multihull of the Year 2019 in the 50 feet and over multihull category.
The election takes into account all votes from multihull lovers, and results are given during the International Multihull Boat Show in La Grande Motte, which takes place end of April every year. 2019 was the 10th edition of the show.
---
Alegria 67 exterior features
Alegria 67 main deck
The large main deck unites both inside and outside spaces with a seamless large sliding opening.
The comfortable inside saloon of Fountaine Pajot Alegria 67 is 39sqm! It offers a very practical and spacious galley with an island fridge, very cosy sofa areas on both sides, with one dining table side (sitting 8 guests) and low table relaxing lounge area, and of course the chart table facing forward with a great panoramic view.
The large door and windows slide to open onto the 36sqm spacious outside cockpit area of the Alegria 67. On the right hand side lies the dining table area to enjoy an amazing view. The two sunbeds on the sides provide additional relaxing spots.
The exceptional Flybdrige area of Fountaine Pajot Alegria 67
The flybridge offers a vast relaxing sofa area as well as two large sunbeds. There are two helm stations, to enjoy sailing and benefit from the best visibility in all cases, with centralized manoeuvre.
Optional solar panels lie at the back of the Alegria 67 flybridge.
Alegria 67 forward lounge
One of the most surprising features of this new Fountaine Pajot catamaran is probably the optional jacuzzi on the foredeck! The direct access to the saloon from the foredeck is also very appreciated, facilitating move on the yacht.
The Maestro version of Fountaine Pajot Alegria 67 also offers a direct stairs from the front cockpit to the Owner's cabin.
Whether for personal use or luxury charter use, there are 3 versions of the Alegria 67 available to you, all with various options choices:
Owners' version, which offers an amazing luxury and spacious 22sqm Suite with a great seview from the bed. The cabin is equipped with a large wardrobe, a luxury bathroom with two sinks, a large shower and a separate head.

Lounge version, which galley down, in order to offer a very large saloon for convivial time and relaxation.

Charter version with 6 cabins and en-suite bathrooms + crew space.
All guest cabins are equipped with a Queen size bed, own bathroom with head, and a large wardrobe.
---
Alegria 67 Price list for boat and options
Get your Alegria 67 price quote now
A. Buy your yacht tax-free in the Caribbean
Caribbean islands are not only great sailing grounds, they can also offer the advantage of a tax-free yacht purchase.
We advise you to consult a Tax Advisor if you need professional advice on your specific Tax situation.
B. Benefit from a Yacht Finance plan for your catamaran
We have been working with specialized institutes for years for our clients to get a finance plan for their yacht purchase, in the United States, United Kingdom and France.
C. What are the components of your Alegria 67 final price?
In order to calculate the total price:
Please note that:
Fountaine Pajot prices are updated twice a year. The price will be determined according to the date you sign the yacht order and pay the 20% deposit, as requested by Fountaine Pajot..
When to choose all options: You are not requested to choose all options from start. There are choices you can make later. Our team will give you the corresponding deadlines.
---
(*) Prices may vary. These prices are for indicative value only, and are not contractual.
WAnt a good exchange rate? We have been working with Western Union for years,
to help our clients get better Currency Exchange deals!
Step 1 - Alegria 67 catamaran - Layout prices (as of January 15th, 2023)
ALEGRIA 67 CHARTER for 2 792 000 euros*

ALEGRIA 67 OWNER'S - for 2 714 000 euros*
Layout choice 1

Galley up and double port mid cabin + 0 euros*

Galley down and lounge saloon + 59 535 euros*
Layout choice 2

Double port aft cabin + 0 euros*

Port aft cabin with bunk beds + 14 289 euros*
Click here to check corresponding layouts
Step 2 – Fountaine Pajot Alegria 67 equipment packs (as of January 15th, 2023)
Alegria 67 Grand Large: 50 290 Euros*
Alegria 67 Oceanic: 125 190 Euros*
Alegria 67 Comfort: 158 360 Euros*
The versions pack include the following equipment options: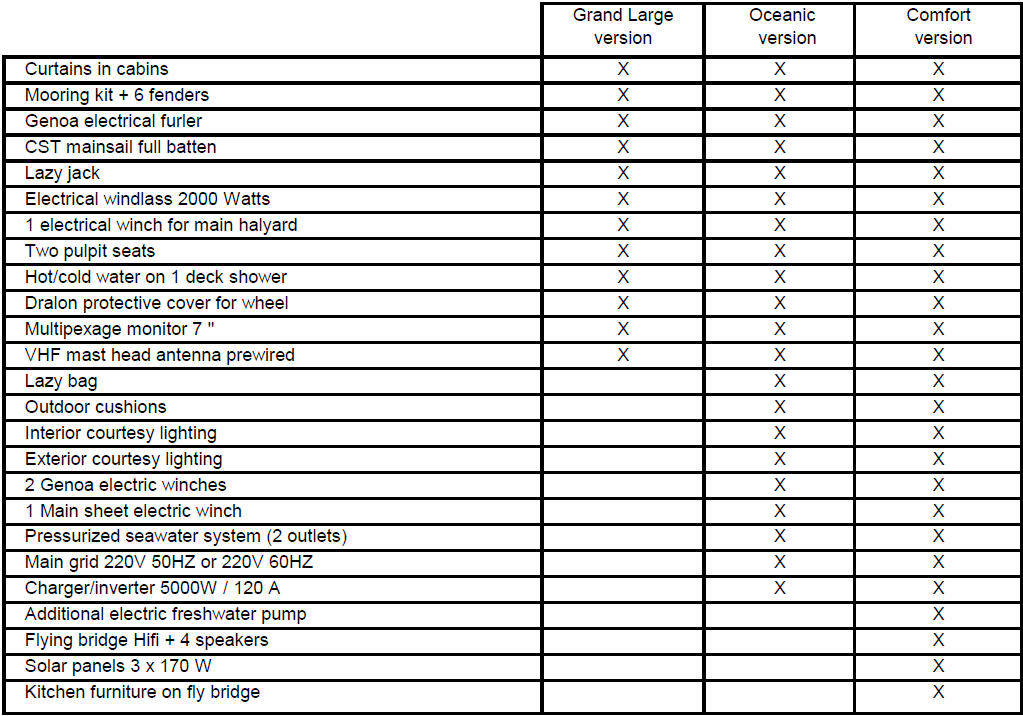 Step 3 - Fountaine Pajot factory options cost (as of January 15th, 2023)
Below are for example some of the most popular options amongst our customers.
Our team will help you go through the list of options you may require, to make sure you do get what you need and that you do not overequip your catamaran.
Engine upgrade 2 x Yanmar 4LV170 45 838 euros*
Best electronics package GARMIN 4 SAIL 48 343 euros*
Full air conditioning 60 623 euros*
Step 4 - Additional Ex-factory options on your Alegria 67
We have been working for years with many professionals, both in La Rochelle where boats get splashed and in the Caribbean, to supply our clients with others options they required for their project.
These partners fit for example:
Teak decks, showers, etc,
electronics,
electrical systems (like additional solar panels),
various sails and rigging fittings,
furniture and appliances,
dinghies, watersport gear, etc.
How much does a fully-loaded Alegria 67 cost?
As of January 15th, 2023 - prices subject to change by shipyard
As an indication, the average price of a fully-optioned Fountaine Pajot ALEGRIA 67 with Caribbean Multihulls is roughly 3 700 000 euros*
By fully-optioned, we consider the following:
Owner version
Aft cockpit Platform
Comfort equipment
Engine upgrade
Full A/C
Watermaker
Canvasses
Synthetic teak in cockpit
Icemaker
and more.
Contact our New Yacht advisors for more information.
Get your Alegria 67 price quote now
---
Tests & reviews of Fountaine Pajot ALEGRIA 67
Click on the image / video below to access the corresponding review:
Video walkthrough at Cannes Yachting Festival (Sept. 2018). Review of Fountaine Pajot Alegria 67 for the World Premiere.
Test review by the International Yachting Media (March 2019). Article by Marco Pinetto on Fountaine Pajot Alegria 67.