The ISLA 40 follows the Lucia 40 with exciting new features. She's an ideal yacht for family cruising.
ISLA 40 sets the standard for this size of catamarans
This new 40 feet sailing cat is a well-designed change to the Lucia 40.
The ISLA 40 is inspired by her bigger brothers. Shehas been announced by Fountaine Pajot shipyard in August 202, to be launched at Fountaine Pajot Private Boat Show in Bandol (south of France) in September 2020.
Like bigger models, she benefits from dynamic inverted bows and offers great performances.
The interior of the ISLA 40 is designed to optimize space and enjoy great natural light. Her chart table is located at the entrance of the saloon to allow more relaxing room.
Various layouts of Fountaine Pajot ISLA 40
Click here to check layout plans
Isla 40 Maestro version with Owner cabin
Maestro version with 2 heads
Maestro version with 3 heads
Isla 40 Quatuor version
Quatuor version with 2 heads
Quatuor version with 4 heads
ISLA 40 price list
Get a personalized quotation for my ISLA 40 >>
As per FP price list valid from March 15th, 2022 - Please enquire as Fountaine Pajot may change prices
Standard equipment
2 Volvo D1 20HP engines, 2x2 fixed blade propellers.
Click here to check the standard inventory of the ISLA 40.
Price for layout of the ISLA 40
Isla 40 Maestro 2 bathrooms 340.585 €
Isla 40 Maestro 3 bathrooms 343.332 €
Isla 40 Quatuor 2 bathrooms 343.606 €
Isla 40 Quatuor 4 bathrooms 344.885 €
Price for the Version configuration of the ISLA 40
Grand Large version 16.000€
Oceanic version 29.500€
Comfort version 38.500€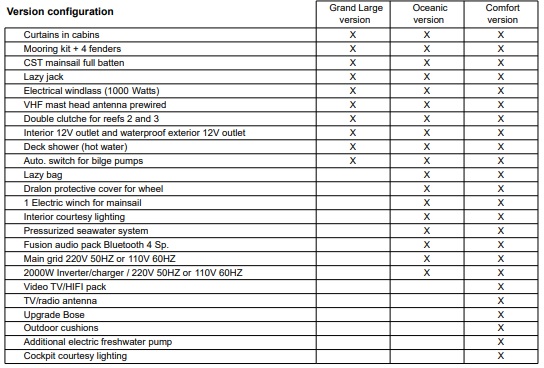 Price of some ISLA 40 options
Example of Isla 40motorizations options on ISLA 40
2 Volvo D1 30 HP engines 614€
3-blade folding props Volvo 30HP 2.202€
Example of Isla 40 navigation & sail options
Gennaker 3.360€
Profurl genoa furler 1.000€
Antifouling and primary epoxy 2.996€
Electric davit winch 2.453€
Example of Isla 40 60HZ options
110V water heater 300€
US standard gas installation 1.200V
7.5KW 110V 60HZ genset 17.102€
Example of Isla 40 upholstery options
Grey Anthracite PVC outdoor upholstery 1.200€
Marble fabric indoor upholstery 1.200€
Example of Isla 40 exterior equipment options
Cockpit tent 2.705€
Bimini for helm station 2.292€
Outdoor foredeck cushions 1.775€
Additional mooring cleats 269€
Example of Isla 40 interior equipment options
Saloon curtains 2.303€
Dinner table in saloon 432€
Beds with slatted base for 3 cabins 864€
Example of Isla 40 Electronic, TV and hifi options
Garmin 1 Smart Cruising pack (autopilot, VHF, AIS, GPS 8410, 2xMulti GMI20) 13.000€
Radar with support and wiring 3.030€
TV/radio antenna 814€
Example of Isla 40 Household appliances & Confort options
Gas oven 1.197€
1 Electric head large bowl 1.190€
12V fan 164€
Air conditioning 220V 50Hz main 18.324€
Example of Isla 40 Electricity and lighting options
Mast and boom lighting 5.094€
Interior 12V outlet 127€
Watermaker 12V 60L/h 11.437€
Average price for a fully equipped ISLA 40 (updated May 5th, 2022 - subject to price change by factory)
The price for a fully loaded Fountaine Pajot Isla 40 is around 508.000 €, including the following equipment: upgraded motorisation, Comfort pack, Owner's suite, full air conditioning, watermaker, canvasses, cockpit ice-maker and more.
Get a personalized quotation for my ISLA 40 ▶
ISLA 40 TEST SAIL REPORTS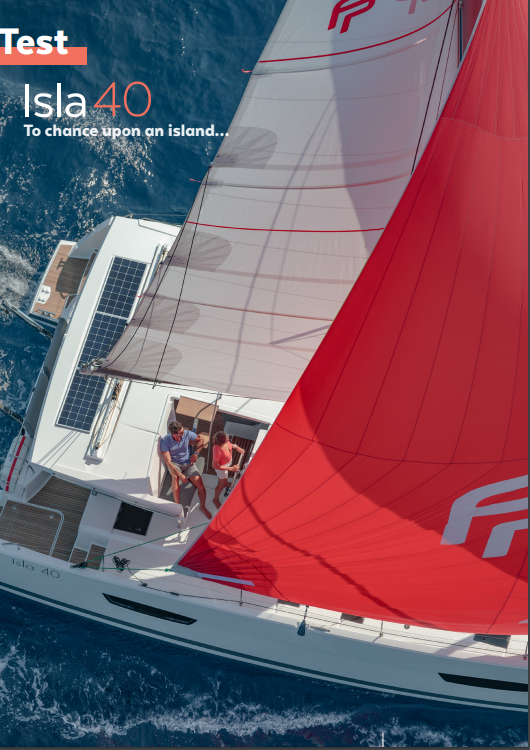 Inventory & Brochure
ISLA 40 Layout Versions
Maestro version
1 owner's suite + 1 bathroom / 2 doubles cabins + 1 or 2 bathrooms
Quatuor version
4 double cabins + 2 or 4 bathrooms
ISLA 40 Main Features
Architect
Berret-Racoupeau Yacht Design
Lenght over all
39.14 ft - 11,93 m
Beam over all
21.8 ft - 6,63 m
Displacement unloaded
9.5 T (approx.)
Draft
4.0 ft - 1,21 m
Sail area
635 ft² - 59 m²
Genoa area
387.5 ft² - 36 m²
Standard Power
2 x 20 HP
Option Power
2 x 30 HP
Fresh Water tank capacity
2 x 92 US Gallons - 2 x 350 L (approx.)
Fuel tank capacity
124 US Gallons - 470 L (approx.)