The SABA 50 was one of the first models, after the Helia 44, to benefit from the latest Fountaine Pajot innovations.
The sailing performance remains a priority for Fountaine Pajot catamarans. Additionally, comfort has greatly improved with many features which are demanded nowadays by long-term sailors.
Accommodation is optimised with spacious and ligh-filled cabins. The saloon is wide and practical, with a convertible sofa area and a convenient galley. The whole boat offers plenty of storage throughout.
Circulation is made easy between the different parts of the boat, allowing crew to get quickly and easily from and to the cockpit, the flybridge, the helm station or the foredeck.

Relaxation areas
The flybdridge communicates directly with the helm station and is quickly accessible from the cockpit. It comfortably welcomes guets with large sofas and sunbeds.
Foredeck cushions and sunbed transform it into a convivial area, as well as pulpits at bow.
The cockpit is in continuation of the saloon, offering a vast and sociable area. The cockpit table can sit up to 8 guests, and there are relaxing sofas on the side and back. A staircase easily leads to the helm and flybdridge, and a cockpit fridge can be fitted below.

Interior design of the Saba 50
The interior design is cosy, with soft colours and elegant style.
Natural light is a major bonus, through roof and panoramic windows in the saloon, a wide window door opening onto the cockpit, large windows in all cabins.
There are 4 different accommodation versions to fit all sailing projects:
The Saba 50 Maestro offers 4 cabins (2 on each side) out of which an owners' suite at port, and 4 bathrooms.
The Saba 50 Maestro Crew is similar at port with an Owners cabin, and has 3 starboard cabins.
The Saba 50 Quintet has 6 cabins and 6 bathrooms, ie 3 on each side.
The Saba 50 Quintet VIP has 3 cabins with one accessible from the cockpit directly, and 2 starboard.
Click here to view the 4 different Saba 50 layout plans
---
Get your Saba 50 price quote now
A. Tax-free yacht purchase in the Caribbean
On top of being an awesome and accessible sailing destination, several Caribbean islands also allow you to own a yacht tax-free.
Please consult a professional Tax Advisor if you are unsure about your tax situation.
B. Get a Finance offer for the purchase of your Saba 50
Caribbean Multihulls has been working for years with specialised Yacht Finance corporations in the United States and France.
C. Understanding what your Saba 50 price is composed of.
How to calculate the total price your catamaran?
Take into consideration:
Fountaine Pajot Price updates twice a year. The price will correspond to the date of confirmation of your order (with signature and 20% deposit paid, as per Fountaine Pajot requirements).
Choice of options: Options do not all need to be chosen when confirming order. You may decide on some options later in the process. Please consult our team regarding the various deadlines.
---
(*) Please note prices may vary. No contractual value.
Worrying your Currency Exchange? Consult us for a good deal with our partner.
Step 1 - Prices for various Saba 50 interior configurations (as of January 15th, 2020)
SABA 50 MAESTRO Owners' version - 4 cabins 4 baths for 673 800 euros*
SABA 50 MAESTRO CREW - Port Maestro / Starboard Quintet for 702 500 euros*
SABA 50 QUINTET - 6 cabins 6 baths for 711 750 euros*
SABA 50 QUINTET VIP - Port Quintet / Starboard Maestro for 707 925 euros*
Click here to view layout plans for these models
Step 2 – Cost of your Fountaine Pajot Saba 50 equipment pack (as of January 15th, 2020)
Saba 50 Grand Large: 19,500 Euros*
Saba 50 Oceanic: 35,000 Euros*
Saba 50 Comfort: 49,500 Euros*
Packs include the following equipment: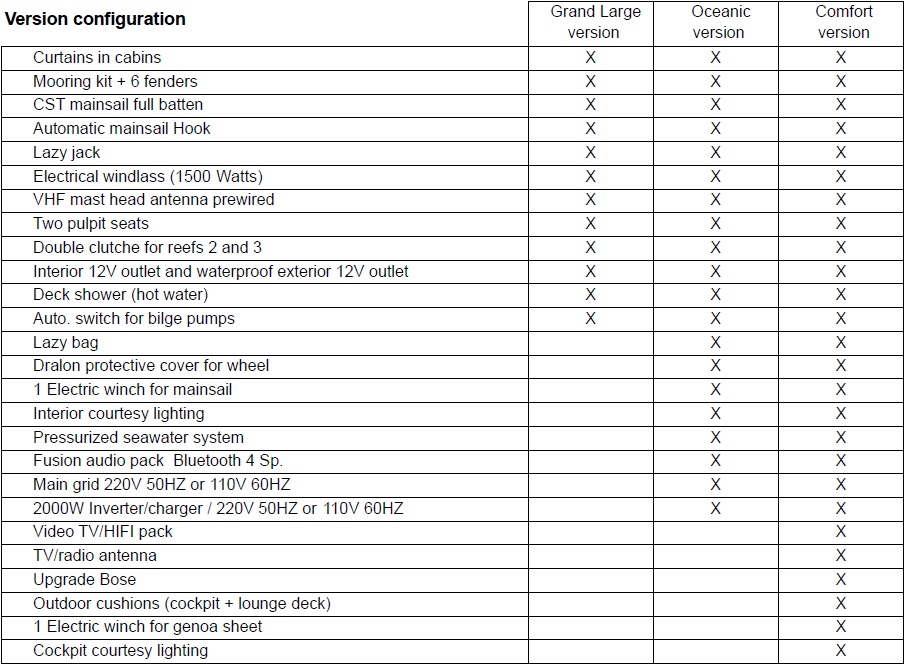 Step 3 - Price of additional Fountaine Pajot options for your Saba 50 (as of January 15th, 2020)
The options listed below are features which our customers often choose. Our team will help you choose your options if you have doubts, and make sure you do not overequip your catamaran, as there are features you could add later easily.
Motor upgrade to 75HP 3 957 euros*
Electronics GARMIN 1 including Autopilot, VHF, AIS, GPS 7410, and 2 multi GMI20 12 600 euros*
Bowsprit & gear for gennaker 6 872 euros*
Cockpit fridge 1 906 euros*
Solar panels 4 x 90/100W 4 177 euros*
Step 4 - Ex-factory works to personalise your Saba 50
Caribbean Multihulls have a large number of partners and suppliers, and we will be glad to answer your needs.
Whether in La Rochele where your catamaran gets splashed or in the Caribbean, we can provide for example the following:
Synthetic or real teak,
electronic equipment,
electrical gear (more solar panels for example),
all types of sails and rigging,
interior fittings,
fridges, A/C, freezers,
appliances and all type of gear,
watersport toys
and more.
Full-option Saba 50 price
For you to have an idea, the total price for a fully equipped SABA 50 via Caribbean Multihulls is around 920,000 euros*.
This price includes the following:
Owner configuration (Maestro 4 cabins 4 bathrooms)
Comfort pack
Motorisation upgrade
Full air conditioning
Watermaker
Biminis
Synthetic teak in cockpit
Icemaker
Others.
Get in touch now with our New Yacht team.
Get your Saba 50 price quote now
---
Press test reviews of the Fountaine Pajot Saba 50 catamaran
Click on the images / videos below to access to corresponding Saba 50 review:
2 pages review in Cruising World magazine (April 2015) about catamaran Fountaine Pajot Saba 50.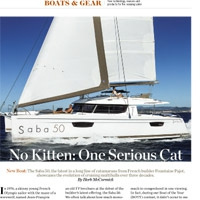 Double-page Multihull Sailor magazine (Summer 2015) review about the Saba 50.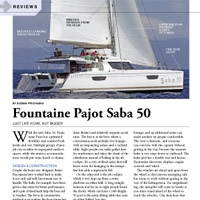 Video review by SAIL Magazine of a 2015 Fountaine Pajot SABA 50