Fountaine Pajot Saona 47 is now replaced by the TANNA 47 model
Saona 47, ultimate bliss at helm

Performance and speed on board the Saona 47
Let's start with facts: The Saona 47 can perform at 17kn with a 20 knots true wind speed.
Fountaine Pajot really optimized the weight to volume ratio on this awesome catamaran in order to enhance speed. And because the Saona 47 is balanced, she will provide you a thrilling sailing experience on every point of sail.
You will enjoy sailing her, as all is designed to feel intuitive at helm.
Conveniently completing the range between a 45' and a 50' catamaran, the Saona 47 offers great performance, generous space and allows short handed sailing.
We have to say Caribbean Multihulls' team has a bit of a crush on her since she was launched.


You'll spot the Saona 47 at first sight
You can't miss her!
The design of the Fountaine Pajot Saona 47 is easily recognizable and her strong lines and overall design provide her an elegant look. You will appreciate that same feeling once on board, whether inside or outside.
While the outside lines are assertive, the interior atmosphere is soft. There is plenty of natural light inside thanks to the saloon panoramic windows and skylights, whereas cabins benefit from large windows and hatches.
Fun and relaxation everywhere outside
'Wow!'
That's certainly the most common effect amongst visitors stepping on board the Saona 47. She was the first of Fountaine Pajot sailing catamarans to offer such optimized relaxation areas, and has inspired the very latest models.
The surprising feature on this model is the large platform at aft, which is awesome for watersports activities, to sit or lay in just above water level, or even to lift the tender on or put it back in the water. You can even get the crew on board your dinghy before you splash it, making things much easier for many. No need to get the outboard off as the platform can bear the weight.
With a large sofa and two sunbeds, the flybridge is very spacious. Perfect for chilling and enjoying the view, accompanying the skipper, enjoying some reading while soaking up sun, having drinks or a snack, etc.
That's not all!
Allowing three large sunbeds, the front deck is also a very convivial area.
Pleasant all day long, the cockpit is really friendly and practical. Opening seamlessly onto the galley, it is also equipped for great moments around the dinner table which can receive up to 10 guests and is sourrounded by large comfortable sofas. On the starboard side, you may fit a cockpit fridge, and at aft an optional integrated barbecue.
---
How is it to live aboard this Fountaine Pajot 47'?
Saona 47 cosy and practical saloon
The whole of the catamaran interior bathes in with natural light and benefits from great ventilation throughout.
The galley communicates directly with the cockpit with a large sliding window. This corner also features an kitchen island bench which offers great counterspace and valuable storage.
Opposite the galley is a very large L-shaped settee area, which can be customized either with a coffee table or a dinner table, also convertible into a double berth. Facing the ocean, the chart table seat is on the end of the settee.

Luxurious cabins
In any of the configurations, the starboard side offers two double guest cabins, one with an island bed facing the ocean. Both cabins have a large window for a great view, storage, cabinets and en-suite bathroom. The forepeak can be fitted with a crew cabin.
Each cabin offers a great view through large windows and allows to open part of them and hatches for some breeze ventilation.
In Maestro configuration - Owners' configuration
The Owner cabin of the Saona 47 is just fantastic and lays in the whole portside hull. The en-suite bathroom has an italian-style spacious open shower and a separate head.
Quintet version - Perfect for charter
This configuration of the Saona 47 offers two cabins with bathrooms on starboard, and three cabins on port side. In the middle of the port side is an additional cabin for crew or children with en-suite full bathroom.
Furthermore, the aft portside cabin has direct access to the cockpit for more privacy.
I want a fast Saona 47 price quote
A. Get a tax-free Fountaine Pajot catamaran with Caribbean Multihulls
Several Caribbean islands are tax-free for yacht purchase, could you benefit from it?
(Please note that we are not specialists, however we have over 20 years experience in the field of yacht exportation and yacht sales. Should you be unsure about your tax situation, please consult a professional tax advisor).
B. Get a Finance offer for the purchase of your Saona 47
We have been working for years with the same Finance partners in the USA and in France. They are major Yacht Finance corporations which can provide you with a finance offer for the purchase of your Caribbean boat.
How does it work?
We provide you with your boat price quote.
We put you in direct contact with the Finance advisor in order to five you an offer according to your project and profile. This way, all your personal finance information remains confidential with the Finance institute.
Get a finance offer now, contact our team for a price quote and finance offer on your Saona 47.
C. Understanding what your Saona 47 price is composed of.
The final price of your new boat is composed of:
Please note:
Price changes: Fountaine Pajot price lists are communicated to official network dealers twice a year. Prices and costs applying to your yacht purchase will depend on the date of purchase confirmation and deposit paid. As a consequence, prices may vary between the time of price quote and order.
Deadlines: You do not need to worry from start about all options you would like to choose for your Saona 47. You may confirm many options after the catamaran is booked to the shipyard. Our team will indicate all deadlines to you, and give you the best advice for your project.
---
(*) Prices are indicated for information only and may vary.
Currency Exchange: Need to change USD or else to Euros?
Relax as our worldwide partner will offer you a great deal!
Step 1 - Price of Saona 47 Owners or Quintet (as of June 17th, 2020)
Depending on the interior configuration of cabins and bathrooms, the price is:
SAONA 47 MAESTRO (Owners) - 3 cabins + 3 bathrooms for 581.519 euros*
SAONA 47 QUINTET - 5 cabins + 5 bathrooms for 594.278 euros*
Step 2 – Cost of your Fountaine Pajot Saona 47 equipment pack (as of January 15th, 2020)
Fountaine Pajot shipyard offers the three following equipment versions: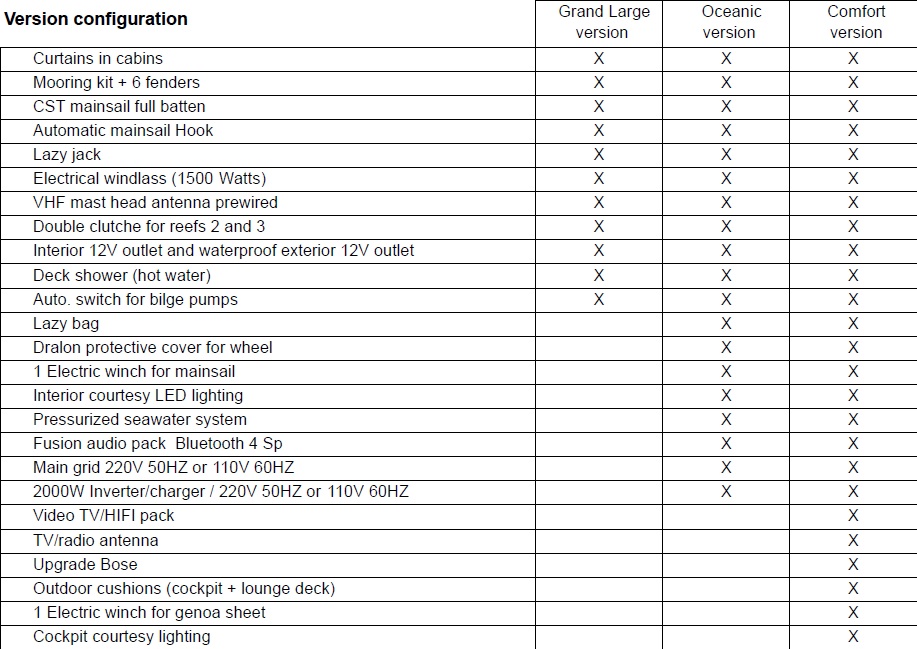 The price for each of the above Saona 47 equipment pack is as follows:
Saona 47 Grand Large: 18,000 Euros*
Saona 47 Oceanic: 39,500 Euros*
Saona 47 Comfort: 46,500 Euros*
Step 3 - Cost of added Fountaine Pajot options (as of January 15th, 2021)
Below are some of the common features which our buyers often get from Caribbean Multihulls.
We will be glad to give you advice on sufficient options to suit you project, especially as some buyers tend to overequip their yacht.
Motor upgrade to 60HP 2.865 euros*
Electronics GARMIN 1 including Autopilot, VHF, AIS, GPS 8410, and 2 multi GMI20 13 000 euros*
Bowsprit & gear for gennaker 6.215 euros*
Cockpit fridge 1.936 euros*
Solar panels 4 x 90/100W 4.314 euros*
Step 4 - Personalization of your Saona 47
Are there specific equipments you would like on board your Saona and which Foutaine Pajot does not offer?
Let us know how you would like to customize your yacht, and we'll find solutions for you!
We have many partners, mainly in La Rochelle where new Fountaine Pajot catamarans get splashed, and in Saint Martin where our head office is. These marine professionals cover all types of works on yachts, such as teak, electronics, electrics (additional solar panels...), sails, furniture, chandlery, refrigeration, galley appliances, watersports and more.
Full-option Saona 47 price
The overall price for a fully loaded Fountaine Pajot Saona 47 catamaran via your dealer Caribbean Multihulls is around 772,500 euros*.
This Saona 47 would include:
Maestro configuration
Comfort version
Upgraded engines
Full A/C
Watermaker
Canvasses
Synthetic teak in cockpit
Ice-maker
Others.
Contact our team now and get your Saona 47 price quote!
I want a fast Saona 47 price quote
---
Saona 47 catamaran Test Review
Click on the images / videos below to access the relevant test review:
Video review of the Saona 47 at the International Multihull Boat Show of La Grande Motte (April 2017)