NEEL 45 Evolution: design your perfect trimaran
Neel 45 - the origins of Neel Trimarans
The Neel 45 was the first yacht produced by Neel Trimarans. Eric Bruneel invented the Neel Trimarans concept after having conceived his first boat for himself and family.
Why build a trimaran? Simply because it was the fastest and most stable boat. Neel cruising trimarans adventure started in 2012, and has fast been a success!
The Neel 45, first proper circumnavigation trimaran
Although trimarans always offered speed and seaworthiness, they were not really a cruising vessel for long-term navigation, for the lack of space and circulation. That's why Eric added a large platform unifying the central hull to both floats, thus creating a vast live-abord area.
Neel 45 innovative concept
The Neel 45 main features soon attracted sailors, who appreciated the specific qualities of this model:
excellent performance with 10 knots of average cruising speed,
easy to manoeuvre short-handed from helm,
unrivaled space on board and a flush platform,
superb panoramic view from the saloon and chart table,
cabins above sea level with great view facing the ocean,
very generous storage, including two long floats and the technical room,
a very practical technical area in the main hull.
NEEL 45 Evolution: it got even better!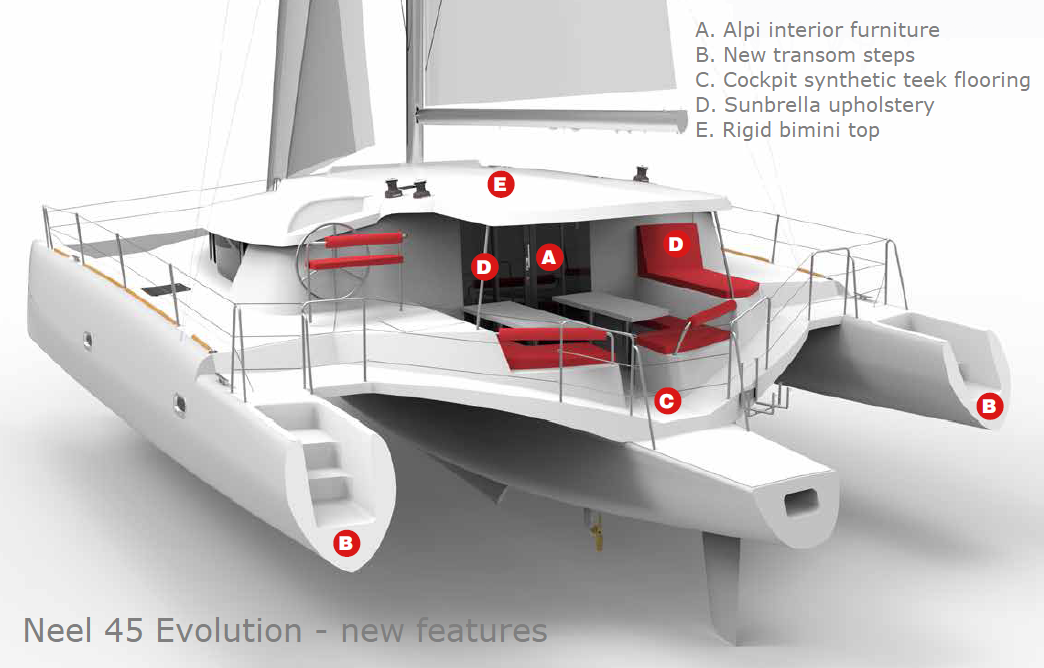 After 24 units of the Neel 45, years of experience as well as customer feedback, Neel trimarans perfected the Neel 45 model. with features such as:
additional steps at transom,
rigid polyester cockpit rooftop,
upgraded interior finishes inspired from the Neel 51 (woodwork, linings, floor),
daggerboard and performance rig on option (those used for the 2015 ARC race won by the Neel 45),
new options for electronics and solar systems,
two layout versions, Loft of Cruise.
Neel 45 Loft or Cruise versions
Neel 45 LOFT version: 16 combinations available!
This layout has one Owner cabin on the main platform, another in the central hull, and possibly twins in floats.
With the Loft version, the shipyard gives you freedom to design your yacht according to your project. There are 16 combinations possible, as you can design your own cabin, galley, bathoom or saloon areas.
Accommodation can vary from 4 to 8 berths.
Neel 45 Cruise version, to accommodate 6 to 10 people
Perfect for large crews, crewed charter or bareboat rental, the Cruise version of the Neel 45 Evolution offers three double cabins, two twin cabins, and a convertible bench for two.