NEEL Trimarans
As trimarans are the fastest and most stable boats, it just made sense for Eric Bruneel to conceive a cruising trimaran. He certainly achieved his goal when creating Neel trimarans, by placing a large platform over the central hull and side floats.
---
SUMMARY
NEEL cruising trimarans: unique innovation
NEEL Trimarans for sale by your dealer Caribbean Multihulls
---
NEEL cruising trimarans: unique innovation
NEEL Trimarans are designed to combine a performance and fast cruising yacht with a comfortable living space, and the result is outstanding.
NEEL shipyard entrepreneur Eric Bruneel mainly learnt his multihulls knowledge from Fountaine Pajot catamarans, where he worked for 26 years. Building his first prototype for his own races and family, he soon developped the his trimarans concept to associate comfort to speed, which was unheard of in the trimarans world.
By unifying the two outriggers and the central hull with a large platform, Neel brought a tremendous change and added benefits to trimarans. This innovative construction allows incomparable liveabord space: a generous cockpit and a useful and large roof, a central galley and incredible view from the lounge, as well as main deck cabin island beds with a superb panoramic view. The engine area brings generous storage and side hulls are also used for accommodation and storage.
The shipyard is considered to be the worldwide leader in the market when it comes to cruising trimaran design, with customizable and generous space and contemporary features.
Neel Trimarans are manufactured to European standards and will fit your worldwide projects. The shipyard produces the very first and best designed cruising trimarans worldwide, with Racing options, which is why you can spot them competing in transatlantic races as well as taking many families in their world sailing tour.
Why a NEEL cruising trimaran?
Neel Trimarans are very recent and many sailors still don't know or know too little about them. Yet they have proven since 2012 to be very efficient and appreciated multihulls, which explains the fast growing interest for them.
Because the models are so popular, the shipyard has seen orders make a massive jump during the past few years, and the shipyard has invested massively in order to develop the production lines in la Rochelle, on the French Atlantic coast.
As the fleet is growing with family cruisers as well as charter boats, Neel trimarans are now getting more renowned. However we often get asked if these cruising trimarans are really faster than catamarans, whether Neel trimarans would be safer than catamarans or monohulls, about the build quality and other questions.
Comfort on board Neel trimarans
The main platform is a major innovation for trimarans. Thanks to their ingenious construction, Neel trimarans bring comfort on many levels:
seaworthiness and stability (see below for technical data),
helm designed for single-handed sailing,
extensive space for life on board,
interior flush floor offering easy circulation thanks to the clever layout,
incredible panoramic views from the saloon, table chart and main platform cabins,
efficient thermal insulation against heat or cold, including specific roof material,
furniture design for ease of use at sea,
generous storage for personal items in main platform and especially in side floats,
easy circulation on outside decks and cockpit,
facilitated maintenance in a centralised and spacious technical room.
Awards to NEEL Trimarans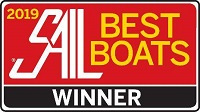 The NEEL 51 trimaran wins the 2019 Best Boat title by SAIL Magazine, in the Multihulls Cruising category.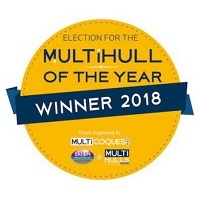 The NEEL 51 trimaran wins the 2018 Multihull of the Year election, with the public's votes for 50'+ multihulls.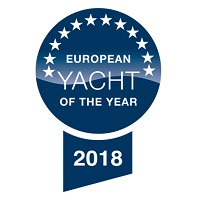 The NEEL 51 trimaran wins 2018 title as European Yacht of the Year during the Boot Düsseldorf boat show.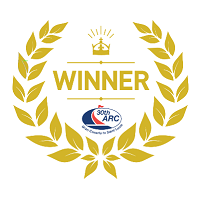 The NEEL 45 "La Caravelle" wins the 2015 ARC race in St Lucia, Caribbean, for the Multihull division.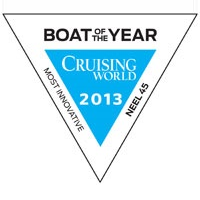 The NEEL 45 trimaran is elected 2013 Most Innovative boat by Cruising World.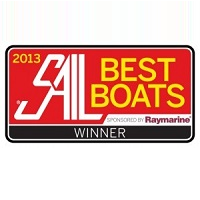 The NEEL 45 trimaran wins SAIL Magazine prize of 2013 Best Boat, in the 41-50' Cruising Multihull
NEEL trimarans Stability & Safety
Sailors often ask which is safer: a trimaran or a catamaran?
Stability of Neel trimarans - Catamarans Vs. trimarans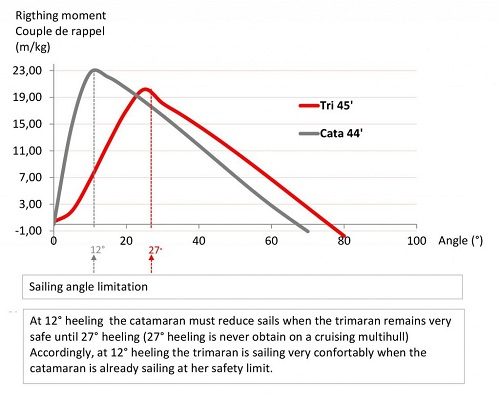 Thanks to its width, a NEEL trimaran offers greater stability than a catamaran. As the curve below shows, the maximum righteous moment occurs at 12° heeling for a catamaran and at 32° heeling for a trimaran, which never gets reached in normal circumstances.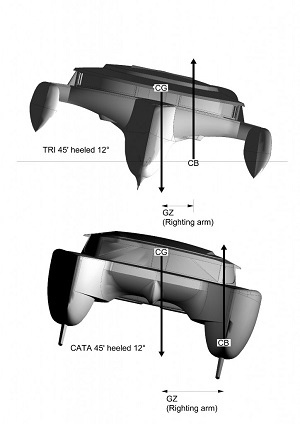 In a trimaran, the weight goes onto the central hull, which is where all bulky equipment is located. That trimaran design principle brings greater sailing comfort than a catamaran, like on a monohull sailing boat.
On a catamaran instead, all the weight divides into both hulls which will make the sailing rougher.
Stretched floats bring great directional stability.
Neel trimarans sail smoother than catamarans, with less roll motion.
Construction of Neel Trimarans
Studies for best trimaran performance and safety
Neel trimarans shipyard secures safety onboard with choice of material and structure.
The shipyard collaborated with TENSYL engineering team which specializes in structural design of multihulls. Critical sailing sample data has been studied and compared with first specifications.
This resulted in a colour coded diagram aimed at selecting the most appropriate construction material, quantity of it and manufacturing techniques for each part of the trimaran.

From there, weight has been optimized for a light and safe trimaran. Interior coverings for the floor, lining and upholstery have also seriously been tested at sea for Neel's best selection.
Materials and techniques
The central hull mould, as well as side floats, bridge and roof, are all made out of honeycomb PVC foam sandwiched with GRP / isophthalic polyester resin. This construction material ensures a light and unsinkable boat, as well as a great phonic and thermal insulation, and best protection against moisture.
Resin is infused through fiberglass, which quantity and variety depend on the role of each structural zone. GRP can be unidirectional, bidirectional 0° / 90° or 45° / 95°, quadri-directional, Tafta, roving or twill.
Structural safety reinforcement
Bulkheads ensure floatation of Neel Trimarans in case of collision, and their shallow draft allows to sail near the waterfront. Moreover in the center hull, both engine and rudder gear are protected by the fin.
Performance: Why is a Neel trimaran faster than monohulls or catamarans?
As proven by the Neel 45 cruising trimaran which won the ARC rally, it is faster than monohulls or trimarans. The average cruising speed is 10 knots, and it often reaches 15-18 knots with fresher winds.
The rigging is essential for the speed of Neel trimarans, and it comes from racing trimarans. Not only is it easy to handle, it also benefits from the rigid forestay which is bonded together with the mast and mainsail to the strong main hull.
On a catamaran instead, the platform is sollicitated in various directions: the forestay cannot be rigid as it pulls from the front beam while the mast weighs in the centre and shrouds pull on both hulls which support the forestay and mast beam.
The trimaran performance and speed are also enhanced by the centered weight in the main hull and the 17sqm per ton generous sail surface area.
Neel trimarans are also faster also when going under motor. The boat is not heavy at all, therefore there is only the central hull offering light resistance, whereas floats hardly touch the water.
Build quality of a Neel trimaran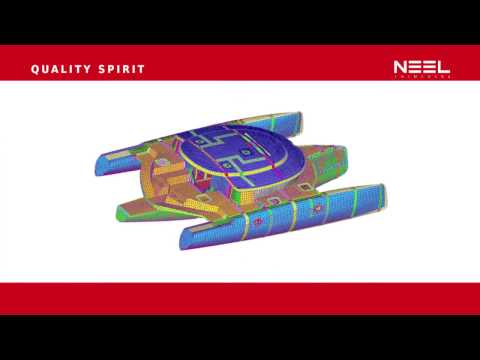 Neel's outstanding technical area
All systems are centralized in the main hull of Neel trimarans, in a spacious technical room. The generous headroom makes it comfortable to stand and dea with the engine, electrical systems, fuel and water tanks. Not only is this area convenient for the skipper for the boat maintenance, it also offers plentiful storage space for long term cruising.
Personalization of your Neel trimaran
In order to personalize your boat and fit at best your sailing project, the shipyard offers a wide variety of materials for your trimaran furniture.
The very resistant floor material, made of specific polyester, can also be chosen within a nice range of colours.
NEEL Trimarans: Made in France / La Rochelle
Collaboration with specialists who are settled close to the shipyard ensures best quality work and sustainability.
Engineering studies are done with TENSYL based in La Rochelle, France. Rigging and sails are also designed and produced by multihull specialists in La Rochelle.
NEEL Trimarans for sale by your dealer Caribbean Multihulls
Caribbean Multihulls is pleased to offer the Neel trimaran range for sale in the Caribbean. Our team has over 20 years of experience as a new yacht dealer and is your reputable multihull specialist in the Caribbean.
When buying your new trimaran, beyond making sure you choose the right yacht and equipment at the right price, Caribbean Multihulls also offers the quality after sales and customer care service you need.
We will be glad to provide information, price quotation and options cost you require about NEEL trimarans which we offer for sale in the Caribbean.