Neel 51 trimaran for unique blue water cruising
Neel trimarans offer incredible space and performance. With 90sqm live-aboard space and 18sqm tender garage and technical room, the Neel 51 stunned the whole industry by her exclusive design and qualities.
Neel 51: successful from launch
The Neel 51 did not only get fast success amongst customers as soon as she was launched: this model also has been nominated and awarded several times: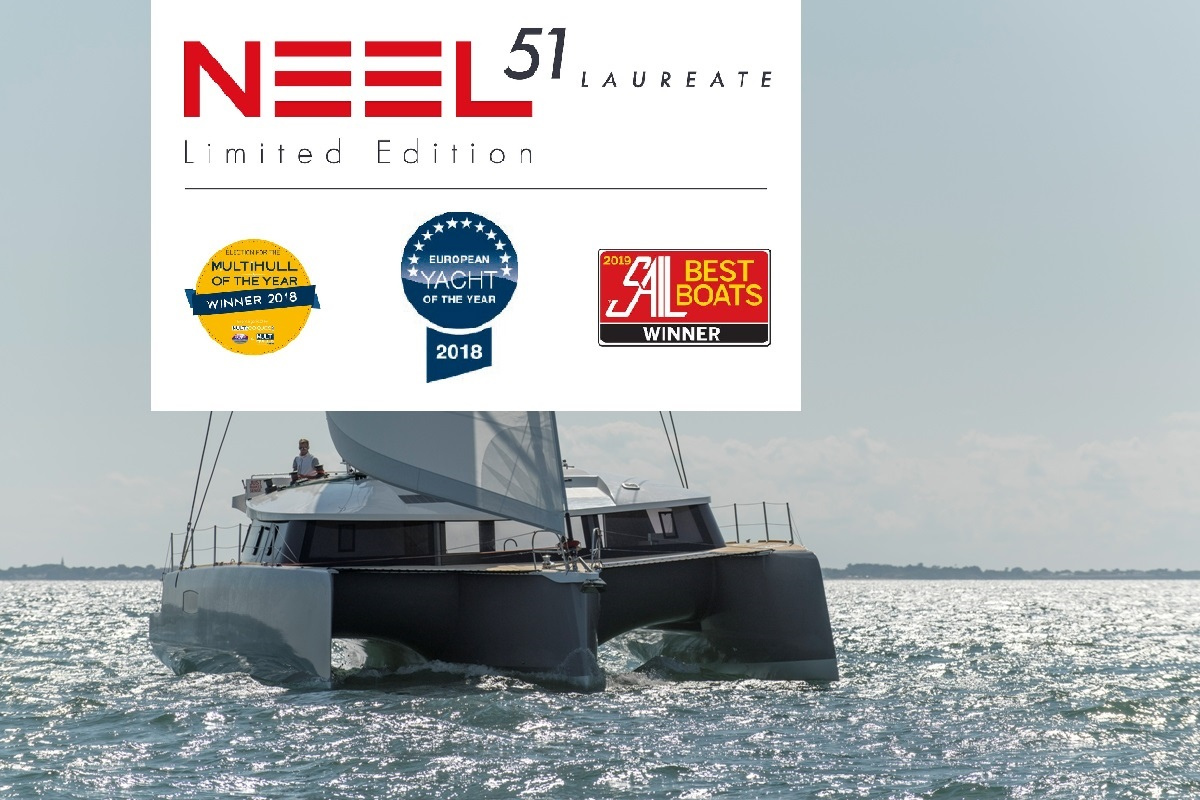 Neel 51 trimaran awarded 2019 Best Boat competition Winner in SAIL Magazine's Multihulls Cruising category.

awarded in April 2018 Multihull of the year in the +50' category with the public votes, after nomination by Multihulls Magazine and Multihulls International Boat Show at La Grande Motte.

awarded 2018 European Yacht of the Year during the January 2018 Dusseldorf International Boat Show.
To celebrate this success, Neel Trimarans launched end of November 2018 a NEEL 51 LAUREATE limited edition.
Neel 51, third Neel trimaran
This model came out after the already successful Neel 45 and the impressive Neel 65 flagship. Like the other trimarans of the range, the Neel 51 offers unrivaled performance and comfort, and brings a brand new standard to blue water cruising.
Click here to know more about Neel Trimarans structure, performance, construction materials and process.
Her sleek and dynamic lines accentuate the contemporary design throughout the yacht. The Neel 51 offers very generous relaxation areas for her size, with a large flybridge, a cosy Cockloon (cockpit/saloon large lounge, which can be divided or open thanks to large sliding doors), transoms for fun watersports time, and flat foredeck with large trampolines.
The generous deck clearance, together with typical Neel construction features, guarantee safety and stability. The light displacement, centered weight, great sail surface and exclusive hulls of the Neel 51 trimaran make it a high-performance sailing boat.
Designed to be operated by a minimal crew, with centralised controls, she is a real pleasure to sail. The layout and equipment of the Neel 51 also allow best conditions for maintenance and circulation.
Main features of the Neel 51
Beyond the usual Neel trimarans performance and comfort qualities, the Neel 51 offers specific characteristics:
In Owner version, superb 10sqm Owner suite on main platform,
Access to floats through stairs from the inside of the main platform.
Galley with exclusive panoramic view
Generous cockpit and saloon seamlessly binded when opening large sliding doors.
Superb flybridge.
Versions of the Neel 51
"Essential" version of the Neel 51
4 double cabins: 10sqm Owner Suite on main platform, 1 central hull forecabin, 1 cabin in each of the two floats.

4 bathrooms: One en-suite in Owner cabin, 1 en-suite in each float, and a large one down in the central hull.

Optional single forecabins in both floats.
Neel 51 Racing Line version
The Racing Line includes 3 double cabins (one on main platform and one in each float), and is fitted with very light equiment for the best trimaran performance, such as
carbon and glass fiber material
carbon mast
black aluminium boom
carbon stanchions
rigging and deck fitting upgrades
hydranet mainsail and genoa
hydranet staysail on halyard with removable low sty
foam material furniture
smaller tank capacity with max 300L water and 300L fuel
optional daggerboard
optional 4th cabin in main hull
Neel 51 LAUREATE special edition
In order to celebrate the three awards received in 2018 for the Neel 51 trimaran, the shipyard launched a special edition called the Neel 51 LAUREATE.
This celebration trimaran includes most wanted features for a great and comfortable circumnavigation and long cruise boat:
Neel 51 Premium pack options including:

Bow thruster 24V with dedicated batterie and charget
1 electric winch 52 for main halyard and reefing lines (instead of manual)
Sun deck cushions
Audio 280W Fusion MS AV 750 DVD/CD/Bluetooth, Ethernet, HDMI, 4 LS
Instrument canvass protection
2 foldable chairs for cockloon
Dinghy topping lift system including line driver and craddle
Antifouling with Epoxy primer

Both starboard and port floats with en-suite cabins
Watermaker 100L/h 24V
4 Solbian solar panels on the roof (total 448W)
B&G electronic pack (chart plotter, 2 x tridata, autopilot + 2 control stations, VHF/AIS reception with repetitor at helm) + AIS transmitter-receiver + 4G broadband radar with mastchair for aluminium mast
Safety equipment 10 pax
Life raft MP 10 container
Commissioning in La Rochelle/France
---
NEEL 51 - trimaran price list & cost of shipyard options (as of December 2018)**
* Below prices are all in Euros. We offer convenient and competitive Currency Exchange from USD$ or other currencies through Western Union, who we have been working with for years to facilitate transactions for our buyers. As for Yacht Finance, our experienced specialist partners in the USA, UK and France will be able to provide with quotations.
** Indicated priced are for information only and not legally binding. NEEL Trimarans communicates new price list to exclusive dealers twice a year. Our New Yacht team will provide you with an exact personalized quotation.
What is the price of your NEEL 51?
The final price of a Neel 51 trimaran adds up various prices and costs, presented below:
A production slot will be booked once you have signed your order and paid the 10% deposit to your dealer, as requested by Neel shipyard.
You do not need to decide on all options before placing your order. Our team will follow the whole process together with you and will indicate all corresponding deadlines from the beginning.
​
1. Price of basic NEEL 51 trimaran
NEEL 51 Loft (2 cabins, 2 heads) 3 cabins: 669,800 Euros*
This price includes the following options on your trimaran:
75 HP engine sail drive
set of gel batteries 24V (495 Ah total)
1 engine battery 50A Optima
Anodized aluminium mast
Self tacking jib fitting
Foresail halyards with lashing
2 x Pull-out draw fridges 190L + 92L freezer
Pressurized hot/cold water
Water heater
4-burner gas hob & gas oven with grill
Bow tampolines
Anchor locker
Transom ladder
Stainless Steel windlass
GRP sandwich infusion
Light grey gel coat RAL 7047
Alpi interior woodwork
Interior Silvertex wall lining (Macademia)
Interior Silvertew ceiling lining (White)
Sunbrella fabric in cockloon (Natté)
Flooring Bolon Kaise
Synthetic teak at helm station
2. Cost of additional float accommodation and color
Port OR Starboard float en-suite guest cabin: 49,800 Euros* each side
Skipper cabin (bed, electric fresh water toilet, sink, storage, light, outside shower): 9.700 Euros*
Bow berth (incl. light and liner): 3.500 Euros*
Color mono-film on outside of 2 floats + bow central hull (color chart): 9.450 Euros*
3. Cost of Neel shipyard option packs
Essential pack: 39,900 Euros*
Premium pack: 64,080 Euros*
List of options per Pack

| | Essential | Premium |
| --- | --- | --- |
| Full batten top square Dacron mainsail with ball carriage | x | x |
| Genoa (Dacron) on fruler with UV strip | x | x |
| Dacron self tacking jib on furler with UV strip | x | x |
| Lazy bag | x | x |
| 220V installation with 11 outlets, charger, shore power cable | x | x |
| Inverter 2000W / 230V / 24V | x | x |
| Cabin curtains | x | x |
| Roof ventilation hatch | x | x |
| Electrical windlass 24V / 1700W | x | x |
| Electric toilets with fresh water | x | x |
| Holding tanks | x | x |
| Transom ladder and shower on the port side (hot/cold) | x | x |
| Cockpit cushions | x | x |
| Folding propeller | x | x |
| Mooring kit ( 4 dock lines + 6 fenders) | x | x |
| LED navigation lights | x | x |
| LED interior lights | x | x |
| Bow thruster 24V with dedicated battery and charger | | x |
| Electrical winch 52 instead of manual for main halyard and reefing lines | | x |
| Sun deck cushions | | x |
| 2 foldable Cockloon seats | | x |
| Audio Fusion MS AV750 280W, DVD/CD/Bluetooth, HDMI, Ethernet, DVD, 4 speakers | | x |
| Instrument canvas protection | | x |
| Dinghy lift system with line driver and craddle | | x |
| Antifouling with epoxy primer | | x |
4. NEEL 51 individual option cost
Below is a common selection of NEEL options available for this trimaran model:
Synthetic teak for cockpit, wings, transom and sun deck: 12,300 Euros*
Cockpit tent: 6,500 Euros*
11Kva genset: 18.800 Euros*
Centralized and reversible air-co in cabins and saloon: 45.900 Euros*
Watermaker 160L/h 12V: 13,980 Euros*
4 x Solbian solar panels on roof (total 448W): 7,060 Euros*
Performance riggingpack (carbon mast painted, aluminium boom painted, 2 s/s single drum furlers, textile rigging, hydranet mainsail, genoa and jib): 84,500 Euros*
B&G Electronic pack (1 ZEUS chartplotter 12" incl. Navionics Gold XL9 card, 2 Triton (loch-souner-wind), USB tracking for computer, Autopilot with 2 controls, VHF/AIS reception with repetitor at helm): 21,300 Euros*
B&G Radar 4G with mount on aluminium mast: 2,530 Euros*
5. Cost of post-factory personalization
We have qualified marine professional partners in La Rochelle where Neel trimarans get splashed, as well as in the Caribbean for boats that we deliver to islands.
Caribbean Multihulls has worked on many indicidual projects for so many years now:
additional electronics,
custom biminis,
underwater or mast lighting,
adding solar panels,
installing audiovidual and other appliances,
watersport equipment,
dinghies and outboards,
etc.
Tell us about your dream equipment and we'll study it for you and provide custom quotations!
---
Neel 51 trimaran press and video reviews
Click on the images / videos below to read or watch the relevant Neel 51 test review (from most recent to less recent review):
Press review of the Neel 51 in SAIL Magazine (December 2018) about the Neel 51 trimaran being elected "Best 2019 Flagship Multihull" (Multihulls 50' and more).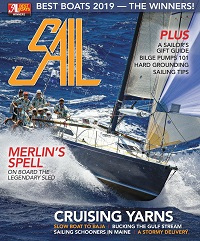 2 pages review and specifications of trimaran Neel 51 in SAIL Magazine (January 2018) about the Neel 51 trimaran
Video walk-through review of the Neel 51 by Yachting World in April 2017, at the Multihull international boat show in La Grande Motte, France.
---
Caribbean Multihulls, your Neel Trimarans dealer
Whether you would like your Neel trimaran delivered to the Caribbean by a professional crew or would prefer to take delivery and explore the Med before heading to the Caribbean, you have the choice.
We have a wealth of experience with multihulls and Caribbean islands, and will help you with your overall project, from deciding what model suits you to choosing equipment, to decide what to order from the shipyard or post-factory, to find the right Caribbean marina or shipyard for your boat, professionals and more.
Consult us for tax free purchase, Neel 51 trimaran prices, options and more.
I want a fast Neel 51 price quote