2018 Cannes and La Rochelle boat shows in France
Our team attended two boat shows this month in France: Cannes Yachting Festival and Grand Pavois in La Rochelle. Exclusive dealer for
Fountaine Pajot
motor and sailing catamarans and
NEEL Trimarans
, Caribbean Multihulls participates every year in these international shows with both shipyards.
These events are very much appreciated by multihull lovers, in a market that is vastly expanding, both for motor and sailing yachts.
Cannes Yachting Festival
Cannes Yachting Festival
is an incredible show on the emblematic
French Riviera
, with a vast variety of boats and yachts displayed, whether motor or sailing. The venue on the Vieux Port is just superb and offers a lot of space as well.
It is also easy to find accommodation in the immediate surroundings of the show, in the historical centre of Cannes, and it is conveniently served by transports (closeby railway station, buses, shuttles from Nice airport...).
Cannes boat shows welcomes over 50.000 visitors, with the very particularity that half of them are foreigners! 600 boats were displayed, out of which 43 multihulls.
Grand Pavois boat show in La Rochelle
Grand Pavois
is also a famous international boat show.
Homeland to Fountaine Pajot catamarans and Neel Trimarans,
this boat show hosts many shipyards and a vast variety of boat parts manufacturers, associations, etc. This 2018 Grand Pavois welcomed 80.000 visitors on 100.000sqm, 3km of pontoons, and 750 boats. Professionals come from 35 different countries!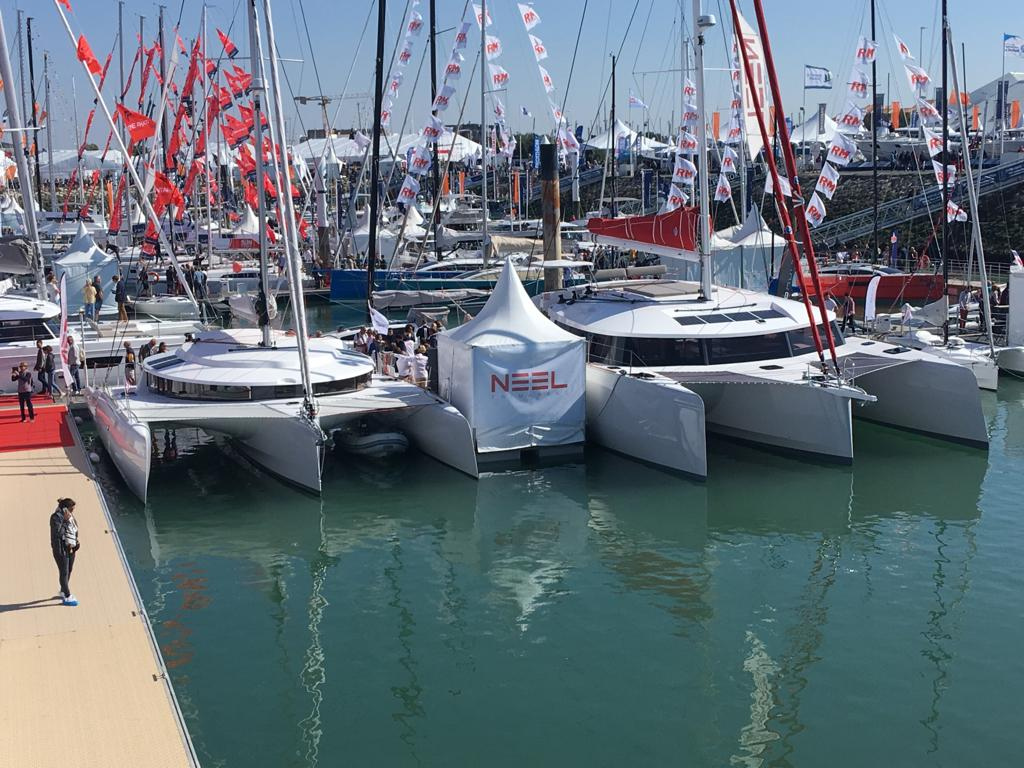 Trends during 2018 Cannes and La Rochelle boat shows
Post-hurricanes spirit - Missing the Caribbean
Peter, Anne-So and Dominique had great pleasures meeting again with our clients who show up every year! Especially as last year, the team had not been able to attend Cannes boat show, due to hurricane Irma that had hit the island of St Martin, preventing them from travelling. They also met a lot of new contacts interested in sailing the Caribbean seas, whether on their own yacht or to charter.
It is very exciting to see how many people now wish to go back to Saint Martin, BVIs and Puerto Rico, one year after Irma and Maria. They really miss their vacations in the Caribbean and now prepare for the new season which is about to start! The islands have been making a lot of efforts to repair and get ready, and all professionals are hoping for sailors to come back and enjoy the Caribbean again.
New Caribbean season, new models, new charter fleets
As many new multihulls models appeared on the market during this past year, quite a few owners told us they're about to sail to the Caribbean in a couple of months with their new yacht! Watch out for some
Fountaine Pajot Astrea 42 and Saona 47
, as well as Neel trimarans!
Shipyards are expanding to answer the outstanding demand for catamarans and trimarans. Fountaine Pajot and Neel, which major success follows their recent massive investments into innovation and comfort, have both increased their production areas, however struggling hard to reduce the wait for buyers.