MY 40 - Fountaine Pajot just announced their MY40 motor yacht!
Fountaine Pajot Motor range: MY 37 / MY 40 / MY 44
Fountaine Pajot shipyard announced in Dusseldorf at the BOOT 2018 Boat Show that their Motor Yacht range is now growing with a MY 40 new power catamaran.
The Fountaine Pajot Motor Yacht range now includes: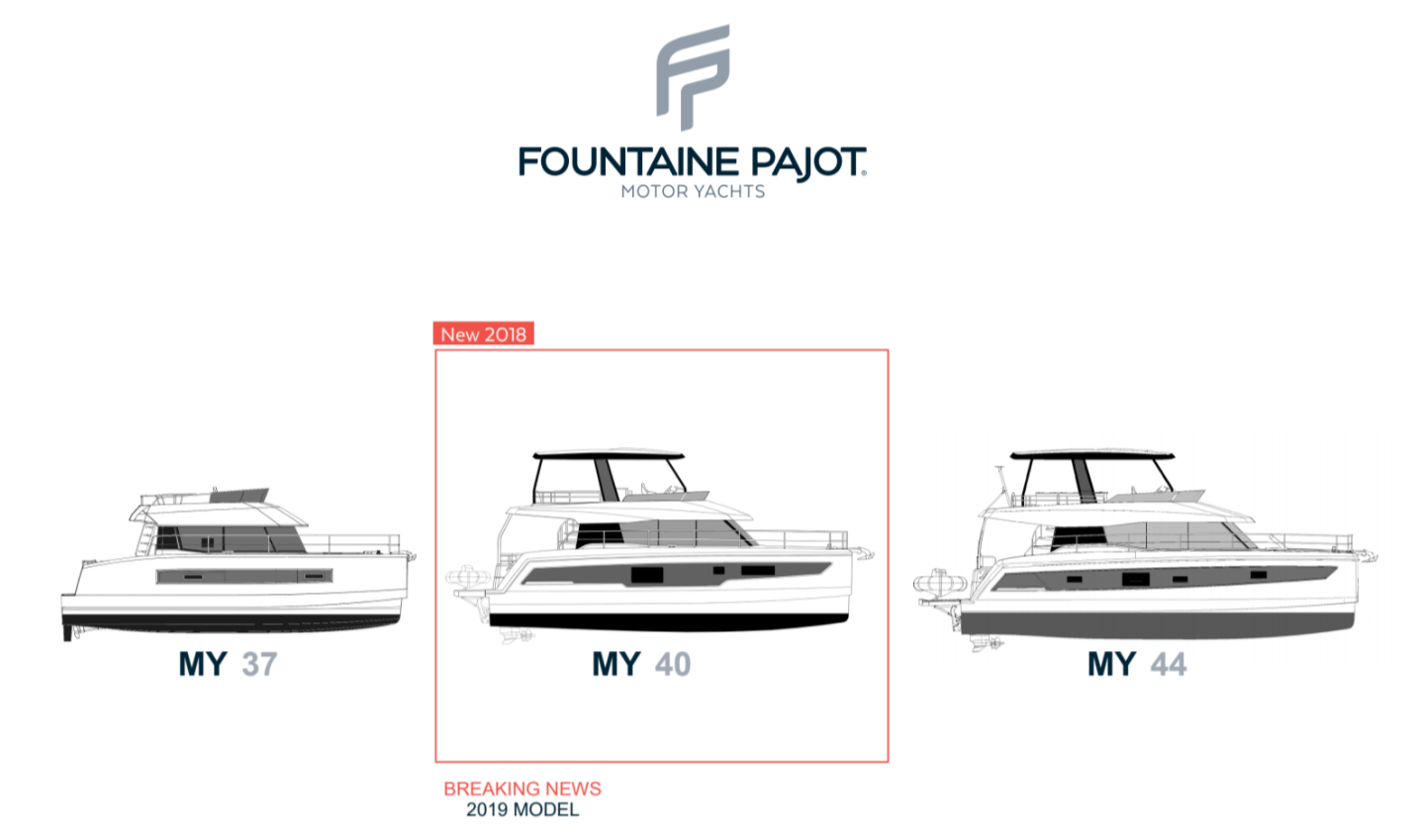 The Fountaine Pajot MY 40 design
The MY 40 new model interior design had been designed by Pierangelo Andreani Yacht Design, who has been working on the Fountaine Pajot MY 44 previously. Pierangelo Andreani is a famous yacht and luxury designer.
Again just like the MY 44, the hull of the Fountaine Pajot MY 40 has been designed by the architect Daniel Andrieu, who specializes in motor yacht hull design, to ensure seaworthiness and performance.
The Fountaine Pajot Motor Yacht range offers a dynamic inside and outside design, a very spacious and comfortable Owner's cabin with independant access, an incredible 360 degrees view from the saloon, a huge flybridge and a very convivial front reaxing area.
Fountaine Pajot MY 40 specifications
LOA 40 ft - 12.20 m
Beam 19.8 ft - 6m
Displacement approx.13.5T
Draft 3.7 ft - 1.1 m
Standard Power IPS 350 - Volvo 2 x 191 KW - 2 x 260 HP
Option Power IPS 500 - Volvo 2 x 272 KW - 2 x 370 HP
Architect Daniel Andrieu
Interior Design Pierangeli Andreani Studio for Fountaine Pajot
Fresh water tank capacity 1 x 193 US gallons - 1 x 350 l
Fuel tank capacity 2 x 259 US gallons - 2 x 600 l