Here is the story of Andrea Scarabelli, who won a 200€ voucher for TOBY shipyard in Saint Martin, French Caribbean island. Funny enough, TOBY is the place where he keeps his boat, so this prize definitely came very handy!
Andrea has been living on island for 15 years now, and is very involved in the marine world to say the least:
He works as a North Sails specialist
and races, the North Sails Regatta being of course of the regattas he participated to. He also helmed at the Sint Maarten Heinelen Regatta, the Necol Regatta, Gill Commodore's Cup, Captain Oliver's Regatta...
And thats not it. Winner Andrea Scarabelli is also an official measurer for the Caribbean Sailing Association.
If Andrea got this TOBY shipyard coupon out of pure luck through our SXM Yachties Prize Draw, he definitely deserves such a gift.
Celebrating 10 years of Caribbean yachting activities
Last year, Caribbean Multihulls celebrated its 10 Year Anniversary. The company was indeed set up at the end of year 2009.
The Director Peter Cohen already had an extensive experience as a yacht dealer in Australia, including the Fountaine Pajot dealership in the part of the world.
2020 also was the year Peter Cohen set up sister company Caribbean Monohulls, with the Caribbean DUFOUR dealership.
SXM Yachties Prize Draw in Saint Martin / Sint Maarten
On that ocasion, Caribbean Multihulls organized the SXM Yachties Prize Draw in order to celebrate with sailors in Saint Martin / Sint Maarten. We are glad that several of our island friends participated to this celebration and offered prizes:
Dauphin Telecom,
TOBY - Time Out Boat Yard in Marigot,
O Plongeoir restaurant (Marigot),
Lagoonies Bar & Restaurant (Cole Bay),
as well as Fountaine Pajot Catamarans
and the Sint Maarten Yacht Club.
Fountaine Pajot Catamarans also gifted bags and sailing jackets on this occasion.
Participants started entering the draw during the Caribbean Multihull Challenge last year.
We are grateful and proud to sponsor this young and unique multihull sailing event every year, which is bound to grow big! Last year's edition involved both local and large international catamarans and trimarans racing in our dear Caribbean waters.

A 200€ worth voucher at TOBY - Time Out Boat Yard for Andrea
Andrea entered the draw through the online registration process... And won!
On Wednesday 20th Jan, this lucky sailor collected his 200€ voucher for TOBY (Time Out Boat Yard) shipyard & marine specialist' services in Marigot (start of Sandy Ground area, on the side of the French bridge).
As TOBY is a complete shipyard, the voucher is valid not only for the shipyard activities, but also for all services offered by the marina specialists who have their workshop in the shipyard:
BOAT PAINT & Stuff, major marine paint dealer in the island of Saint Martin (Mobile +590 690 221 676),
CUSTOM FIT Marine, yacht maintenance and repair (Phone +1721 587 4546),
SXM SELLERIE Marine, canvas & upholstery specialist (Mobile +590 690 22 11 15),
MarinELEC, for electrics and electronics on board (Mobile +590 690 54 27 00),
F.D.M. Engines, inboard and outboard engine specialist (Mobile + 590 690 771 569).

TOBY & sailors in Saint Martin / Sint Maarten
TOBY - Time Out Boat Yard is an exceptionally involved boatyard for the sailors life on island. Keith wanted a lively shipyard, and chose Paula to help manage the place.
After you pass below the beautifl flamboyant tree see picture below), go through the office door - covered with fun posters - and meet Keith and Paula. Many know Paula for being so helpful (and about as colorful as the flamboyant tree - not only because she loves wearing pink clothes...).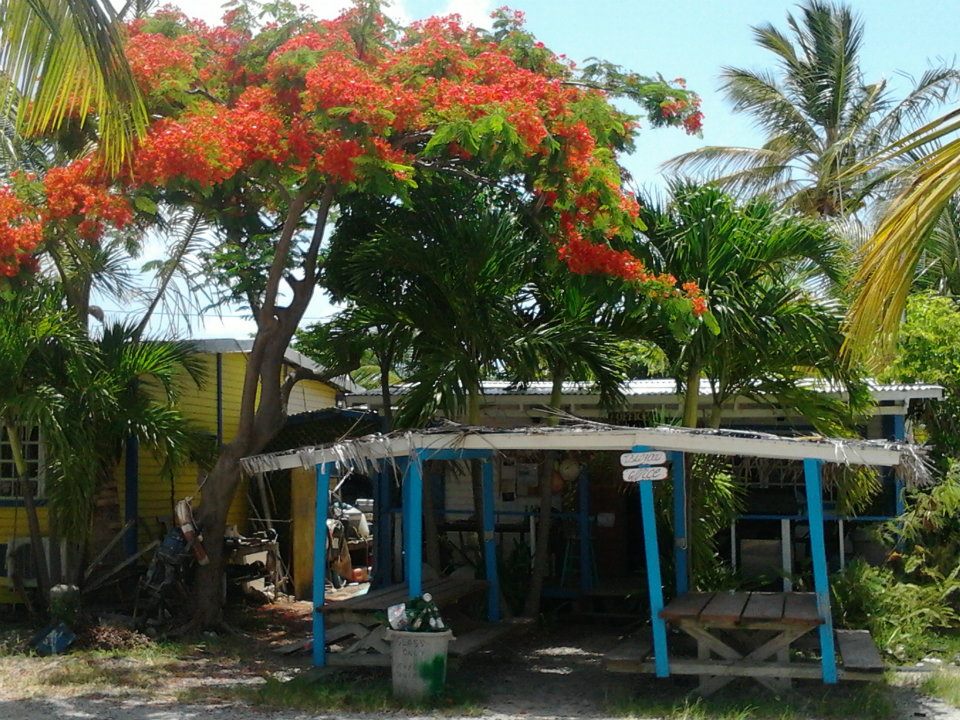 Toby shipyard office and a splendid flamboyant tree (Saint Martin, Marigot, Sandy Ground)
A very appreciated Boat Flea Market is organized on a regular basis at TOBY, watch out the shipyard facebook page for information.
The shipyard is very active in the community, helping with the administration of a popular Facebook group, sharing precious informations for sailors on island. The group is called Sint Maarten Cruisers & Boaters, with over 2.500 members.
There are many posts and files, and you will find answers to all your specific questions about sailing, marine professionals and life on island.
Just type in a search, and if a recent answer does not come up, ask the community and we will most likely get many responses.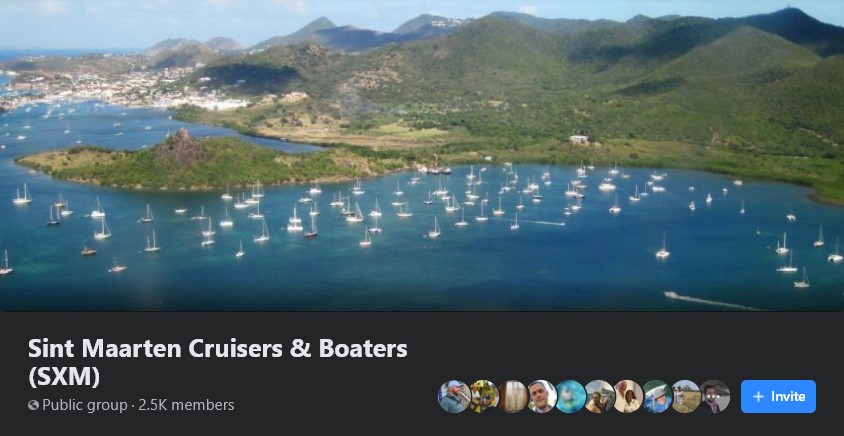 The very helpful Facebook Community managed by TOBY - Time Out Boat Yard