In the Caribbean, catamarans are a big part of boats into charter, whether bareboat or crewed. These catamarans are owned by the charter companies or by private owners who put them into charter management programs.
As the Charter industry is growing more and more, during the past years CRUISING WORLD Magazine has been dedicating a special award to yachts designed for charter activities.
Why did Fountaine Pajot ELBA 45 win
the 2019 Best Charter Boat award?
The competition was fierce! Therefore what could explain that Fountaine Pajot got to steal CRUISING WORLD's heart with their ELBA 45 sailing catamaran?
Because... it's a superhero yacht?!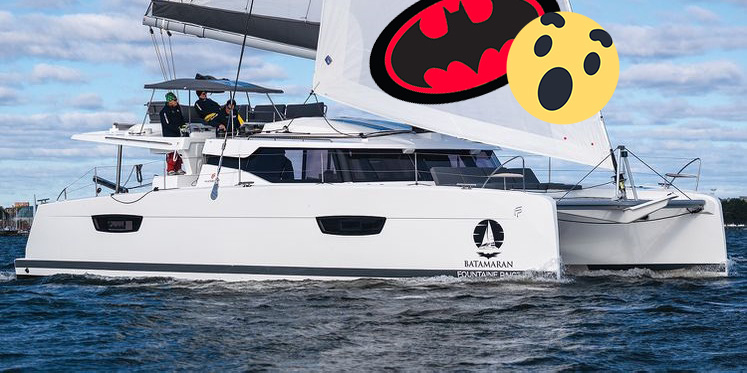 If you're a fan of superheroes, you might be tempted to opt for this explanation. The decoration theme of the ELBA 45 visited by judges is Batman, throughout the whole yacht. And she is of course named BATAMARAN!
But some people might be tempted to be more rational and give boring technical explanations... Let's look into their point of view anyway.
Or because she's well designed for Charter comfort & fun?
First of all, Cruising World mentions that the ELBA 45 is a strong boat which is important, especially if you are looking at bareboat charter and intensive charter seasons.
The crew also mentioned that she performed well during the sea trial, was well-built and structurally engineered.
The layout is also an essential point, and is thoroughly designed to enhance relaxing and fun moments on board for guests.
Comfortable accommodation is also a must for Charter. And this very boat offers 4 convenient cabins each with their own bathroom and a lot of storage space, which is an ideal configuration for chartering a yacht.
Last but not least, the helm station was very satisfactory to the judges as well. They liked the layout a lot between the helm and the separated area for trimming sails.
I'm interested in Yacht Charter Investment
& personalised R.O.I. projection