Fountaine Pajot Lucia benefits from Fountaine Pajot successful design of sailing catamaran models Helia 44 (replaced by the new 45), Saba 50 and Ipanema 58.
The Lucia 40 has been designed by somebody who understands the needs of a sailor and their companions. This yacht is a sleek performer under sail keeping within the confines of the Fountaine Pajot demands for a performance cruising catamaran: safe, comfortable, luxurious, stable, fun and affordable.
Catamaran builder Fountaine Pajot started producing the Lucia 40 in 2016, marking a new era for sailing catamarans, with a superb interior space to length ratio, offering a 129.39 square feet cockpit, and a 32.3 square feet lounge space.
Coming in 4 versions, with two main configurations for sale: Quatuor or Owners' version.
There is a version of the Lucia 40 to suit all requirements. The Maestro owners version now has a separate head and shower, defined area for a washer and masses of storage space.
| | | |
| --- | --- | --- |
| Purchase of your Fountaine Pajot catamaran | | Price of your Lucia 40 and optional costs |
| | | |
How can you purchase a TAX-FREE Lucia 40 in the Caribbean?
You are probably wondering if YOU could be entitled to buy your Lucia 40 at a tax-free price.

Whether you will sail a tax-free boat depends on various factors. The situation can vary, depending on the personal or charter use of the boat, exportation to the Caribbean, your sailing plans, potentially your country tax regulations, your berthing choice for your Lucia 40 and else.

Why not seize the chance to buy you boat tax-free?
Consult Peter, Anne-Sophie or Dominique in our New Yacht sales team, in order to clarify your project and best chance for a tax-free boat.

Although Caribbean Multihulls is not a tax adviser and in a position to guarantee that you won't pay tax in your specific situation, we have a years of experience in exportation and boat sales in the Caribbean.
Benefit from our tax-free sales experience, and consult a national tax specialist in your country to check on potential taxes you might have to pay nationally.
How to FINANCE the cost of your Lucia 40?
Caribbean Multihulls works with finance corporations, mainly for American or French buyers. Our partners are big players finance institutions for boat purchase, and will provide you with a personalized quotation for your Fountaine Pajot Lucia 40 purchase.
Contact our team to put you in contact with professionals in order to get their best offer fitting your criterias.
Understanding the final price for your Fountaine Pajot catamaran
Price lists for Fountaine Pajot catamarans and related option costs are released twice a year by the shipyard to dealers, taking into account cost changes in material or equipment. The change for Fountaine Pajot factory prices generally occurs in January and August each year.
Please note that when ordering a new Fountaine Pajot catamaran through your dealer Caribbean Multihulls, you will pay for the price in effect at the time of booking (with deposit).
Overall price for buyers of Fountaine Pajot catamarans is composed of:
There are usually three versions available:
o Grand Large version – basic pack of options
o Oceanic version – intermediate pack
o Comfort version – factory fully-loaded pack of options
Prices may change twice a year for some equipment according to Fountaine Pajot partners' catalogue. The shipyard works with best players in the industry to ensure quality and stable prices.
A 20% deposit will confirm your signed order (as per Fountaine Pajot requirements).
---
(*) Following prices are for information purposes and are not contractual, please note that they can fluctuate.
Prices are in €uros. To get the best Currency exchange deal, consult us!
Step 1 - Your LUCIA 40 configuration price (as of January 15th, 2020)
Fountaine Pajot Lucia 40 official factory prices for the various configurations (Quatuor or Owners version) are as follow:
LUCIA 40 MAESTRO 3 - 3 cabins and 3 bathrooms from 294 050 euros*

LUCIA 40 MAESTRO 2 - 3 cabins and 2 bathrooms from 293 100 euros*

LUCIA 40 QUATUOR 4 - 4 cabins and 4 bathrooms from 296 800 euros*

LUCIA 40 QUATUOR 2 - 4 cabins and 2 bathrooms from 295 700 euros*
Step 2 – Your LUCIA 40 equipment version price (as of January 15th, 2020)
Depending on the equipment version you choose, your Fountaine Pajot Lucia 40 catamaran will have the following sets of optional equipment:
Lucia 40 Grand Large version cost: 15 500 Euros*

Lucia 40 Oceanic version cost: 28 500 Euros*

Lucia 40 Comfort version cost: 36 000 Euros*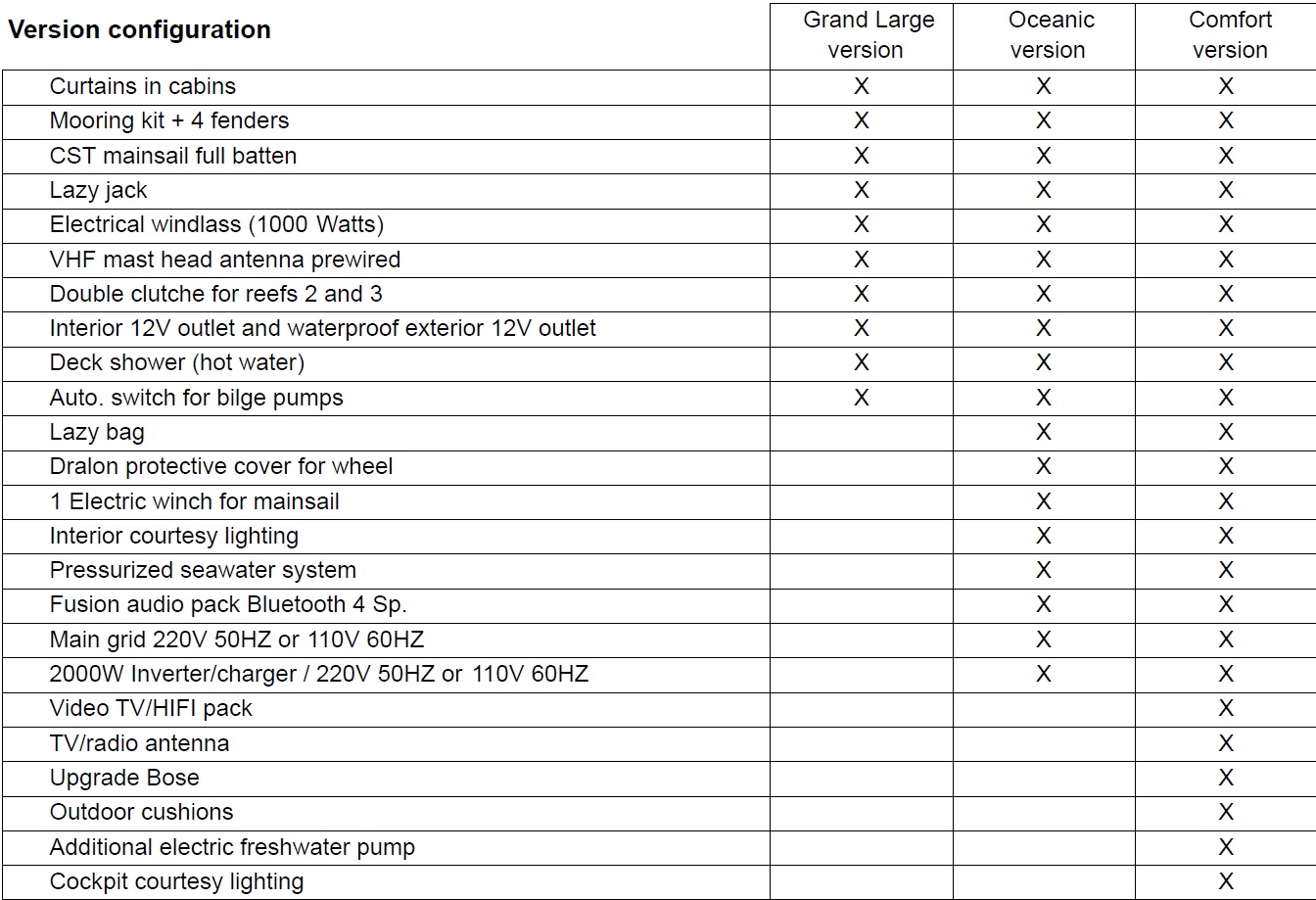 Step 3 - Cost for extra Fountaine Pajot options on a Lucia 40 (as of January 15th, 2020)
There is a long list of available factory options for each Fountaine Pajot model. Here are some examples of options which our buyers often choose for sailing the Caribbean.
(Attention: Many buyers tend to ask for more options than they might actually use. Our team will be happy to give you our insight.)
Engine upgrade from 20hp to 30hp 614 Euros*
Electronic pack GARMIN 1 including Autopilot, VHF, AIS, GPS 8410, and 2 multi GMI20 13 000 euros*
Bowsprit and gear for gennaker 5 695 euros*
Cockpit fridge 1 370 euros*
Solar panels 3 x 90/100W 3 890 euros*
Consult us to get the full current list of Lucia 40 option prices and a personalized quote.
Step 4 - Lucia 40 Ex-factory options cost
Not only are we your Fountaine Pajot dealer, Caribbean Multihulls is your multihulls specialist in the Caribbean. As such, we are able to offer you many other equipment and work options on your yacht, in order to best prepare for your project for the best price.
Our New Yachts specialists Peter, Anne-Sophie and Dominique know a wide number of proven professionals, whether in La Rochelle where your boat gets splashed, or in the Caribbean.
This can cover the installation of extra solar panels, dive compressor, special tenders, and other specific requirements.
Example price of a fully optioned Fountaine Pajot Lucia 40
Are you looking for comfort on board your Lucia 40?
Caribbean Multihulls can offer you a fully optioned catamaran at around 440,000 euros*., for a Maestro version including gennaker, upgraded engines, the Comfort equipment pack, full air conditioning with genset, large watermaker, tender and outboard, full canvass, teak decks, ice maker and much more. Contact us for full details.
We hope that this information helps you have a better idea about the pricing of a Fountaine Pajot Lucia 40. Caribbean Multihulls' New Yacht team is available for any additional information.
I want a fast Lucia 40 price quote
---
Reviews and tests of the Fountaine Pajot Lucia 40
Click on the images or videos below to access the corresponding review or test:
1 page review in Club Marine (Sept. 2015) about catamaran Fountaine Pajot Lucia 40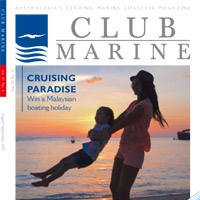 Video review of the Lucia 40 at Annapolis Sailboat Show (October 2016)